I was tagged for this fun post two weeks ago by Maureen @ Maureen's Books! I've only managed to find a slot in my schedule for it right now, and although the middle of July could hardly be called mid-year, but hey… Better late than never? So let's talk about the past half a year in books! Thanks for tagging me, Maureen.
1. The Best Book You've Read So Far In 2017
Dude! No! No way am I picking one! It's just not right. I would never be able to pick… Here are several, but I know I can't say they were the best ones:
Those of you who follow my blog, will have heard about these many, many times. The Radium Girls is the book I probably won't ever shut up about. For those who haven't been subjected to my rants yet, it's about these poor women in the 1920's who were subjected to the worst worker treatment and corporate greed ever, having worked with radium and lied to that it's safe. Need I tell you what happened to them? Read it and you'll find out, and cry a good deal along the way. Faithful is a strong NA book about a girl, suffering PSTD and survivor guilt after a car crash in which her best friend, well, pretty much died, although is still physically alive. It's about learning to love yourself and accepting, forgiving yourself. When The English Fall has been recently reviewed on my blog, and it's a beautiful, touching tale about an Amish man's choices in a post-apocalyptic world. Slaves of the Switchboard of Doom is the most fun I've had this year while reading a book, it's a steampunky-vintage-Futurama style urban/scifi fantasy, and you can never have enough of it. These last two ones I haven't reviewed yet, but they were still unbelievable. The Fifth Season is a truly epic hard-core fantasy that basically transports you into this crazy outlandish world with even its own slang, terms and physiology. It's a trip, that's all I can say. And The Ocean at the End of The Lane is a deeply scary, yet magical tale about the unknown, told through the eyes of a child.
2. Your Favorite Sequel This Year + 13. The Most Beautiful Book You Have Bought/Received This Year
I have not had great luck with sequels this year. In fact, I have written quite a few posts about bad sequels (Shift, sequel to Wool and A Closed And Common Orbit, sequel to A Long Way To A Small, Angry Planet). However! The best sequel I've read, of course, would be Gemina. But I have not written a review for it yet! Only finished it last week. If anyone wants to fangirl about this book, tell me, I will add you to the Gemina Support Group on Twitter, where we chat about how we can't possibly wait for Obsidio.
It also falls into the category of the prettiest book I've bought/received this year, as I don't buy or get many actual print books. Gemina is an amazing example of it though! Because it's so… special, so different. It's an absolute treat to read.
3. A New Release You Haven't Read But Really Want To
I can't say this is a new release, exactly? The new release is Waking Gods, that everyone keeps blogging about! And it's annoying me to no end, cause I can't get my hands on it!! (as you might know, my 'book ban' mostly consists of only buying books when they're on sale, like 2-3$, and guess if this one has been on sale yet???)
So if anyone wants to mail me this book, just go ahead [k thx bai.]
(I'm kidding, of course. You have your own bookish troubles!)
4. Most Anticipated Release For The Second Half of the Year
Boo! I'm not a cool book blogger, cause I don't know the newest releases! Oops… This is why the one I'm currently waiting the most is Obsidio, although that only releases in March 2018. Let's say I'm just ahead of times, yes?
5. Biggest Disappointment
Definitely Shift. I've already mentioned it in this post, but Wool was just such a great novel in every way. It kept you at the end of your seat, it was insanely original, not your typical dystopian novel, and geared towards the intellectual, the emotional. And then we get Shift… Where everything just gets retold, and worse – through the eyes of a character you can't really like. And it drags and drags and drags… If you want to find out more, you can read the full review here.
6. Biggest Surprise
I would say it was Felix Yz. I knew it would be a fun book, but I just didn't expect so much diversity. In places where I would have not even seen it coming! All in all, it was just a really fun, pleasant read, and much deeper than I expected.
7. Favorite New Author (Debut Or New To You)
This year I found Lisa See! I will never forget how I requested The Tea Girl of Hummingbird Lane, knowing full well it's a very well known author and I will probably never get approved, and lo and behold… I did! And not only that, but Lisa replied several of my tweets. That was awesome! And I truly loved this book. Recommended! I know I will be reading more of her books soon.
8. Your New Fictional Crush + 10. A Book That Made You Happy
I know this is going to sound weird, but I just don't do the whole book boyfriends thing. Which is why I don't really have a fictional guy crush! But maybe a girl crush is fine too? Cause if I had to pick, it would definitely be Anne Shirley! She is just such a lovely character. I know she's made me laugh more than once this year, and she still will many times, as I'm participating in the #AnneReadalong2017.
It also falls into the category of the book that made me happy! Cause I just can't pick any other book for that one.
9. A Book That Made You Cry
Well, you already know about this one. But there's no other book that made me as emotional as this one has, especially as it's a true story. If you want to find out why, here is the full review, and after you've read that, you might be interested in the interview with the author as well. My wonderful sister has sent me a signed copy of this from Chicago, so it is one of the few really cherished books in my library.
11. Your Favorite Book To Movie Adaptation That You've Seen This Year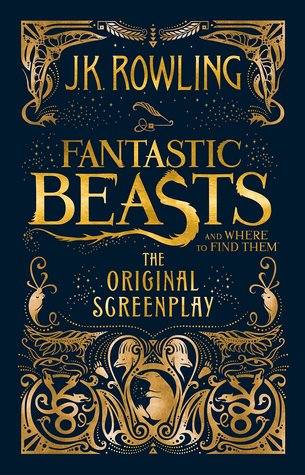 I'm a bookworm. I don't watch movies. Not kidding! But I guess I'm lucky, cause I have seen one or two this year, and it so happens that one of them was based on a book! I loved Fantastic Beasts, although I have to say, I haven't read the book. I'm not really interested in reading the Screenplay, cause that was written for the movie. And the original book is different, or so I hear, but maybe one day I will read it.
Newt though. How adorable can you be? And Queenie? 5 years ago when I had better hair, i could have totally sported her do.
12. Favorite Book Post You Published This Year
I have barely started doing discussions (finally!), so I would say last week's one? It's really quite relevant to talk about the #bookworm problem of buying books and stashing them away.
14. What Are Some Books That You Need To Read By The End Of The Year
Oh, just about every old ARC I own… But these are the new ones I have planned for the end of the year – cause that's when they're coming out. Have you heard about these?
Now it's time to tag someone!
Let's see… Just about everyone seems to have already been tagged in this one. If you've been tagged or don't want to do it, no problem! Otherwise, have fun:
Have fun! And if you don't want to do the tag, tell me in the comments what were your best books of this half a year ❤
I'm Evelina and I blog about books that made an impression on me. I love middle grade, women's, scifi and some literary too.