Uh… Yeah, so. I sort of let myself go last month. I've been struggling with sort of a reading slump, sort of not… Which somehow caused me to haul like 15 books in one big spree? And yes, that's ONLY the review copies. Oh gosh, I really, really… really don't know what I was thinking! I guess I can't do anything else but read now. Read, read, read… And still read some more.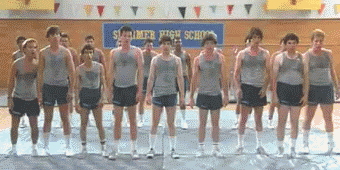 A GIF of a lot of guys in a gym falling backwards facepalming
The good thing about having reviewed a lot of books on NetGalley though, is that when you batch-download 10 'Read now' copies, your feedback ratio doesn't really go down all that much because.. maths. LOL. So that's good, I'm still sub-75%-ish… But I don't know how soon I can push it to 80% then, cause slow to go down also means slow to go up 😂 but alright… let's just see how I'm doing!
~ For Those Who Are New To The Meme ~
Anyone is free to participate! If you want to, just link up anytime during this month and refer to this page as to the rules of what to put in your post and how to link up. The next State of the ARC post is going to be on (most likely) March 29th, so if you can't make this one, mark it down!
~ My Current State of the ARC ~
Yeah… You can see the results, huh. Last month I was happy to state that my review copies went down, and now? They're nearly back where they were before! Oh dear… 😂
~ The ARCs Bingo! ~
Well, I didn't read a lot this month, but! I still filled one slot in the bingo, and it's the diversity one. The Spec Set was incredibly diverse – both in terms of race / culture, as well as neuro-diversity. It was quite a ride too! Such a fast paced book. You can read the full review here.
An ARCs bingo sheet with no romance, nonfiction, overdue, diverse and scifi slots filled
~ Bricks Knocked Down ~
Out of these books, the ones I enjoyed the most were The Vela and The Secret of Dinswood. I will be reviewing The Vela soon – it's an amazingly diverse and interesting scifi story about a refugee crisis (and more than that, to be honest). And you can read a review for The Secret of Dinswood here – it's a cozy middle grade mystery with a boarding school, and… pirates! I also enjoyed The Spec Set, that I've already mentioned – a book that empowers neuro-divergent teens. You can read the full review here.
That puts me at six bricks knocked down off my wall!
~ Culprits Hauled ~
This time I'm not even going to do an 'excited about' section. Because there are too many titles to be excited about, seriously. I'll just post the culprits hauled, and here they are:
And that's it! How's your ARCs bingo going?
I'm Evelina and I blog about books that made an impression on me. I love middle grade, women's, scifi and some literary too.