Oh, how I loved this wonderful adventure! The Secret of Dinswood is just the kind of book I wish I had read more of when I was actually in my middle grade years. There's just something empowering about a bunch of kids solving mysteries and riddles, and potentially getting themselves in trouble, skulking around dark caves and castle hallways! Even aside from that, there's the whole allure of kids in a boarding school, especially one in a castle! I absolutely loved The Secret of Dinswood, and I sure do hope this book will have a sequel. The little number 1, stamped on the cover, gives me hope! As does the ending. I hope it won't take long till I can read about this fun bunch of adventurers again.

Check out on Goodreads
★★★★☆ 4 stars
Emma is lonely. After losing her mother and with her father having started a new family, she feels alone and abandoned. That's why she decides to look for a new place to belong. The solution comes in the form of a boarding school – and not just a simple one, but one with a rich history and situated in a beautiful castle. Being bright, Emma wins the scholarship and settles straight in. But she's worried she won't be able to enjoy the company of her friends for long, because rumor has it that the school is struggling financially. However, rumor also has it that the school was built by pirates on top of a big treasure… And it's up to Emma and her friends to find out whether that's true or not.
Just The Right Amount of Mystery, Adventure and Tension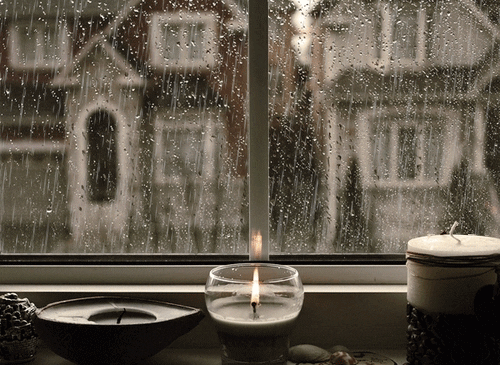 A GIF of a rainy afternoon outside the window, with a candle burning inside next to it
The mood of The Secret of Dinswood is just right! It's exactly what I imagine a middle grade adventure should be. There's got to be a certain amount of mystery – but not to much, because what you expect from a good middle grade adventure is… that you'll be able to crack it before the characters do (…or is that just me..?) You've also got to remember that most of its readers will be younger than you! So if you've cracked it, it will probably be enjoyable to them too, and may even be challenging, depending on a readers' age. I loved this mystery – it had all the prerequisites! Let's count them out:
✔️ an old, romantic castle with secret passages and riddles
✔️ pirates! PIRATES!!
✔️ some actual baddies that pose the right amount of danger: they might get you, but you're also probably safe cause there are adults around
✔️ and… where would we be without good friends to fight your battles with
All of that makes a wonderful adventure, at least for me! It had the right amount of clues to still leave me guessing sometimes – which is just the right amount of mystery I enjoy as well. (But keep in mind, I am a gullible reader. However, that probably means your middle grade reader will enjoy the mystery too!)
Along with a good recipe for a nice adventure, The Secret of Dinswood also has nice, uncomplicated storytelling. I like some nice flowery prose, but sometimes I just want a story that doesn't beat around the bush either. The Secret of Dinswood is told in a simple way, so the story flows along well and is easily readable. You don't need to concentrate too much or work at it. Just sit down and let it entertain you.
There's Just Something About Boarding Schools In Books…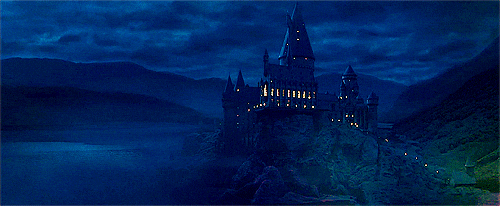 A GIF of a castle on a hill, which may or may not be Hogwarts, and lightning above it in the cloudy sky
I wonder what it is that we like about boarding school stories so much? I think I am far from being the only one who enjoys boarding school stories, despite never having lived in one, or, god forbid, ever wanting to live in one. What is it that so appeals to us in these settings?
Well, for one thing, I guess a school in a castle already presents a setting that has the promise of all sorts of secrets lurking around the corner. But I don't think it's just that – I think what also appeals to us is the way human relationships can be explored in depth in such a setting. Students live with each other, eat their meals together – essentially, they become their own little world. Strong relationships are natural in these contexts, and I think we enjoy seeing them develop in front of our eyes.
The Secret of Dinswood, while not a magical boarding school, was still no exception – we see budding relationships as well as friendships and rivalries form in the school. Although the book is written more from a girl's perspective, it gives a lot of attention to the boys as well. The story centers on Emma, a poor kid in a rich people's school – and how she finds friends and adapts. Although we only ever see everything through Emma's prism, the story is told in third person and gives a lot of attention to Emma's best friend Martha, as well as their friends Doug and Sebastian. What I found the most adorable in the whole book was the budding affection between Emma and Doug – innocent and only on the friendship level for now, but so sweet, genuine and lovely. The reason why I love romance (or, like, pre-romance?) in middle grades as opposed to YA is because there is just so much less angst about crushes in middle grade books, and things just somehow work out. I'm aware that this mostly isn't the case in the real world, but come on… Let me dream?
But It Also Does Heavy Topics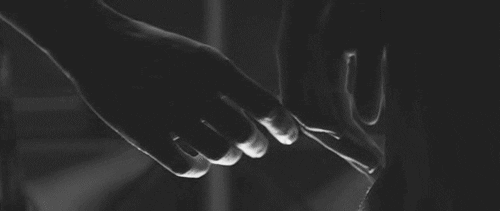 A GIF of one hand reaching for the other and them joining
However, The Secret of Dinswood doesn't just paint everything pink and flowery. There are quite a few heavier subjects that are dealt with in the book. For starters, there is the theme about the loss of a parent – both Emma and Doug have lost their mothers, although in different circumstances. They get a chance to share their burdens and talk these painful subjects through, helping each other deal with it. And not just that – they are also teased about it and have to learn to cope with how unfeeling the world can sometimes be to another person's pain and loss.
Besides that, there is the theme of snobbery – the clash of the rich and poor, and prejudice that comes from it. Emma and Doug both come from simpler circumstances and are in the school through a scholarship – they had to work for it and they know where they stand. Meanwhile, most of the other kids comes from affluent families, some of which are completely unaware of their blessings. Worse than that, of course there will be "rich or poor" altitudes in a school like that. Emma and Doug get teased about being poor as well as not having a full family. The reader gets to see multiple attitudes – the people who think less of them because they aren't rich, and the people who don't. Ultimately, the message is that you can always choose your outlook and someone's circumstances shouldn't change their position in your eyes.
Overall, I really really enjoyed this story. The Secret of Dinswood is somewhere in between of mysteries for children with young detectives and young adventurers looking for treasure. It was just the right kind of amusing, cozy mystery with a great ending. I enjoyed it very much and will be impatiently waiting for the sequels!
Just the right amount of cozy mystery, adventure and tension – The Secret of Dinswood by Ellen Alexander and why you want to read it:
Click To Tweet
But Beware Of The Triggers
Since this is a middle grade, it doesn't have a lot of triggers, thankfully. However, as I've already mentioned, there is the loss of parents through death or divorce, also bullying and some danger that the kids are in while solving the mysteries.
Other Books You Might Like
I feel like I know many books with this theme, but for some reason I can't find any in my Goodreads! Perhaps I read them when I was little and that's why they're not there. But I found these – The Secret of Dinswood is something like Kalle Blomquist by Astrid Lindgren, although that might not be as familiar to non-European readers, and then there is also The Zanna Function, and indie about a sciencey/magical school that I LOVED last year!
I thank BHC Press for giving me a free copy of the book in exchange to my honest opinion. Receiving the book for free does not affect my opinion.
Have you read any middle grade mysteries that were also somewhat cozy and still gave you the thrill of adventure? Have you got any you would recommend to me as well? I'd love to check them out, if you mention them in the comments!
I'm Evelina and I blog about books that made an impression on me. I love middle grade, women's, scifi and some literary too.