So my ARC reading… Could have been better this month… That's how I felt about my stats: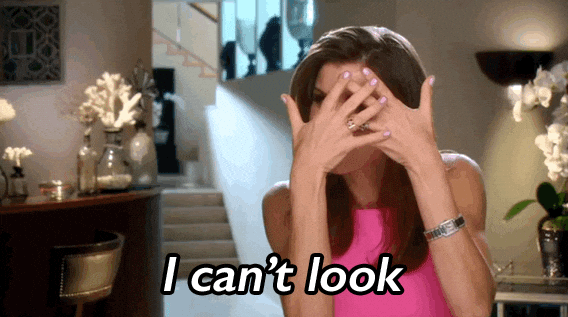 A GIF of a woman covering her face and saying 'I can't look'
Or that's what I thought, and then did #24in48. I have to say, readathons are effective!!! (Captain Obvious to the rescue.) I think I'd only read for like 18 hours or something, but nope – I actually managed a whole 24 and even more! Here are my screenshots:
OMG I'm done. I didn't expect to actually hit 24 hours!!! 🎉🎉🎉#24in48 #24in48readathon @24in48readathon pic.twitter.com/1nJE0Mc7qD

— Evelina | Avalinahsbooks (@AvalinahsBooks) July 22, 2018
But I can also say that it was fun, but… I don't think I'll be doing that again. Reading needs to stay fun. And it was fun for 20 hours, but not for the 4 more. The last hour was surprisingly painful and full of me thinking 'this is a chore'… And I never want to feel like that about reading. So maybe my next one will be only 20 hours, tops! However, it helped me out with my review copies, especially because I need to bulk-schedule a month's worth of reviews because of vacations, social occasions and all sorts of trips. So let's move on to the State!
~ For Those Who Are New To The Meme ~
Anyone is free to participate in this meme! If you want to, just link up anytime during this month and refer to this page as to the rules of what to put in your post and how to link up. The next State of the ARC post is going to be on August 31st, so if you can't make this one, mark it down!
~ My Current State of the ARC ~
I am actually pretty happy about my stats! Although they might seem like big numbers to you, they are CONSISTENTLY going down. Because I am hauling less and less ARCs and actually picking up ones from my old stack. I still have a lot of old author ARCs on my back, like the ones from years and years back, before I even had a blog and just randomly picked them up in giveaways and such. I remember when I did my first State of the ARC and had almost over a hundred ARCs… Well, maybe NEAR a hundred. Maybe dropping it by 30 isn't that much, but when you consider that I've been hauling ARCs as I was reading them? It's progress! And I'm really happy about it.
~ How Is My Bingo Progress? ~
Even though I did nail my ARC plan for the month, I didn't get a lot of ARC bingo slots done! Only two – a new to me genre would be a spy novel called Killing It (a spy novel! OMG!) and my overdue ARC was The Story Traveler, which was nothing much to report, so maybe it's not so bad it spent so long in that NetGalley pile (okay, it's still a little bit bad. We've got to be accountable as book bloggers. Bleh.)
~ Bricks Knocked Down ~
I actually wrote all the reviews too! OMG, that never happens. No plastic bricks this month! I still have one review hanging from something I read last month, but hey. I'm going to schedule it. Like RIGHT NOW. After I finish this post. Yes…
Here are the books I read for State of the ARC this month – my favorites were The Fated Sky, Rogue Protocol and The Spaceship Next Door. Do you see some kind of trend towards scifi here? It's actually something I've wanted to do for a long time – read more scifi. I'm happy to see that it's working out, even if it's not consciously attempted!
~ Let's Get Motivated! ~
Creatures of Will and Temper here.
That's my ARC August! What has yours been like?
I'm Evelina and I blog about books that made an impression on me. I love middle grade, women's, scifi and some literary too.