I gobbled The Spaceship Next Door up. I just inhaled it! It plain seeped through my fingers, it was so good! And THEN I learned that it was independently published in 2015, and then picked up by John Joseph Adams/Mariner! Why? Because it's just so good. And now? I am tempted to not wait till they release the sequel and just get the self-pubbed version… BECAUSE IT WAS SO GOOD! The Spaceship Next Door was my kind of book through and through, and I can't wait till I get my hands on part two.

Check out on Goodreads
Get at Book Depository
★★★★★ 5 stars
The sleepy town of Sorrow Falls (what a name, huh?) is not your usual tiny bubble of country quaintness – at least, not as of three years ago. Because that's when a real, I-kid-you-not-kind spaceship landed on its soil. After that, the town has been somewhat militarized, but despite that – it still remains just as sleepy and quaint as ever. And Ed Sommerville thinks that's pretty fishy. Which is why he sets out as a reporter to figure out what's underneath the surface. Unfortunately, Ed is plainly see-through, so nobody believes he is actually a reporter, so it's probably for the best that Annie Collins, the local know-it-all gossip queen happens to get in his way. Annie is the only one who would manage to make the town believe Ed is not part of the military (hint: he is.) and actually get him some interesting information. But Annie doesn't really know what she's getting herself into. Or is it that the entire town doesn't know what they've already gotten into by, well, merely having 'an Annie'? Something is certainly going on, even if the spaceship has been sitting still for three years – and you better know it that we'll find out by the end of the book what it is.
Oh My God, Where Do I Start?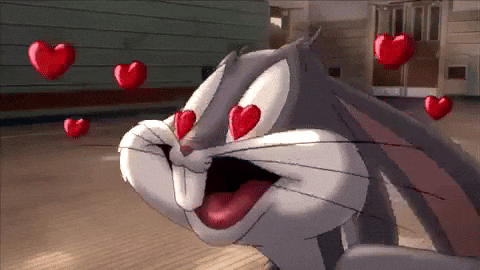 A GIF of Bugs Bunny with hearts in his eyes
I just loved this book SO MUCH. Everything about it – the rather slow pace, the nicely set atmosphere, the main characters' personalities – everything seemed written JUST FOR ME. The story is woven so well! Every little thing is revealed ever so slowly, giving you just enough to keep going. So while the story itself is slow and calm like the sleepy town it's set in, it's also got so much suspense you can't help but keep wanting to read more and more. And the funny thing, you can't really put this book in a genre – it's got a little bit of everything – the X Files mystery, the sweetness of some Sarah Addison Allen-esque characters, the helicopter view of Neal Stephenson… It's my perfect book. (You won't believe, but it's also got some zombies. Sort of. Not quite the kind you're thinking of though. )
@GeneDoucette's Spaceship Next Door has it all – the X Files mystery, the sweetness of Sarah Addison Allen-esque characters, the helicopter view of Neal Stephenson... It's the perfect book.
Click To Tweet
Really Well Fleshed Out Characters, Even The Secondaries
The thing I loved the most has to be the characters. I am an absolute sucker for a great cast, I am known to fall head over heels for books that are character driven (think Six of Crows or The Long Way to a Small, Angry Planet) – it was the same here. And it's not just the main characters we're talking about – the entire cast of secondaries and even unimportant side characters are all so real, so believable. And it has A LOT of those, and I mean a whole lot!! They're almost as often talked about as the main characters, which gives you the real 'show, don't tell' sort of view of the whole town. The secondaries have these little details of their lives or their characters – even if you're only meeting a certain member of the cast for a little while, you will get a little info about why they dress the way they do, what they hate or love doing or some little quirk of theirs – so you can't help but imagine them as real living human beings you have actually met. That's why I simply could not resist them.
And that's not even to speak of the main characters. I fell in love with Annie, Violet and Ed, even the secondaries – the Mad Max Lesbian post-apocalyptic chick couple, the soldier boy crush, and even Pickles, who was just a side character, really (that's a dude. Not a pet.) I had my own theories about Violet and Annie and their histories, about what's going on in the town for real, and some of them were true, some of them weren't. You just have to experience this for yourself, but I'm sure you'll fall in love with the characters as well.
It's Not Just The Mystery Either
When things get moving, they really do get moving. It's a tense whirlwind of things, and I can't tell you what it is because you'll be spoiled (although I really do want to tell you.) Let's just say there's no way you'll be expecting this when you start the book, cause the start is just so innocent – and the book is really slow for at least half of it. It's very, very good, exciting and dynamic. The plot is built so well that the moment you forget about a part of the cast that you thought was going to figure in the story… they come up. This happens multiple times! It's all just crafted so well in terms of storyline and timing.
…And Things Get Big
Just when you think it's about sleepy towns and simple people… There's this big, deep and philosophical thing that comes up. The story does dig deep in the end, and talks about friendship, the nature of consciousness and whether being 'simple' really means you're not worth as much as someone who is more 'complicated'. Whether friendship can survive these differences, and how much every kind of being needs companionship. It's also about ownership of self, of ideas and what is a self in general, even. And now I better shut up, because I'll spoil the hell out of this book for you. I'll just say that despite this whole 'bigness', it still retains the 'X next door' feeling – which is such a good play on the name. The story is simple, relatable and it could have happened to you – special things happen to normal, typical people like us. Special things happen in mundane life. And it's a beautiful concept.

Talking about The Spaceship Next Door… Would involve a lot of spoilers. It's just one of those stories. So I can't really tell you more! But just believe me, this was one of my favorites of the year, and I am itching to just buy that sequel already. Keep in mind that the story is slow, so if you don't like slow-paced books, it might not be for you. I did say there's a lot of stuff going on at one point, but it doesn't happen till at least half of the book. It's also generally an adult book, although it's got a teenager for the main character, so don't expect a YA tone to it. I'm sure anyone can enjoy The Spaceship Next Door though! So I wholeheartedly recommend it.
But Beware Of The Triggers
Well, there is some violence, but it's not dark. It just happens, mostly in defense. There is a family member who has cancer and is dying. Also, split up families and children that have to grow up largely dependent on themselves. But I wouldn't say the book has a lot of triggers – it's mostly mild.
I thank John Joseph Adams/Mariner Books for giving me a free copy of the book in exchange to my honest opinion. Receiving the book for free does not affect my opinion. You can buy the book here at Book Depository and buying using this link supports the blog.
Have you read any books that made you feel comfortable, but also gave you a thrill? Do you like reading genre-benders?
I'm Evelina and I blog about books that made an impression on me. I love middle grade, women's, scifi and some literary too.