Killing It is both a new to me genre and not quite that new, at the same time. Weird? Yes, but let me explain. The spy novel bit? Completely new to me. I've never read stuff like that! But the thing is, Killing It doesn't concentrate solely on the spy bit. It's also about being a woman, being a mother and how it all works out in society and your workplace. Which is something of a comfortable topic for me in books. Killing It was an interesting take on this problem, an unorthodox one for sure!

Check out on Goodreads
Get at Book Depository
★★★☆☆ 3 stars
Lex has a pretty unusual job – although it's a dangerous one. She works in her Majesty's Secret Service. And no, it's not a desk job. Despite all you might imagine about secret agents though… Lex just got married and had a baby. Which sets her apart from the stereotype for sure. Now she's at the end maternity leave and about to let the entire department find out whether motherhood is reconcillable with kicking butt. Hint? Of course it is. But it's also not going to be easy to prove it. Because suddenly everyone thinks that having a baby means your brains have been removed and replaced with jello… or something of the like. And it's up to Lex to prove to them that she's still just as capable. Even though she really shouldn't have to.
There's The Mystery Aspect And The Super Mommy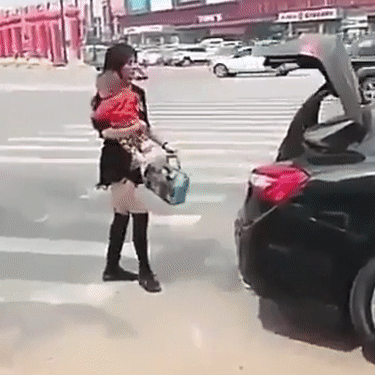 A GIF of a woman holding a baby and closing the car boot with her foot, raising it way above her head
I suppose this is probably part of any spy novel – it wouldn't be one if there wasn't something backwards going on, and the main character needed to get to the bottom of it. In Lex's case, not all of her workmates are happy to have her back, particularly because she works in almost a purely male environment. Despite being fresh off her maternity leave, she is instantly put on a huge and important mission, which is fishy on its own. Things don't really add up between the intel and what she's picking up herself, but Lex tries her best – all the while balancing being a mother and being an employee.
There's More Than Just That Though
Secondary characters play a big role in the story. Since you've got to unravel the mystery along with Lex, you will have to see her meet a lot of quite characteristic people. In the current political climate, I guess the adversaries had to be Russian (although I did roll my eyes at that. They're always Russian, aren't they?), so it's mainly Russian millionaire wives in London. Which prove to be an interesting crowd to read about, and they're more than just their appearances. Despite working with just guys, Lex deals mostly with other women in the book – she even has to take her baby along with her for cover. So she's both infiltrating their circles for the mission, and also navigating the new world of having 'super mummy buddies'. It's an interesting mesh.
What Should You Expect From Killing It?
When I went into this book, I expected plain old good fun. Chances are, I wouldn't have gone for a spy novel at all, otherwise! But I actually got more than I expected – Killing It does dig deep at the end, even though it starts out lighthearted. Yes, it will be funny in places, and the main character will end up in silly situations, but that's not the point. Neither is the mystery that you'll end up trying to figure out. The point is to shine a light on the situation of many women in the workforce – on how they're scrutinized when they come back to work after having a baby, on how they're suddenly treated as if they're fundamentally different than they were, and how all of that somehow doesn't apply to men. This phenomenon is dissected in great detail in the book, and is looked at from many angles. I liked the views that were presented – on one hand, it's undoubtedly infuriating that a woman would have to prove herself anymore than a man, after a change in her family. On the other hand, while women can still perform just as well, if not better, in stressful situations after they've had a baby, they are usually the parent that has a closer tie to the child, and spends more time with them (which means, loses more time resting or sleeping), and in the end, might be willing to risk more of their health or wellbeing to protect the child – which has to be true about a lot of women and the way motherfood is more physical than fatherhood purely for biological reasons. I liked the ideas discussed in this book in regards to this, and while it's not part of my personal experience, so my understanding is limited, I'm sure it has a lot of bearing.
But Beware Of The Triggers
Well, this is a spy book – graphic violence, strangely, doesn't happen all that much, but it is talked about quite a lot. The main character enjoys the thrill of killing, provided it's a bad person. I think that's about it!
I thank Bonnier Zaffre for giving me a free copy of the book in exchange to my honest opinion. Receiving the book for free does not affect my opinion. You can buy the book here at Book Depository and buying using this link supports the blog.
Do you read any spy novels? And would you agree that parenthood is viewed much differently if the parent is a mother, rather than a father? Would you agree that that's not entirely fair, and why?
I'm Evelina and I blog about books that made an impression on me. I love middle grade, women's, scifi and some literary too.