Check out on Goodreads
Get at Book Depository
★★★★✬  4.5 stars
You might have been able to tell from my headline that I really love Alice Hoffman's writing. I started this year by reading Faithful and was insta-fanned right away (Yes, I just invented that word.) I also read Practical Magic in preparation for reading The Rules of Magic, and although I could feel it was written a while ago and wasn't quite the same vibe, my love for Hoffman's amazing prose only grew.
The topic matter? I believe we don't have the need for me to sum it up here, do we? Most of you will have heard of the book and probably seen the movie. I love this story in either of its forms. Witches, jinxes, family history, mystery… It's all so delicious. Just the kind of topics I like. In this book though, we follow the lives of the Owens' family before the heroines of Practical Magic are born, and what's interesting – this time it's not only the girls! We have a male Owens to read about, and he's a great character. If you've read the first book, you will be pleasantly surprised not only to learn more about the family history, the town's history or their traditions, but to actually find out more about the story of Sally and Gillian – the girls from Practical Magic.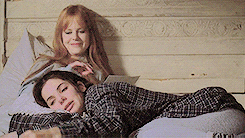 Those who know the struggle of the Owens' family – to never find love, and if they do, to lose it the worst way imaginable, will not be surprised by the fact that this is the main theme here as well. However, it's not a book of love stories. As many of Hoffman's books, The Rules of Magic talks more about finding oneself, about forgiving oneself, about facing one's demons and one's true identity. Identity is questioned a lot, and I was surprised to find that it's not only questioned traditionally. I don't want to include spoilers, but let's just say that this book is more diverse than I expected.
Another great thing about The Rules of Magic and the main reason why I liked it more than Practical Magic was that it didn't have the 'beauty wins love' vibe that I didn't like about the first book. In Rules of Magic, you deserve love whether you're pretty or just plain. Everyone deserves love. And what's more, they deserve the kind of love they want. And they must fight for their love, because only something worth fighting for is true, and it can't come easy. There is also no insta-lovey fated love anymore – in this book, love is just what it is – the connection of souls, something more undying than everything else. I hope Hoffman doesn't mind me judging her through her writing like that, and I do believe it's probably not my place – but for what it's worth, I would dare to say that I can sense the maturity in this book, the change in how she herself saw the world then and now. It's amazing to see this change of the world she wanted to build for those characters and these ones. It's like a living book.
Ultimately, Alice Hoffman ponders: is being fated to lose everyone you love the Owens' curse, or is it just being human? What if it is just another inevitability of life, just as how it ends when your time comes and you lose your own self? Mix that with a few potions, a few sprigs of lavender, a few animal familiars, and you've got a recipe for a great book. So it's not really big news that Alice Hoffman still writes magically, but I'll say it anyway.
I thank Alice Hoffman and Simon & Schuster for giving me a copy of the book in exchange for my honest opinion.
Have you read anything by Alice Hoffman? And do you like reading about witches, the different and the mysterious?
I'm Evelina and I blog about books that made an impression on me. I love middle grade, women's, scifi and some literary too.