Hey all! This time I'm doing a non-review post, and it's not because I'm short on books I've read or back-logged reviews (I wish), it's actually because I've been thinking of these for a while now and I can't get them out of my mind! So I've decided to share:
Anyone else who wants to participate can grab this disclaimer picture, name your post the same way and include a link to this post! Let the fun begin.
To kick-start it up, I will tag my lovely blogger buddies or just my favorite blogs:
🌟 Jackie B from Death By Tsundoku
🌟 Alessandra from The Bookish Mind
🌟 Resh Susan from The Book Satchel
🌟 Tammy Sparks from Books Bones & Buffy
🌟 Ditsha Gupta from Bewitchingly Paranoid
🌟 Lisa from Tenacious Reader
(I know I said I'd tag you, Cait from Paper Fury, but I have other plans for you ;D I think you've done something similar lately, but feel free to grab this too if you want! I'm also sorry if I forgot anyone else out of you lovely people! 💖 )
Alright, so let's get started.
5 books I'm DYING to read! But probably won't get to anytime soon

T_T
Brother's Ruin by Emma Newman
Have you heard about this one? It's a new one, will be coming out on March 14th, and it won't be a minute too soon. I have stumbled upon this gem on The Book Smugglers – it included one chapter and it just hooked me straight up. So good! It's set in Victorian times where magic is a problem, because you get persecuted if you hide that you're a mage! The main character is a woman, an illustrator, and… a latent mage. In the first excerpt, we see her witness a scene of another mage being found out, and it's chilling and shocking. Read it for yourselves here!
Unfortunately, I have been denied for this one on NetGalley T_T so there is no other way but to wait for it to come out, like every other mortal reader. Woe is me. Will be counting the seconds!!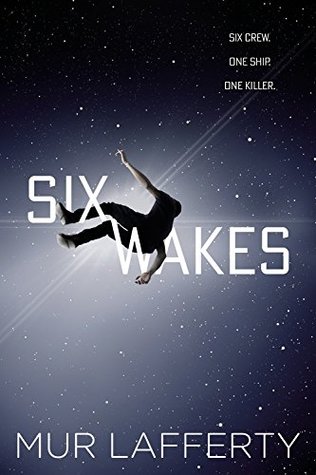 Six Wakes by Mur Lafferty
I swear, all of you have already read this. Most of you have posted reviews! And yet I have not got my hands on it. But one day! What is so intriguing is that all of your reviews have been SO GOOD! And I've just been hyped about it from minute one. Reminds me of that episode of Doctor Who with the flesh!
Dark Matter by Blake Crouch
I've had my eyes on this one since last year. And like I said, ALL of you have read it as well! Infuriating, huh. But I just won't let myself buy an expensive book when I already have so many to read! So I'll be waiting for a sale on this. Most of your reviews have intrigued me to no end, because there's an equal chance of me loving this as well as hating it. I just really want to find out!
A Closed And Common Orbit by Becky Chambers
I know a lot of you know of this one – especially if you've read the first book, A Long Way To A Small, Angry Planet. I know from many reviews that it won't follow the adventures of the crew in the previous book – as much as I wish it would! But it will still be by the same lovely author with the same brilliant mind, so I expect no less. Besides, we get to find out about Lovey and Pepper! Can't wait… till it goes on sale.
Gemina by Amie Kaufman and Jay Kristoff
I've been looking forward to reading this after I finished Illuminae, that was sometime around November or December, and I still think about it occasionally. Again, will have to wait a little bit to get my hands on this one, but I'm sure I won't have forgotten the plot! People say it's a much better book than Illuminae, and considering that one kept me at the edge of my seat, this must be thrilling!
So those are my 5 book I'm extremely hyped up to read, but won't – for now. Have you read any of these? And are you impatiently waiting for the chance to read something as well? Share with me! And do the tag! ♥
I'm Evelina and I blog about books that made an impression on me. I love middle grade, women's, scifi and some literary too.