Despite championing the cause of feminism and equality, we often find ourselves hazy on a lot of achievements by women – especially non-contemporary women. Why is that? Perhaps because history is written by the winners, and those who rebel have often been erased. Well, the book What Would Boudicca Do? sets out to right this wrong, and it does it with no lack of zing and style. Starting with the gorgeous cover that you will want to flaunt in public (so call me vain!) and ending with relevant stories to bolster your self-confidence in pretty much any situation, What Would Boudicca Do? is a good companion for any contemporary woman's nightstand or bookshelf.

Check out on Goodreads
★★★★☆ 4 stars
What Would Boudicca Do? is comprised of short, several page long articles about women who excelled, stood strong and perhaps even conquered despite their times and the circumstances they were forced to endure. In some cases, perhaps the victory was merely staying true to one's self – but who's to say that's not a victory in times of oppression? What Would Boudicca Do? was written in order to encourage women to never give up, because even when the times were much darker for our kind, there were still strong-willed women who would just not be subdued – even if it cost them their lives.
Giving Voice to History's Lost Ones
So what did I like best about What Would Boudicca Do? Oh, a lot of things – but most of all, the humor, the motivation, and of course, the knowledge. In the afterword, the authors mention that it was incredibly hard to pick and choose who goes in the book and who doesn't – because its only 50 women, and some of the well known ones, such as Marie Curie, Joan of Arc or Mother Theresa were not included. But that doesn't mean their achievements were not important – the aim was to give some stage time to the strong voices of female history who are lesser known. So while the book does include some really big and well known names such as Queen Victoria, Coco Chanel or Cleopatra, it also introduced me to a lot of powerful women I had never heard about before, and I feel that that's incredibly important.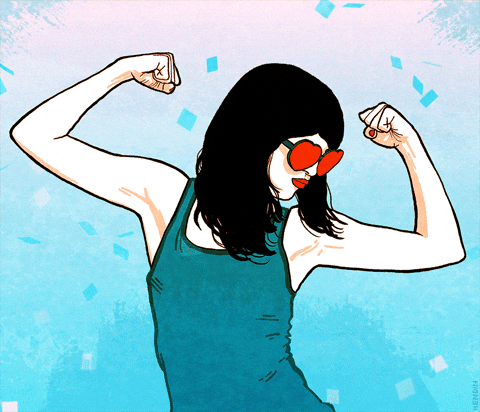 An illustrated GIF of a woman wearing heart shaped glasses, flexing her mucles
Everything Needs Some Humor Though
Another thing that I really loved about What Would Boudicca Do? is the humor and the tone. If you're expecting an encyclopedia sort of vibe, you couldn't be more mistaken. The book is full of alliteration, loads of puns and very bitey humor, especially when it comes to discussing men. I would even venture to call it saucy in places! Seems to me that this was the specific intention to color the text, and it's really the only reason I can't recommend it to anyone younger that middle or late teens – basically, high school material. However, precisely because of this kind of language, I think it would be a great hit with older schoolgirls, and a good influence on them too. I have mentioned before that this is one of those books you should have lying around your house, when your younger cousins or teenage nieces come to visit – and that would be for two reasons. One, the book really is motivating, especially for a young soul without a direction. Secondly, it would very probably institute you into the "cool aunt" status.
If your high school age niece is coming over for the holidays and she will take no crap, you need to get her What Would Boudicca Do? - a book that will surely reinstate your cool aunt status. Here's why:
Click To Tweet
What Inspired Me The Most?
If I had to pick the most memorable women from the book? I would have a hard time, because they're all so inspiring. But let me present you with at least short passages about some of the women who really caught my attention. Again, I am not mentioning the obvious choices – I love Rosa Parks, but you all know about her already. Let me introduce the ones you might have never heard about.
Grace Hopper
View this post on Instagram
Grace Hopper was a computer pioneer who just wouldn't be put down, when the military would not accept her candidacy because of being "underweight and too old"! The reason Grace wanted to join the war effort was because she was shocked after what happened at Pearl Harbor and felt like it was time to put away her civilian comfort and fight for what she believed in. Eventually, Grace ended up in the Navy because she would not take a 'no' and ended up working with one of the first room-sized supercomputers and even developing a manual for it. Now, what really appealed to me about Grace was how she believed that society should never rest on the laurels of a job well done, because that eventually leads to failure and laziness. Here's a famous quote by Grace which I really like: 'The most dangerous phrase in the language is "we've always done it this way!"' Grace wasn't afraid to challenge traditio­nalism, and I believe its especially important to keep in mind when it comes to matters of equality.
Enheduanna
View this post on Instagram
Have you even heard of her? I hadn't. And we're probably not the only ones. As it turns out, Enheduanna is history's first writer who was named – man or woman, and she wrote poetry about a millenium before Homer became the great legend. I wonder, why have we never heard about her? Why aren't we taught about her poetry? Or is it just the way it goes for women? Especially with how women have been kept out of literature in the 18-19th century, this shound make you shake your head at this even more. And if you're a female writer, go ahead and find out more about her to be inspired!
Fe del Mundo
View this post on Instagram
I was also incredibly inspired by Fe del Mundo – she was a Filipino pediatrician who really made a difference. Admitted to Harvard only because her foreign name sounded ' 'possibly male" to the officials, she refused to be intimidated about being the only woman on campus – that includes an all-male dorm. I studied as the only female in my class of 100 in a university of engineering, but there were other girls in other courses. I can only imagine what Fe must have gone through in 1936 in Harvard – the only woman, pretty young at that, and a foreigner as well. Despite all this, Fe succeeded and came back to the Philippines to build children's homes and hospitals and become the first woman to head a government general hospital, and later to open her own center for sick chidren where nobody got to boss her around. I find her to be perhaps the most inspiring woman in the whole book.
Chevalier d' Eon
View this post on Instagram
I can't fail to mention Chevalier d' E'on because I think it's so wonderful that the authors included someone who is presumed to have been a trans woman (although all of this took part in the 18th century, so some parts of this story are unclear or hard to ascertain.) Either way, Charles was special because for most of her life, nobody actually knew whether she was biologically male or female (perhaps she identified with both, although back then there was probably no concept of that.) The child was raised as a girl, but regarded as a son by her father. Later she infiltrated foreign royal courts and participated in various political affairs (she might even be called a spy!). The most interesting part of this story must be that after rumours about Charles' gender started spreading, she was offered a pension if she were to retire and live out the rest of her life as a woman – which she reasonably did. But the funny thing is, Charles offered to take up arms and go to war, but was denied over the grounds of "being a woman" – when the real joke was that upon her death it was found out that biologically, she was male. It seems that you can never get it right when you're a woman, huh – they ask, you comply, you want to offer fighting for a cause, they deny. Typical! Charles seems to have been way ahead of her time, because to her, it didn't seem to matter what gender people ascribed to her. I can imagine her rolling her eyes upon seeing the declined petition to go fight in the war. Truly a very interesting history of a strong lady who won't take any crap from anyone, because deep down, she knows who she is and it's nobody else's business.
Mekatilili wa Menza
View this post on Instagram
I was awed by this personality! Another great example of how this book is open to any culture, race or sexuality. Mekatilili was from Kenya, and she would just not have Western invaders in her homeland's business. What's more, she got everyone to listen through dance. A lot of you might know how important dancing is in some (many?) African cultures (pardon my ignorance and feel free to school me in the comments!) In order to rouse people to her cause, Mekatilili traveled from settlement to settlement and danced a tribal ritual dance to get everyone to listen, and THEN she talked of the invaders and their politics. What's more, she did this white in her fifties. In this way, she roused the people to an uprising and was arrested – twice, and escaped, also twice. Her story is incredibly inspiring!
And of Course.. Frida Kahlo
View this post on Instagram
What list would be complete without Frida? We all know who Frida was. She's too big a star, too bold a star to not be noticed. But as it turns out, I did not know a lot about her – certainly not enough. I knew she had exceptional style, but I didn't know she had it DESPITE some serious physical challenges. For example, did you know that Frida had polio in childhood, and as if that's not enough, suffered a terrifying bus crash that severely damaged her spine? She was bedridden a lot because of that. And did you know that she had to have her leg amputated eventually? None of this stood in her way of creativity, but even more importantly – none of this stood in her way of possessing a personal expression of style recognized by many, or being in touch with passion and sexuality. The fact I am incredibly inspired by was that she even interpreted her prosthetic leg as art, as a statement – not as a hindrance. She should be a beacon of inspiration for spoonies all over the world. I nearly cried when I was reading those chapters.
So did you enjoy the list of these incredible women? If you did, that should give you a sufficient taste of what the book is like – its pretty much more of this, although with more spice and spunk. It's a really great source of inspiration and a killer of self-doubt. And hey, it's one hell of a fashion accessory to pull out of your bag!
Starting with the gorgeous cover to flaunt in public and ending with relevant stories to bolster your self-confidence, What Would Boudicca Do? is a good companion for any contemporary woman's nightstand.
Click To Tweet
I thank Faber & Faber for giving me a free copy of the book in exchange to my honest opinion. Receiving the book for free does not affect my opinion.
Have you read any nonfiction books about strong, high-achieving women? Would you recommend me any?
I'm Evelina and I blog about books that made an impression on me. I love middle grade, women's, scifi and some literary too.