I can't believe it. I have finished it. I've finished the Murderbot diaries. It's done and over.
But will there really be no more??
For quite a while, rumors have been spreading that this is indeed the final part. But I refused to accept that. Why? Well, I love Murderbot too much for it to end. That's gotta mean something, right? RIGHT?? And if there were more people like that, which I'm sure there are, there's no way Murderbot would just stop having adventures. There can't be!
And so… It seems my hopes have come true! If you click on the series link where Goodreads lists all the titles… You find this neat little thing nobody really talks about much. And then there's also this… An upcoming Murderbot novel!!! (Open the link to read more about it)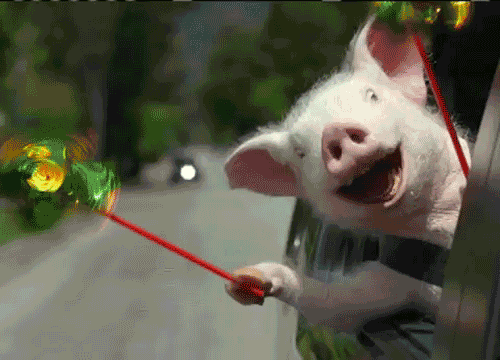 A GIF of a piggy, peeking out of a riding car and dual wielding paper windmills
My soul settles. There will be more Murderbot. Now I must only gather my strength up to survive till 2020 and get to read it.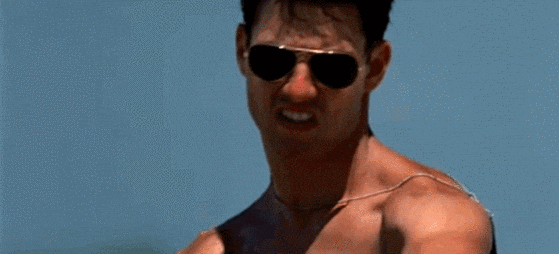 A GIF of Tom Cruise looking at his watch
Anyway, I just finished the fourth Murderbot novel, Exit Strategy, but this time I'm not posting a review. Mostly because a lot of you will have either read the earlier parts of the series, but not this one, or not have started the series yet, waiting for it to conclude so you can read it all in one go. So me posting a review of part #4 would be neither here nor there. Instead, I'm going to use my chance to ramble more about this awesome series.
Why Should You Read the Murderbot Diaries?
#IntrovertProblems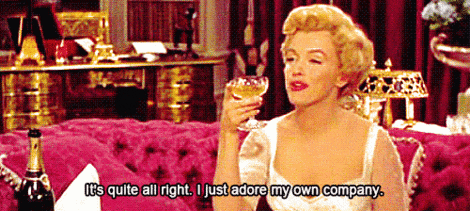 A GIF of Marilyn Monroe in a movie scene, saying "It's quite alright. I just adore my own company."
Well, for starters, it's incredibly relatable. Murderbot is a construct, not a biological entity (although they do have biological human parts), and Murderbot also dislikes humans, mostly because they fear them and think they are a monster, which they're really not. It's the equivalent of thinking Murderbot has no soul, much like those people who think animals don't have feelings. But despite Murderbot being non-human, they're SO INCREDIBLY RELATABLE. Murderbot represents #introvertproblems like nobody else! There's this quote by Malka Older on the back of my copy of Exit Strategy that I thought was incredibly accurate: "Not only a fun, fast-paced space thriller, but also a sharp, sometimes moving character study that will resonate with introverts even if they're not lethal AI machines." It does resonate with you!
Gender-fluidity
This series is so great when it comes to gender discussion. Pardon me for any incorrect usage of terms here because I am simply ignorant, but basically… In The Murderbot Diaries, you don't have to fit any mold when it comes to gender to be able to identify with the main character. Firstly, it's because Murderbot doesn't really have one. They weren't made with one. That allows for EVERYONE to identify with this character, and I know I certainly did. Not only is it a really great thing to be able to identify with a smart and physically capable adventurous character if you're a girl (because we're seriously not portrayed enough like that kind of character!), but it's also probably very liberating to see yourself in Murderbot and not have to match any specific gender, if you are undecided or somewhere in between the lines when it comes to these things. Absolutely everyone can identify with Murderbot and relate to what they're going through. But that's not the only thing – sexuality in this world is also very fluid. There are people with multiple (assumed married) partners, loads of queer relationships which are completely usual and normal. Even the clothes are not gender restricted! I really loved that. It gave the world such freedom. Granted, it's not talked about a lot – but that's not the point. The point is, it's there and it's just a part of the norm.
The Pace
The novels (novellas? Novelletes? I always get confused.) are pretty short, but they pack a punch. They're probably only so short because they have no filler – they're pretty fast paced, and that's another thing I really liked about The Murderbot Diaries. You won't get bored for sure.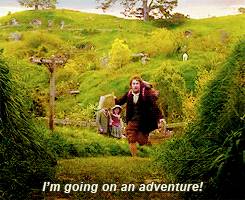 A GIF of Bilbo running through the Shire, shouting I'm going on an adventure!
The Consistency
A lot of series are really great at the start, but then they sort of peter out by the ending. Or they suffer the dreaded middle book syndrome. The Murderbot Diaries don't! I consistently gave all of them 5 stars, except for the third one, which just had too many #feels for me to enjoy it as much as I did enjoy the other ones. But part 4 put it back on the 5 star list again. Point is, not a lot of series can be consistently rated this high. It is exceptional. Murderbot delivers action, humor and emotion every single time, as expected, in high quality. I think it's probably time for me to be moving on to other books by Martha Wells – now that I've got all this waiting to do till 2020 till I can read Murderbot again.
P.S. Exit Strategy comes out on October 2nd, 2018!
I thank Tor.com for sending me review copies in exchange for my honest opinion. This did not affect my opinion.
Have you read any of the Murderbot books? And are you planning to? What's a series for you where you could say you rated almost all of the books 5 stars, consistently?
I'm Evelina and I blog about books that made an impression on me. I love middle grade, women's, scifi and some literary too.