I am so lucky to have been able to read The Winter of the Witch before its release! I have been following this series ever since I started blogging, and I have to say, I think The Winter of the Witch is the best installment. This doesn't happen very often! We all know that it's usually the first book that's the best, and except for rare cases, it's at the least book two that suffers The Syndrome of the Middle Book. Fortunately, this didn't happen to the Winternight Trilogy! I don't think I can easily recall another series where the books just kept getting better and the third and final part ended up being my favorite!

Check out on Goodreads
★★★★✬ 4.5 stars
Vasya flees Moscow in danger – accused of being a witch, tried and scorned by all. Nowhere is safe anymore – the Winter King is quite possibly lost, and nobody knows where, not even family wants much to do with Vasya anymore, not to speak of the rage of the city she nearly burned down. And then there's the priest it all started with. Vasya flees into the unknown – where she will not only discover hidden things about her family's past – she will also discover herself and her true power.
The Destiny Of The Witch

A GIF of a hand, trailing through rippling water
Vasya stands for all the women of the middle ages – women who were inconvenient, who could not subdue their spirit, who believed in the magic all around them. And perhaps, who were only in the wrong place at the wrong time. Called witches, threatened and persecuted, they still stayed strong and true to their nature. And for the men in power, "she deserved it" was made up of "she was beautiful" or even "she was ugly", or quite simply "because I couldn't have her". This has been an important topic from the very start of The Winternight Trilogy, but I did not expect a YA fantasy to portray the crusade against women so well. However, Katherine Arden excells at putting all the right words into all the right characters' mouths. What they say is incredibly archetypal and carry so much more than just the events in a fantasy story. They carry centuries of pain over the meaning encoded in the word "witch".
And Of Course It's So Dark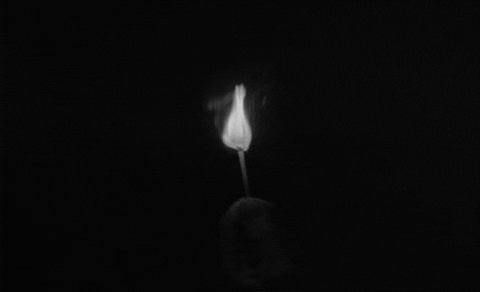 A GIF of a match burning in pitch black darkness
Another thing I didn't expect was for The Winter of the Witch to be so dark. The first book was sad, but it was about what was to be expected of a YA fantasy. The second book got darker. But it seems the stories age along with their reader – so if you were, say, 14 when you started the series and waited for the sequels to be released, you would find that the topics and depth matches your new 16 year old self now (at least, it would have for the 16 year old me!) I could say, it's much like how the Harry Potter series gets progressively darker as the story goes on. The Winter of the Witch isn't JUST DARK – it's brutal and bloody, and even shocking. There are no easy endings, no fairytale saviours. There are only godless psychopaths and fanatics, dark and actually terrifying demons, and the cold, cold winter. And just like before, the princess has to save herself. Because princes do not come for witches.
There are no fairytale saviors in #WinteroftheWitch. Just like before, the princess has to save herself. Because princes do not come for witches.
Click To Tweet
Good and Evil, and then Religious Fanaticism
A man who has lost his faith is a dangerous man. Especially if that man is seen as a man of god. Father Konstantin has played an important role in the books ever since the first pages, but his role culminates in The Winter of the Witch. Katherine Arden does a wonderful job portraying religious fanaticism – in a man alone, as well as in the people as a mob. The middle ages especially are the perfect place to display how these structures affect society. But it's not to say religious fanaticism is not relevant or dangerous today. It will always be relevant, because it lies in the core of humanity to project one's fears, losses and broken beliefs on whatever seems convenient at the time or what fits the skewed belief system of the accuser.
Father Konstantin is every bit as hurt and lost as he is dangerous, and the reader, as well as hating him, can't help pitying him at least a little bit – because he was taught to only see black and white, to repress his natural urges and to look for the miracle of creation without – and not within. Ultimately, it is the Fathers' undoing, and you know from the start that it is not just a path of destruction to punish Vasya – it's also a mission of destruction aimed at his own self, because he uses Vasya as the mirror in which he sees all the "evil" he has been repressing in his own self. He thinks destroying the mirror will cleanse him, but that is not how these things work. Father Konstantin is the perfect example of what happens to a man when he is raised on lies, restrictions and dogma alone – not compassion, understanding and kindness. Father Konstantin is what is wrong with religion today – he is what has been wrong with many religions since the dawn of time.
Father Konstantin from #WinteroftheWitch is the perfect example of what happens to a man when he is raised on lies, restrictions and dogma alone - not compassion and understanding. And what happens to the women around such men.
Click To Tweet
This Book Is A Journey
What I liked best about The Winter of the Witch was that where the previous two books were more about a place, this entire story is more of a journey. Vasya gets to go to some strange and interesting lands! And I was so interested to see Slavic mythology be interpreted in that way. The previous books were definitely fairytale enough, but they do not compare to this last one. It was THE ULTIMATE fairytale for me.
A GIF of a beautiful forest
But Beware Of The Triggers
Triggers include mutilation, attempted and discussed rape, war and killing, lynching and witch hunts, death of loved ones.
View this post on Instagram
I thank the publisher for giving me a free copy of the book in exchange to my honest opinion. Receiving the book for free does not affect my opinion.
Have you read any of the books in The Winternight Trilogy?
I'm Evelina and I blog about books that made an impression on me. I love middle grade, women's, scifi and some literary too.