What an odd little week. I don't know where it went! Did you see it?
I've pretty much nothing to report….
I… did some reading?
Did a tiny amount of work..?
Went for… walks..? Cause it's finally spring
But seriously. I didn't request any books. I hauled only one (but an important one, at least! You'll see)
Oh hey though, Book Bards finally caught up with the score this month. Cause we realized we're awesome.
And I was also doing a pre-readathon for Dewey's – the incentive was 1000 pages this week, and I'm happy to say I've reached 1024 pages even before the readathon ends!!
Why the mini-hiatus in my subtitle? Well, because I'm not actually going on hiatus – I will still be posting! But I'm tired of posting like a clock. Especially with those guest posts, which I'm currently having trouble with – one of the people isn't even responding. So I might post something if I feel like it, or I might just let it go. Sorry if it's just reviews for a little while. I'm tired of blogging being a job. It's sunny outside. GAH.
~ Last Week On The Blog ~
Last week I had two reviews, a long overdue review of Doorways in the Sand that's been standing in line, giving way to the other reviews that needed to come out sooner, and The Lost Castle, that was giving way to others in a similar fashion. Both worthy books! And finally, since I'm having a bit of a break with the guest posts, I posted a discussion about book blogger fears, and the post is kind of a touchie. I wonder if you have similar fears?
~ Coming Up Next Week~
I'm tired of this whole next week business! So as I said earlier about the half-hiatus, I'm not certain what I'll be posting this next week. But there will definitely be ONE post on wednesday, and it's a book I really, REALLY loved – The Sunday Lunch Club! I'm still having a bookish hangover about this book a month later. So definitely read it 🙂
~ Little Book Haul ~
It has indeed been little! And finally, FINALLY I've hauled it, I expected to have it in print – but that plan failed out on me, so I just grabbed the Kindle version. The Kindle version is not too great – I also read Illuminae on the Kindle and it was much better – Obsidio has a few things about it that just don't work. There were some graphical elements which were just too small to read, and the Kindle limits how much you can zoom. I know I could just turn on my Amazon cloud reader on the computer, but it also kind of sucks that they'll make me do that. They should have really looked into this and maybe made it more accessible for those of us who can't get a print version of the book, if they're releasing it on the Kindle at all. But regardless! I'm happy I'm now able to read it 🙂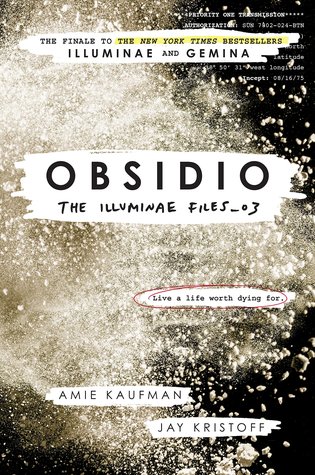 ~ In The Bookish Community ~
You can choose to take, or specifically ignore Sophia's @ Bookwyrming Thoughts advice on how to drive people away from your blog xD
Wendy @ Falconer's Library has also posted an amazing discussion post about diversity – what's normal for you might not be normal for me
So how has your week been? And what are you reading? What did you haul?
As usual, I'm linking up with the Sunday post meme at Kimba's book blog and Stacking The Shelves over at Tynga's Reviews.
I'm Evelina and I blog about books that made an impression on me. I love middle grade, women's, scifi and some literary too.