So as my post title suggests, I should really be doing a monthly wrap-up, but hey, my blog – my rules (I have been saying that quite a lot lately, I feel xD) So I'm just doing a regular Sunday post! Why? Because February kind of wasn't the most awesome reading month. Yeah, I did read some really good books, but overall it was disappointing, and I had a book slump (and an 'everything' slump, really), so I don't even want to look back. Literally, there was a week when all I did after work was play a mobile game that requires you to feed cats, because I wasn so sick of everything (overtime included). Stuff has been hard! But I'm finally back to reading, and actually feeling like I'm interested in it, so I hope stuff will get better!
So there will be no accomplishments list for this week, cause all I have accomplished is basically breathing and working xD but! I do have something interesting to share. Today we went to the town fair! It's one that happens only once a year, and truthfully, I'm surprised that we even managed to haul back everything we did. It's only once a year, like I said, so we kind of go all crazy on the stuff we want to get, cause some of it isn't available more than that one time! We ended up with a whole lot of beer (honey beer, mostly!), home-made cheese, smoked fish, cakes, and even some baklava and roasted nuts. Here's a thread with pictures that my boyfriend made on Twitter, go check the haul out (bring snacks xD):
Today in Lithuania its a traditional "festival" called Kazuko Muge" which is basically a market to sell traditional goods like wooden spoons, coins, crafted goods etc but we are suckers for food so here is our haul! Explanations are below! pic.twitter.com/A2pD8yk1Cg

— Stefan TBD (@ebilshrimp) March 2, 2019
 ~ What I've Been Reading ~
I've been neck deep into The Blue Door series this week. They were free to download on Edelweiss a few weeks ago, and they might still be – and I can recommend them so far! They have first been released in 1941, so as you would expect, some things about them are dated (the way overweight girls are treated makes me want to cry… and the fact that teen boys smoke and that's normal is just o.o), but if you keep it in mind that it comes from a whole 'nother century, it's a very enjoyable and surprisingly relevant tale about some kids with real ambition for theatre and their power to keep fighting to be allowed to choose it as a direction for life, as all of their parents are strongly opposed to this 'unreputable' profession, as it was commonly thought to be at the time. It's really interesting to read about their achievements, as well as just compare how many have changed since then, and how many haven't. I will be reviewing them in more detail soon, but I just wanted to share that I've really been enjoying them so far!
[ Goodreads ]
I've also been buddy-reading Lingering with Beth @ Before We Go Blog. And what I mean when I say buddy-reading, is actually dragging my butt behind Beth and not being able to catch up AT ALL, cause I'm doing overtime at work and also in a book slump no less (oh my god, Beth, I am so sorry for being such a shit reading buddy!!) But anyway, the book is very interesting! It's super well written, and the premise is curious, in a morbid way – a software that can make your loved ones who have passed be able to talk to you. Or rather, not really them, but a digital 'them', created by the footprint they've left on the internet. It's a very interesting idea, and I feel like it's pretty relevant in today's world, cause pretty soon I'm sure this could become reality. Obviously, this story deals with a lot of morally grey areas, but I'm also curious as to where it will go, because some things are pretty suspicious, but I haven't read quite enough to see where it's going to go!
[ Goodreads ]
~ What I've Been Talking About ~
Okay, so since this is *sort of* a monthly wrap-up, let me just chuck the entire month's posts here! So you can catch up with anything you might have missed, if you think you'd like it. Actually, all of the books I reviewed I really really loved! So I can't recommend one more than the other, but I have to bring attention to Heavy Flow, a book about menstruation that every woman should read, The Spec Set, a rare kind of book – because it's neuro-diverse, and The Vela, because it's super diverse in every way, so empowering and also contains a non-binary main character!
~ What I'll Talk About Next Week~
Next week, I'll be posting a review of a book I truly loved and one that a lot of you might also know – The Forty Rules of Love by Elif Shafak. It's a book full of romance and spirituality that made me fall in love with it with all my heart. And then, for Woman's Day, we have a relevant guest post – The Writer Behind the Name: How Much Does Gender Bias Exist in Publishing? I am really looking forward to that post myself, and I truly hope you'll enjoy it!
~ What I've Been Hauling ~
Nope. Just nope. I hauled 23 books. We ain't talking about that xD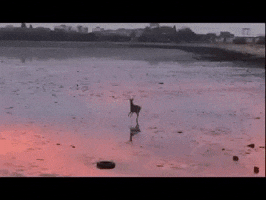 A goat-like creature bounces on the beach, with "nope nope nope" appearing on the picture
So how has your week been? And what are you reading? What did you haul?
As usual, I'm linking up with the Sunday post meme at Kimba's book blog and Stacking The Shelves over at Tynga's Reviews.
I'm Evelina and I try to blog about books that matter, with a bit of fun there too! Disability and equality will be topics you see a lot, but there's also a lot of scifi, fantasy and… GIFs. I'm also the proud founder of #ARCsAnonymous.