No but I should really start writing down snippets of stuff about the week, cause I just find myself with a completely blank mind every Saturday when I sit down to write the Sunday post. This was a… an odd week to say the least. I had a ton of work and ended up having to go out nearly all days after work. Some of it was fun, some was just exhausting. When you're kind of a spoonie, even the fun things are exhausting though. But things are alright!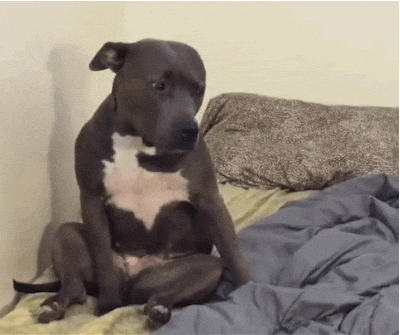 A GIF of a dog who is so tired he flops over on the bed
I visited a small second-hand book store this week too, so that was fun. Ended up getting a book I had been wanting to read for ages – The Secret History by Donna Tartt. That will be the last novel of hers that I haven't read. I also got a tiny classic purely for the stained pages because I cannot (I will eventually bookstagram it!!) But second-hand book stores are much less fun here than they are in, say, London. For some reason, like 60% of that bookstore was books in Russian, so completely inaccessible to me (we live in Lithuania… We don't speak Russian, although we were once occupied by the Soviets. I am confused. Why so many books??) They had some English ones, and most of the Lithuanian ones seemed to be romance, so also completely inaccessible to me 😂 and I swear there were way too many copies of a number of shades of a certain color that I don't want to even be mentioning on my blog. Anyway! It left me a little disappointed. It's sad when a book store leaves you disappointed.
Anyhow, I feel like I must apologize AGAIN for being absent and especially linking up my post, but never visiting yours. Really am sorry! But my health is currently just not cooperating. I hope you know that I'm always remembering all of you!
 ~ What I've Been Reading ~
Chasing Eveline has been on my Kindle for a while, I got it as a freebie during some promotion. I wasn't jumping at the chance to read it because it's contemporary YA – a genre/age group mixture I slightly struggle with (read: the book has to be REALLY GOOD to hook me.) But this one was recommended by a few other reviewers, so I grabbed it. I just started reading it on a whim last week – and I'm enjoying it! That says a lot, considering how I feel about contemporaries. But somehow, the characters are pretty relatable, the story is damn emotional, although it also makes me sad, and it also reminds me how I used to love music when I was a teen. I don't know why, but music just… doesn't grip me as much now. I mean, it does when I let it – but when you're not a teen anymore, you somehow stop having time for music (raise you're hand if that's also you!) At least, that certainly happened to me. So it's nice to remember how I too used to find my life in music and turn to it whenever I felt like the world was too dark to keep my eyes open anymore. I can relate to that! Anyway, this book is kind of heart-wrenching though – although it's also written in a very straightforward style, so no dramatizing. The main character's mother just up and left – without saying goodbye, and Ivy, her daughter, has been dying inside for two years because of that (it can be suspected that her mom left because of mental illness, probably depression, and not wanting to keep putting it upon her family or needing to hide it.) Her friend Matt has also been abandoned by his girlfriend, and worse, he's also lost his parents (although I can't confirm, and this is embarrassing – as I was falling asleep when I was reading that 😂 I often read before I sleep.) Anyway, those kids have some pretty devastating events in their past, and they keep trying to work out pretty weird ways to solve them, which to meet seems like a kind of fixation, so I'm really interested in where this story will turn. But you kind of can't help feeling for Ivy and Matt. It's a painful story. And you just keep rooting for them. That's why I haven't been able to unglue myself from Chasing Eveline.
[ Goodreads ]
This week mom brought How to Stop Time from the library. Of course, I jumped at the chance to read it, but… Man, I am just not connecting to this book at all. It seemed promising, and it kind of has good reviews, but I'm struggling to even finish it (I'm not even halfway yet). Just not connecting to the concepts, characters or anything, really. This is where my title of this post comes from. I have read 4 books so far, and 3 of them have been 5 stars!! Great, yes, but… I mean, maybe I'm just finding this book MEH now because I am jaded by so many awesome, amazing books and won't take nothing less? So yeah… I'm not sure. We will see. But I'm sad I'm not enjoying this one.
[ Goodreads ]
Aaaaand… We're back to the greats. I know I already talked about Eleanor Oliphant is Completely Fine last week – but honestly, I could keep talking about it every week. I just finished it, and it was a buddy read – and it was quite possibly one of the best reads this year (I feel like I've already read my best books and now it's downhill from here x.x) It was just so touching and sad, but funny at the same time. The book goes magically from unrealistic to completely natural situations, and it portrays the main character's mental state so well. I just can't even! This is the perfect book, and I'm so happy I read it as a buddy read as well, because the discussion made it even better. It was not even a read, it was an experience, and I feel like it changed things in me as well. I'm not sure I've read anything as strong since reading Going Widdershins last year. Anyway, I think I should be reviewing Eleanor Oliphant is Completely Fine sometime soon, but for now – JUST READ IT!!!
[ Goodreads ]
Then there's Like Water for Chocolate, which was also unforgettable. What a whirlwind… It's just a twirl of emotion, color and… tasty sounding dishes. That I mostly have not tried and probably never will, because I live so far away (T_T), but man do they sound good! Considering that nearly every day in the evening, when I write my daily gratitude lists, the first item on those is nearly always FOOD, this book just knew how to talk to me. I am slightly unhappy about the ending *grumble grumble*, but it was still amazing. It's like a Cinderella story that showers you with details of Mexican culture, cuisine and sprinkles it with a pretty heavy dose of magical realism. It was amazing.
[ Goodreads ]
~ What I've Been Talking About ~
Last week I had two posts – a buddy read review of a paranormal historical fantasy set in ancient Japan, Shin, that we read together with Dani @ Perspective of a Writer. And I also welcomed newbies into the community in #NewBloggersWelcome edition 8!
~ What I'll Talk About Next Week~
Next week you have the unique chance to recommend me new books! Because I have absolutely no idea what is coming out right now and what's good 😂 so please check out the post and tell me what's new and good in the publishing scene right now. And also, I will be posting a discussion about why I read, and asking you if you have ever considered why you read:
~ What I've Been Hauling ~
I'm Evelina and I try to blog about books that matter, with a bit of fun there too! Disability and equality will be topics you see a lot, but there's also a lot of scifi, fantasy and… GIFs. I'm also the proud founder of #ARCsAnonymous.