So this has been a pretty exciting week for the blog! Thank you so much for completely breaking all records of my all time best stats!!! Everyone was so excited about the Real Publicist Advice: How To Get Review Copies Approved? that I got double or even triple views compared to my best day ever before this. Considering that my stats have been super low this month because I've been posting less, I can't believe a single post brought me back to the 'good stats of yore', heh! Thank you so much for your visits, and just in case you haven't read the post yet, here it is:
 ~ If You Came Here For The Laughs Though… ~
But anyway, I also have a story for you! It's one of those stories you post on Twitter with a facepalm emoji and have 20k women retweet it, so I think you'll enjoy it. I went out with friends yesterday, and it was kind of a big group of people, most of which I didn't know, but there was one friend we hung out with for most of the night, and she's one of those truly empowered women – nobody gets to tell her what she should do (she's really awesome!) Anyway, we were talking with the people at the table, and there was this guy on the other side of it, part of the group we were talking to. I can still not quite figure him out 😂 this is the main character of the story here… So he started off with introducing himself as 'free' and explaining that he doesn't use social media. Okay man, good for you… After that, he started telling us about how he's the SENIOR salesman in his company. Stress on senior, repeated several times, and the look on me and my friend's face was like 'are we missing something here..? We are supposed to be impressed now, right?' (I think this is a good time to tell you that I am in charge of the production side in our company, which makes me the second in line after the boss, and she is basically running the entirety of the events in the second biggest city in Lithuania. She is the boss of the old town of the city. Basically.) Anyway! Seeing as how we're failing to be impressed, the guy keeps on going about his seniority as a salesman, until my friend finally breaks and starts asking him all sorts of questions, which went pretty much like, 'Alright, Mr. Senior, now tell me how many percent sales is it exactly that you make more than the other salesmen that they made you the senior one?' Surprisinly (or not so much), I don't recall an answer to this question. (At this point, by the way, we didn't just continue being unimpressed, we started addressing the guy with a comic version of the word for Mr. Senior in Lithuanian – unfortunately, it doesn't translate well into English though! I maintain it was not childish and quite neccessary at this point 😂 either way, I don't think the guy picked up on our sentiment.) Now, I don't remember whether the NEXT PART happened right after, or did we talk about other things for a while, but this is the good part! I just know that they went outside to smoke (I don't smoke, but I kept them company) and we all stood around in a bigger circle of people, so there were more of that guy's friends. Now this is the part that really makes the story, because maybe the Mr. Senior part wasn't all that unusual 😂 anyway, they're all standing around, the Mr. Senior part conveniently dropped because we didn't seem impressed, being pretty senior ourselves, I guess, so the guy takes another tack. With a little help of his friends. (At this point, I really don't understand WHY it's so important to impress us..?? We're not single, we're friends of friends, there's no way we'll even be interested in you, also factoring in the part that's going to happen next..? I am confused.)Anyway, they start talking about how he's 'free', right.Liberated! The way he doesn't use social media (big wow!) When I say 'free' though, you have to know that in Lithuanian, that has a ring of 'single' to it. So as the guy mentions that word a couple of times, a friend of his comes to his help, seeing no reaction from us, and starts going on about how he's actually taken and he's been holding down a relationship for a looooong time, at least a few years. I mean, when I say that, it doesn't sound like anything unusual, but you kind of had to be there and see the WAY that friend said it. With awe and reverence, and I think we were supposed to drop at the guy's knees and congratulate him?? Not just that he's a Mr. Senior Salesman, but that he's also this incredible Super Guy, who has somehow held down a relationship for a couple years, WOW right??!!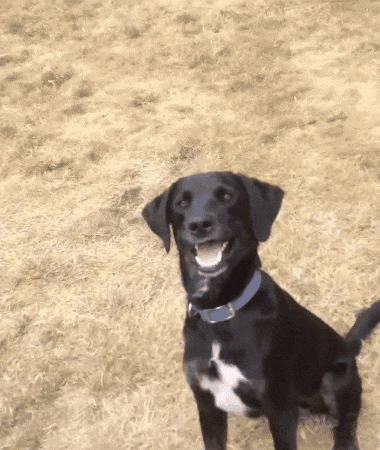 A GIF of a dog, blinking in confusion, which perfectly illustrates me and my friend's faces at that point
Now I am pretty clueless in social situations. I don't actually know what my friend thought, I'll have to ask her, I guess, but I was confused AF at this point 😂 at the same time, I kind of want to refuse to believe that that group of guys ACTUALLY wanted us to applaud the guy for… being a person..?? Because apparently, if you're a guy, being a person is now an achievement..? I just…? WHAT? 😃 I can believe one ridiculously self-absorbed guy would think these 'achievements' enough to be applauded, and hell knows – maybe he gets women drooling over him every day and just expects this kind of treatment or something (although in this case, I worry about these women that surround him…) But the fact that an entire group of guys somehow thought he was an outstanding specimen who should be applauded just completely floors me 😃 (and could maybe suggest to you the state of guys here and why my boyfriend comes from another country.) Maybe, JUST MAYBE, the meaning of this entire interaction somehow escaped me because I'm socially clueless. You tell me 😃
Oh yeah! And I forgot to mention that at some point, when my friend was talking about her friend who needed a date, the guy asked 'Tell me how good looking / hot she is compared to you. Better, worse?' 😃😃😃😃😃 I REST MY CASE. (I have more saucy details about that loooooooong relationship, but I'm not allowed to share them here. Message me personally, if you're dying of curiosity!)
Anyway. Onto the books! 'Nuff gossip 😃
 ~ What I've Been Reading ~
My reading has been suffering this week because it was a busy and difficult week for me, so I'm only going to feature this one book – as the only ones I've been reading were Agents of APE and The Winter of the Witch, which I talked about last week. Agents of APE is a lot of fun! If you can recall me talking about Coco and Chanel the other week, this is part of my unexpected venture into chick lit territory, again! Same author as well. (By the way, review copies are still available I guess, so you can message me for the author's contacts.) I chose to read this one because everything else by Donna Joy Usher was fun and very well written, plus a scifi chick lit? Never even heard about a genre like this! Have to try. As it turns out, this is a book that's incredibly hard to put in just one genre – and I'm not sure if I'd even call it chick lit at all. It's more like… urban fantasy, except we have aliens instead of demons? Loads of fun, anyway. I'm enjoying it! The book comes out on January 6th, so I'll be talking more about it on that day.
[ Goodreads ]
~ What I've Been Bookstagramming ~
It's kind of ridiculous that I've actually prepared a few Bookstagram shots the week before but just didn't post them this week. I often do that! Do you do that to, or is it just me..? Anyway, so I don't have much of anything to share, apart from the photo that isn't even mine 😂 but it was incredibly popular on my second Instagram (compared to my usual number of likes there, I guess), so I've stuck it here on the post. This is a pic taken by my boyfriend! He bought me a gift. Hufflepuff pride! I have also signed up for Noura's Harry Potter readalong in 2019, so this will be PERFECT:
~ What I've Been Talking About ~
Last week was a super exciting week for #NewBloggers! Click the images to see the posts:
~ What I'll Talk About Next Week~
I'm not entirely sure I'll definitely be posting three posts next week, but I'll try! First of all, true to the Christmas spirit, on Christmas Eve I'm posting a gratitude post for all those wonderful bloggers who made my 2018 wonderful 💗 then we also have a review for Winter of the Witch (which I might end up postponing, we will see!) and the State of the ARC #17 with a new bingo for 2019!
~ What I've Been Hauling ~
I'm Evelina and I blog about books that made an impression on me. I love middle grade, women's, scifi and some literary too.