Another week has flown by, and I'm still puzzled as to what I should be doing about my blog – because I want to change something up, but I'm not sure what. I'm also still struggling with the part where I draft reviews and posts, but just can't finish them. This mental fatigue is annoying! Is it just an end of the year thing? I can't find my motivation. Where is it?
A GIF of a woman in a 1950's celebrity-looking event, glancing and looking for someone far away
Anyway, I have at least had a good week of reading. Not too many accomplishments, but I feel like they don't motivate me as much anymore anyway. I've found a really fun chick lit series though! And I'm going to share it with you. Other than that, I'm reading like 10 books at a time again, and it's because I'm so unmotivated and can't concentrate. They're all good, but it's grating me a little. I just want to have a direction again!
~ What I've Been Reading ~
I've been reading Myth, and it's such a wonderful book – a true gem in the rough! I got it back in the day for free on some promotion, and that let me underestimate it – completely undeservedly. I left it for years (well, maybe A year), and when I just started reading it a few weeks back, I had forgotten everything about it. And I believe that is often the best way to go into reading a new book. I don't know what I expected – something fantasy, something mythical and copy paste, perhaps? I couldn't have been more wrong. The book is so incredibly unique, so well-written, and most surprisingly – incredibly dark in places. Dark and deep, and it makes you think about all that is wrong with the world – the hatred of communities other than yours or beliefs different than yours, unbridled violence and anger. The fantasy world is built so well as well – it's both realistic and magical, fantastical – I just can't tell you! It retains enough of our world, but also has enough random magic to be completely otherwordly. I know I am absolutely enjoying this book, and I can recommend it with all my heart!
[ Goodreads ]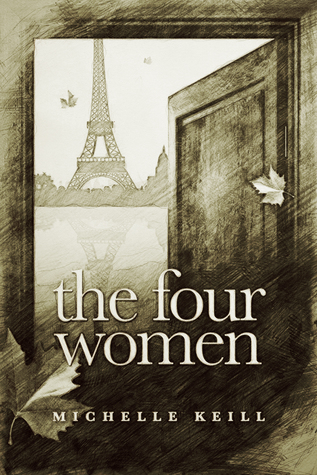 I've also just finished reading The Four Women, and it had such a shocking ending. I know it's quite an obscure book, but I keep wanting to throw all these spoilers at you guys, and just discuss, discuss! The moral decisions in this book are so layered, and there can be so many ways to interpret who was manipulating whom, who was lying to whom, whose fault it is. It's such a dark book of despair and premonition, but with such an interesting and unexpected plot, at least for little old gullible me. I wish we could discuss it! Is there anyone who's read this one?
[ Goodreads ]
And then I said I found an awesome chick lit. Well, here it is! It's sooooo much fun, it's legit SO funny! A very light read, and a quick one, but one that will make you laugh a lot. It's basically a cross between Legally Blonde (Reese Witherspoon learns to be a lawyer and prove that you can be one even if you're not the stereotype. The story fits, even down to the gay doggie!) and, if you remember it, Private Benjamin (Goldie Hawn gets to much in the mud, trying to become an army woman and prove herself.) I don't know about you, but I have a thing for Reese Witherspoon, and even though I've always been considered unattractive and low maintenance and pretty girls have only ever bullied me, for some reason I can relate to her character trying to fit in a world that's completely alien to her like character in Legally Blonde. Which is perhaps why I gobbled this book up as well – plus, like I said. INCREDIBLY FUNNY. There are a lot of reviews going around for this one where they complain about the character being wishy washy or that nobody decides to become a policewoman overnight, but you know what? It's chick lit, dude. It's for the laughs. It's for the light reading. It's not for literary dissection. So if you want to enjoy your evening, grab a cup of tea and actually a free copy of Cocoa and Chanel (it's free on the author's website!) and settle in. I can recommend it 100% and can't wait till I delve into part 2, which is already downloaded and waiting for me.
[ Goodreads ]
View this post on Instagram
Other than that, this is a photo of The Splendors And Miseries Of Courtesans by Honoré de Balzac. Which was just such a beautiful edition in the library, I could not resist (so call me vain.) It's a tough read though, because it's riddled with all these mentions of things that were relevant in France more than 100 years ago, and I just can't relate at all. It's also that flowery language… And the racism. Oh, the racism of older classic reads. It's truly despicable. But I'm determined to finish the book because I'm curious about the story the author's telling – of how a destitute, yet beautiful woman's life did not belong to her, of how women's lives didn't belong to them even if they were in better circumstances. And also loads and loads of cons and swindlers. I doubt I'll give it a good rating (the literary snob in me has died a long time ago), but I want to see the story through till the end. And those beautiful stained pages are helping, I gotta say.
[ Goodreads ]
~ What You've Been Talking About ~
Kristen @ Metaphors and Moonlight recommends scifi and fantasy books with no romance (yay!)
Michelle @ The Unfinished Bookshelf gushes about Dumplin' the movie and how body positive and needed it is right now
Camilla @ Reader in the Attic lists all the things that are needed for a good reading session in the wintry season
Meaghan @ The Words Gremlin talks about books she'd kill to see as TV shows
Avid Reader Diary posts current Amazon book deals
Amber @ The Literary Phoenix talks about ways to log (and keep) your book reviews
Bookish Species shares a blog design 101 post for beginners on WordPress
Dhruv Singhal posts a not so favorable review of Crimes of Grindelwald, the movie (with maybe mild spoilers)
Fanna @ Fannatality offers a 25% discount on beta reads and is hosting a contest for a free beta read!
Clo @ Book Dragons 24/7 wants to support book bloggers (herself included) and is setting up a little fund for it
Jane @ Janepedia talks about the Gutenberg editor and ableism
Trang @ Bookidote talks about the bookish things we should really give less f*cks about (and she's right!)
The Orangutan Librarian recommends books everyone hates (yes, that's what I meant!)
Gayathri @ Elgee Writes talks about how she picks her next read
Sam @ Fictionally Sam talks about how to make life easier for yourself if you're a mood blogger
Drew @ The Tattooed Book Geek shares two posts (one and two) with hilariously inappropriate book covers
Grab the Lapels asks the question: should a book always teach you some kind of lesson?
Marie @ Drizzle and Hurricane Books talks about how to avoid the book hype
New Lune shares 10 blogging tasks you can do from your phone
~ What I've Been Talking About ~
Last week I posted State of the ARC and invited you all to link up. Sorry if I haven't visited your State yet! Life has been busy. But I hope you are happy with your accomplishments and you stats, because the end of the year is approaching. One more month left to complete that bingo!
And on #bookstagram this week – a new exciting haul and a long awaited review:
~ What I'll Talk About Next Week~
Next week I have a review I'm super excited about! It's one of my absolute favorites this year. Such a moving book – a book I've talked about on a few of my posts already – List of 13. Please come by on the 13th to read all of my thoughts about it:
~ What I've Been Hauling ~
So how has your week been? And what are you reading? What did you haul?
As usual, I'm linking up with the Sunday post meme at Kimba's book blog and Stacking The Shelves over at Tynga's Reviews.
I'm Evelina and I blog about books that made an impression on me. I love middle grade, women's, scifi and some literary too.