So my blog went offline this week! Annoying as ever, and it's back on as you can evidently see, but I somehow didn't even worry about it this time (as opposed to if you remember the last time, when I nearly exploded with anxiety.) Because I've realized, my blog isn't quite just the website. My blog is ME. And that's not going to disappear if my blog blinks out. I can still make more content and I might lose some followers, but not all. Which I hope won't happen to my blog anyway, but if it does… Well, you know.
Which had me thinking… And generating ideas. I think I will be expanding my blogging a little bit. Working on an interesting little side project! It's nowhere near being ready yet, but you will know when it is. It's going to be exciting!
In other news – how many of you are rescuing dragons?? I need to know!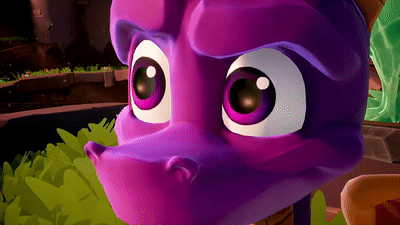 A GIF of Spyro the video game dragon looking around
~ What I've Been Reading ~
This book is riveting. I gobbled it up in an evening. Susannah Cahalan suffered a near-shutdown of her cognitive functions because of a rare encefalitis, which however looked so much like just a psychosis of unclear origins. She could have ended up in a psychiatric ward, forgotten for all time, unable to function. And yet, thanks to recent findings in recent medicine, it turned out her illness was curable and completely physical (as opposed to mental in nature.)
It's a unique story and the author's undeniable journalistic talent makes it an impossible book to put down – the danger seems always around the corner and you can't contain your need to know why, why?? It's truly scary considering your integrity and your ability to make rational decisions could just degrade, with a snap of a finger – and the worst thing, you wouldn't quite know that it's even happening, because the functions that help you draw conclusions are not there anymore. This book puts it right out there – the fragility of our minds – of our selves. This is a rare condition, thankfully, but the fragility of self is a deeply existential question that will stir any of us inside.
Susannah Cahalan was lucky to have been diagnosed right and not ended up in a ward as a vegetable, or worse. But how many people aren't? It's a wonderful thing that she did so much work in order to illuminate this condition and make it known, and of course, the same, and more can be said about the medical professionals who worked and continue working in this issue, its resolution and finding out more about why it comes up in the first place. This book explores the limits of what we know about where the biology stops and the mental realm begins – and how many of our mental problems might actually lie in the biology, in physicality. How much of us ourselves lie there? So many questions, most of them unanswered as of yet – but hopefully one day they will be.
[ Goodreads ]
As you know, last week I published a review for a book I really loved, The Eleventh Trade, and it's about refugees from Afghanistan. I remembered I had another review copy with stories from Afghanistan, so I decided to read that one as well. And it couldn't have been farther from the first book – Memoirs of an Afghan Village contains stories that are shocking to the Western mind, and the most interesting part about them is that as a Westerner, you don't actually know how close to or far from the truth they are – you can only wonder. You hope that they're hyperbolized – the cruelty. The darkness. The violence. The false justice. But then, if they're not true, why are there refugees and honor killings? Why are there tales from the war? Some of it must be true. Although you wish it wasn't. It's a shocking and blood curdling book, and not because it's horror, but precisely because it's probably someone's reality. I don't regret reading the stories though. Oddly, they give such a perspective about your own life and where you stand. Or perhaps how lucky you are. I thank the author and publisher for providing a free copy for review through Story Cartel. This has not changed my honest opinion.
[ Goodreads ]
View this post on Instagram
I also finished part 2 of the urban series about Daniel Faust – Redemption Song, and the above is a quote I loved from it. It's both hilarious, whimsical, and sufficiently dark as an urban series. I am loving it!
View this post on Instagram
And I also finished What Would Boudicca Do, which was a really nice and inspiring read about mostly lesser known women of great spirit. I learned a lot, and will soon be posting a review!
~ What You've Been Talking About ~
Briana @ Pages Unbound talks about how we struggle to get non-blogger readers to follow us
I also read a really interesting post by Amy Lynn Andrews, and it's kind of old, but still relevant – about why she turned down a pub deal and went indie
Eline @ Lovely Audiobooks talks about how audiobooks foster inclusion and how we often disregard that
~ What I've Been Talking About ~
Last week I reviewed a book I truly loved – The Eleventh Trade. Please read the review! It's sooooo worth your time, I promise – the book is very good:
And some #bookstagram you might have missed:
View this post on Instagram

I am absolutely in love with The Eleventh Trade ❤ it's such a beautiful, heartwarming book, and it was just what I needed when the weather started cooling and the sun started hiding behind the rainy clouds. It's a middle grade, and it's a true gift to the reader. Go check out the full review on my blog, you'll find the link in my profile. Thanks @bonnierzaffre for the review copy! #theeleventhtrade #soundofhome #refugeebooks #musicbooks #middlegradebooks #kidlit #kidsbooks
~ What I'll Talk About Next Week~
Next week I have an exciting new discussion planned: 5 ways to miss books. Definitely come back and check it out! It's planned for Thursday.
~ What I've Been Hauling ~
So how has your week been? And what are you reading? What did you haul?
As usual, I'm linking up with the Sunday post meme at Kimba's book blog and Stacking The Shelves over at Tynga's Reviews.
I'm Evelina and I blog about books that made an impression on me. I love middle grade, women's, scifi and some literary too.