This week has been an eventful one because I had two sets of free tickets for concerts I was advertising, which is, I admit, an incredible perk of working in advertising. So two evenings were completely planned out. I also got to play VR again! (Which is why my leg muscles have their own opinion about life this morning.) But despite all those evenings out, I still made some time for reading, thankfully. And l've been very lucky with my reading lately, especially with those review copies. So let's see what I'm reading! I will also be sharing A LOT of your blog links this week because I found so many awesome posts!
~ What I've Been Reading ~
This is the crowning glory of my week – this book was so unbelievably good, touching and full of all that I needed ❤️ It's a middle grade, but it reads well if you're an adult too, and to be honest, the main character often acts and thinks in a very adult-like way, although it's in no way unrealistic – on the contrary, it helps show how hard circumstances can make a child into a small adult. This book grabs at your heart in the all the right places, warms it up and makes you laugh in all the right places too. It's definitely going to make my "books of the year" list (…that's not a completely planned out project yet!) all I can do is keep recommending it to you again and again!! You get the picture. Anyway, I'll be reviewing it next week, so come back to get the whole picture of why I'm in love with it! Thank you to the publisher for the review copy – it's much appreciated, but it doesn't change my opinion.
[ Goodreads ]
I truly loved this one! It's a short novelette – a retelling of Bluebeard, but it weaves an amazing fairytale world. It's about three sisters, who are all powerful in their own ways – one as a sort of enchantress, another as a warrior, and the last one – because of her beauty. Unfortunately, this beauty gets her married off to a mean demi-god who plans god knows what. And this is where the sisters have to come in to rescue her.
I really loved both the writing style and the setting in The Bride of the Blue Wind. The writing is very poetic and somewhat fairytale-like. Normally that's not something I enjoy too much, but this time I really loved it. The world it's set it seems to be based on the Middle East (apologies if I fail to point to the right culture! The ignorance is all mine, so please feel free to point it out and I'll fix the post.) Anyway, there are all these magical cultural details – passing the world of the dead, talking to the Sphinx, the winds and the jinni – it all seemed so rich and I couldn't believe so many things could fit in such a short story. I know there is a part 2, which is regrettably short too! But I'll have to get round to reading it too. Meanwhile, I got this one as a free book during some kind of promotion, so thanks to the author and publisher for that. Loved it!
[ Goodreads ]
This book has a really weird name, huh? Okay, not weird, maybe, but just very… cheap bestseller style? You know what I mean. But the book itself is totally not like that! It's actually mostly psychology through the lens of Zen, or how you can basically learn to love yourself more, or more accurately – learn to hate yourself less. It's all very simple, explained with examples, non New Agey and very down to Earth. Definitely recommended, if you have had problems with negative self-talk in the past. You could say it's a self-help book without all the baloney. Huge thanks to Jane for the book rec and the loaned Kindle copy! Much love to you, Jane, my Twitter soulmate ❤️ also, does anyone know – do I get to keep my highlights from a loaned Kindle book, or will I have to copy them somewhere before the book disappears?
[ Goodreads ]
This is a sad and poignant story that's a very loose retelling of the Little Mermaid. I found the story deep, touching and sad. The writing is great (as with anything by Silke Stein, really), although I couldn't connect to the story too much. In this case though, I believe it's purely me, because the book has been getting some great reviews! We follow a family tragedy that's unresolved, and the only one who can uncover it is a mute teenager with PTSD from the accident – the accident includes many family members, lost love, regret and guilt. The teen struggles to keep herself together and the only way she succeeds is by believing she is like the little mermaid. Eventually, life brings about the resolution to this situation and lets her move on, but even then we are left with a very poignant ending, as befitting the little mermaid, if you follow the original story. Despite that, there are happy endings for everyone else in the story, so it's not all sad. It's a complex tale with so many variables. The story has triggers though, please read my goodreads review to see what they are.
[ Goodreads ]
I've been into shorter reads lately, it seems – and I just started this yesterday! And it's so awesome (I'm a dedicated fan of Neil Gaiman, so it would be hard to dislike a book of his…) Anyway, I was sold the minute Thor, Loki and Odin appeared in, uh, non-typical circumstances. I don't want to spoil anything because its fairly short, but just know that the personalities of the gods are really awesome (Loki <3), and also the main character (named Odd) is great and reminds me a great deal of Hiccup from How to Train your Dragon – and not just because of his injured leg! He's such an empowering character – disabled, but incredibly able – able to take care of himself and be on his own, and even cunning enough to save three gods in a pickle. I've already read half and chuckled all along the way. Can't believe this has been lying around in my Kindle for so long, unread!
[ Goodreads ]
~ What You've Been Talking About ~
I said I would be sharing a lot of great posts this week! Here is some stuff I think you should read:
Briana @ Pages Unbound shares poll results of book blogger success criteria vs reality and you should read that because most of us always think the grass is greener on the other side!!! VERY IMPORTANT!!!!!!!!!!!!!!!!!!!!!!!!!!!
Jenny @ Jenny In Neverland talks about how you can make your blog into a business
On the same note, Shantala @ Shanaya Tales talks about doing paid book reviews
For all of my Aussie blogger buddies – Ellyn @ Allonsythornraxx Books shares a mega contact list for Aussie readers and bloggers!
Tanya @ Girl XOXO shares a list of 2019 reading challenges, if you want to plan out your reading year already
Rae @ Thrifty Bibliophile shares a list of cozy (and/or funny!) books to read this fall or winter
Following the same theme, here's a list by Krisha @ Bookathon of books that make her happy, compiled especially for Diwali!
Sheila @ She's Going Book Crazy is BACK!!!!!!!!!! Go say hi!!
Speaking of which, we should also welcome back Amy @ The Little Booknerds
Sharade @ The Fantasy Inn writes about the Becky Chambers' Wayfarers Series and Hope as a Subgenre
Jackie @ Death by Tsundoku talks about embracing your TBR, for once!!
Not a bookish post, but an important post – Trisha @ Trisha Jenn Reads points out how our usage of social media might be hurting others – in particular, complaining about your kids online. Read it all here
Destiny @ Howling Libraries is announcing a readathon in December for reading your shortest books – Shortathon!
Doree Weller shares 5 great books for writers and how they can help you
Fiction No Chaser published a flow chart to make it easier to pick your reads if you're a moody reader
Laura @ Green Tea and Paperbacks talks about the bookish things she (and a lot of us!) should stop doing already (because they make us miserable)
Gayathri @ Elgee Writes shares 8 book covers that are completely ridiculous and this post will crack you up
Gayathri @ Elgee Writes also shares plot holes to watch out for when you're writing your book
Scifi @ Scary publishes 3 Design Lessons from Horrifying Book Covers by Dave Chesson
Also, I HAVE TO share this amazing Instagram post by Charvi @ Not Just Fiction, look at how sincere and beautiful this is!!!
View this post on Instagram
~ What I've Been Talking About ~
Another slow week on the blog, but I'm happy with it. I've posted a review of Creatures of Want and Ruin, a sequel to Creatures of Will and Temper, which I really loved! The sequel is definitely worth a read, go and see why:
And some #bookstagram pics you might have missed:
View this post on Instagram
View this post on Instagram
~ What I'll Talk About Next Week~
Next week is exciting, because I'm posting a review for the wonderful and amazing The Eleventh Trade that I have already talked about in this post:
~ What I've Been Hauling ~
Can you believe it!! Nothing hauled!!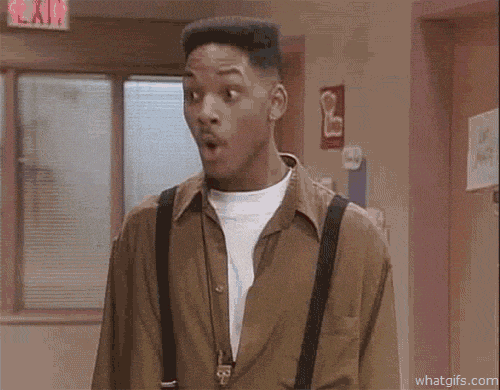 A GIF of Will Smith as the Fresh Prince of Bel Air, making a surprised face
So how has your week been? And what are you reading? What did you haul?
As usual, I'm linking up with the Sunday post meme at Kimba's book blog and Stacking The Shelves over at Tynga's Reviews.
I'm Evelina and I blog about books that made an impression on me. I love middle grade, women's, scifi and some literary too.