This has been an exhausting week! Despite meeting up with friends and having a few nice client meetings,I just got so tired. But wait, there's more! Now the ridiculous part… is that our household has this tech curse. I am not sure if we've ever bought a piece of tech for the house on warranty and had it work on the first go. About the only thing like that would be the items I bought for ME, but not US. The ones we bought for both boyfriend and me have never worked right! The blender needed warranty replacing like in a few weeks' time. The dishwasher flat out didn't work. The computer my boyfriend put together… don't even let me get started, that was a nightmare. Had to take it to a shop to even get it to work. Now we're struggling with the washer. I might have mentioned the blackout we had last week? That was because of the washer. So… our landlord bought us a new one. A brand spanking new one. And guess what? Yep. Doesn't work. It's putting out an error code and fails to even fill the drum with enough water.
I am a walking talking facepalm right now. How does this even happen??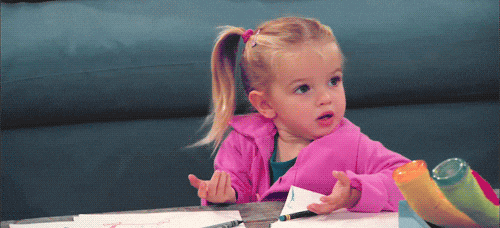 A GIF of little girl doing the "HOW THE HELL" face and shaking her head
Okay, but yeah, it terms of reading… Well, I binge read A LOT of stuff last weekend. Not so many during the week, but I definitely have one book that I simply MUST talk about because it exceeded all of my expectations with how amazing it is.
~ We Need To Talk About Some Books I'm Reading ~
I started reading, or more like listening on text to speech, to this wonderful beauty, Battlestar Suburbia by Chris McCrudden! IT'S SO GOOD. BUT IT'S, LIKE, SOOOOOO GOOD!! No but really, take my word on it. That book is the biggest bundle of fun I've read in ages, and I've been thinking of giving it 5 stars since I was only 17% in! Normally, a book only turns into a five star read at the last chapters, or at least past the halfway mark. This one? If something doesn't explode (the wrong way, cause there are plenty explosions in Battlestar Suburbia), it will be one of my favorites this year. For any scifi lover who is into reading comedy – you'll enjoy this one to bits. It reminds me a lot of books like The Punch Escrow and Redshirts. Buy it! Add it to Goodreads! Love it!
~ Last Week On The Blog ~
I'm really proud of one of last week's posts – Is There a Season for Worrying? If you have a minute to go and read it, I'd absolutely adore you for it! I also posted a mini reviews post, Books for the Wistful Season.
~ Coming Up Next Week~
Next week I'm posting a discussion about Guilty pleasure labels in reading and how much sense does thinking about it like that actually make. I will not be posting the New Bloggers introduction next week – I'm moving it up to the week after that cause I've been having a busy time lately. But I will eventually be posting it!
~ Little Book Haul ~
Even though I hauled a lot last week, I thankfully hauled NOTHING during this one! Bit of a compensation. Maybe I can catch up to my hauling…
~ In The Bookish Community ~
Jackie @ Death by Tsundoku talks about the controversial topic of whether audiobooks are reading or not (bah, right?! They're totally reading!)
Charvi @ It's Not Just Fiction writes THE MOST HILARIOUS POST EVER about what she feels when she's reading a slow burn romance
Rachana @ Spun talks about 5 things book lovers struggle with
Madeline @ Madeline Bartson shares 22 things books have taught her in 22 years
Tanya @ Girl Plus Books reviews three great books – I loved her little reviews, and the books sound really worthwhile
Ben @ Ace of Bens talks about the anxiety of coming out, and it's such a touching, strong post
So how has your week been? And what are you reading? What did you haul?
As usual, I'm linking up with the Sunday post meme at Kimba's book blog and Stacking The Shelves over at Tynga's Reviews.
I'm Evelina and I blog about books that made an impression on me. I love middle grade, women's, scifi and some literary too.