So I am posting late today and I don't even mind. Because my awesome boyfriend woke us up early just to bring me scones (that he made!) with cream, jam and tea and my kindle. Yes, in bed. Yes, envy me! Ha. No, but seriously – best Sunday morning ever. I can only profess my undying love to my Ebilshrimp right now. Having read a good quarter of The Sunday Lunch Club, I can finally get up and start my day.
Unfortunately, I don't even know what I did this week, so I won't be sharing much with you. However, I've got to thank Lili @ USOM for being an unbelievably good #BloggerBestie and finally making me write some emails to publishers. It has brought some amazing results, although I don't want to talk about them in detail yet, because some things are still not in the clear (the definite downside to weekends is that your replies from publishers have to wait till at least Monday.) Lili, thank you so much for finally pushing me to step over my fear of rejection! Everyone, please check out Lili's blog, she's got amazing tastes and she has actually had her second blogoversary just last week! And actually, she is having a giveaway to celebrate it, so you definitely want to visit:
~ We Need To Talk About Some Books I'm Reading ~
I finished a really cool book yesterday, and that book was also written by someone I know, so I wanted to give a shoutout! If you love YA and fairytale retellings, you should definitely give Happily by Chauncey Rogers a go! I loved it. A review is coming up the week after next, roughly when the book is released, but I wanted to let you know in advance! This book is definitely worth your time, go and mark it as to-read on your Goodreads right now. Short note of what to expect: a grumpy cat main character (not literally a cat, of course!), some amazing book boyfriend material, a great spin on a classic fairytale, some witty banter, some good life lessons and a big bowl of #coverlove!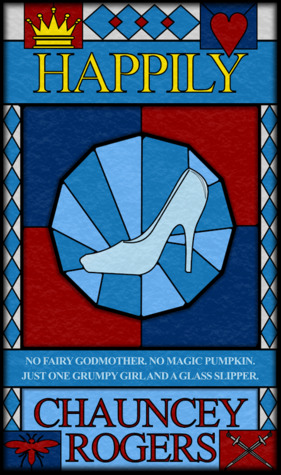 ~ Coming Up Next Week ~
Next week's platter has been changed up like three times in the previous week. Mostly because me and Trang @ Bookidote were struggling with finishing our buddy read – not because it wasn't good, but because of migraines and #life hitting us in the reading ability, but I think we are making it! So tomorrow, you should be able to see a post for Arm of the Sphinx, which was pretty gosh darn epic – if you haven't read the series yet then you should really think about what you're doing with your life!! Then on Wednesday, we will be doing another State of the ARC, and I hope you're ready to join this time! And we're taking Friday away with Bookstagram basics from my lovely guest posted Sophie @ Beware of the Reader. Don't you just love it how many people are participating on my blog? I am so happy that I get to tag a third blogger today in my Sunday post.
~ Last Week On The Blog ~
Last week we had two review posts – one for Have Dog, Will Travel – a truly touching and wonderful book about guide dogs for the blind, which I urge you to read with all my heart, and another review for The Zanna Function – for all you people who love reading about magical schools and/or scifi, because it's basically Harry Potter, but for girls and with science (I know, I'm tired of repeating that too, but it's true!) I really can't recommend that book enough, so you should totally put it on your TBR. And, on the #NewBloggers front, we had Jen and Ivy's post about how to make the most of your Goodreads. Go check it out!
~ Little Book Haul ~
Would you believe I hauled JUST ONE book again? For the third time in a row? Neither can I. But I did! And it was one of those amazing developments that I have to thank Lili for. I hauled my super anticipated sequel to Murderbot!!! I am beyond excited, and for now, I'm not even starting it. I want to bask in the glory of hauling it for a little longer. Anticipation!!!
~ In The Bookish Community ~
Charvi @ It's Not Just Fiction talks about the pros and cons of reading books in public, and it's sooooo accurate
Buzzfeed shares a really funny article about short reviews, and I normally wouldn't share Buzzfeed articles, but our friend Inge is on it! (Plus, the post is just super hilarious. You won't regret.)
So how has your week been? And what are you reading? What did you haul?
As usual, I'm linking up with the Sunday post meme at Kimba's book blog and Stacking The Shelves over at Tynga's Reviews.
I'm Evelina and I blog about books that made an impression on me. I love middle grade, women's, scifi and some literary too.