It's Sunday again! So I don't normally share non-bookish news. But this time?

So basically, there's this colleague of mine who appreciates a good joke. But like I mean, a really good joke.
So for his 35th birthday, he found this cafeteria-bar in the dodgiest part of town, that apparently hosts Friday dances for age 50+ folks who like listening to some really cheesy old Russian music. Let me just illustrate it for you: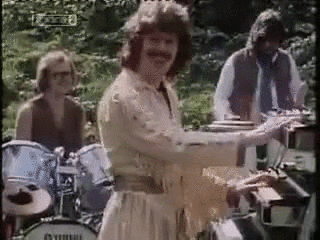 That's where he held his birthday party. I can tell you, half the guests couldn't stop laughing at the novelty even an hour and a half in, and after they did, they still kept taking pictures and broadcasting a live video feed on Facebook. Imagine 30 rich middle-age hipsters who work in a fashionable ad agency and probably comb their beards every morning, sitting around a table in a lower class bar with a disco ball, live bad old Russian pop covers blaring at max volume and an entirely full dancefloor of 50 year old guys dancing with 70 year old ladies. I tell you, it was something, alright. (And let me tell you, those old folks know how to have fun!)
Me and Ebilshrimp though, we dressed up for it. Gotta be one with the joke. I wore a vintage dress that fit the party perfectly! Ebil just looked plain smart in a suit. We even danced to the bad music! Hell, everyone danced to it. This must've been one of the weirdest and possibly more memorable evenings this year! The funniest bit was when my colleague told us about how he'd been listening to people making excuses all day (gotta watch the kids, nothing to wear… oh, I just need to do this for my mother…) because they were too weirded out or embarrassed to be seen at a place like that. Good riddance! It just means we all had more champagne left.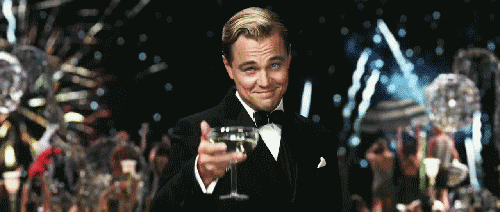 (Literally. We all got a bottle to take home. We're opening ours tonight live on Ebil's Twitch channel where we'll be streaming Undertale (yes, you get to see me too) starting 6.30PM GMT+3. So cheers!)
~ Last Week On The Blog ~
~ Coming Up Next Week~
Next week I'm finally posted the long-awaited review of The Punch Escrow (I can't recommend that book enough!!) and State of the ARC #2, where you will be able to link up your own ARC progress post after it goes live. So come and join! There will be bricks and buildery-fun. (Yes, bricks. Don't ask. Just see for yourself :D)
~ Little Book Haul ~
I hauled three books last week! It's not a huge number again, which makes me happy. Ironically, even though I said I don't read a lot of fantasy, the books I hauled this week are mostly fantasy, plus one nonfiction! The Hidden Face is a book my buddy here S.C. Flynn wrote and kindly sent my way (I think my co-blogger Ebil might be reading it), and I couldn't help grabbing The Polar Adventures of a Rich American Dame, because come on – a real story about a nearly forgotten daring woman who would rather leave all her riches and run off to the cold North Pole to explore the snow and ice and loneliness? I have to read about that. And The Forgotten Beasts of Eld was recommended to me by my friend Margaret Kingsbury, because she thought I would like it, so I dutifully grabbed it – it sounds great!
~ In The Bookish Community ~
First of all!!! Don't forget to sign up for Sci-fi Month over at Rinn Reads! I've just signed up. Join us for some fun!!!
Last week I didn't have too much time to blog hop (I apologize to those whom I failed to visit from the linkup!), but I have found these gems!
Lisa @ Remarkably Lisa shares a why a bad review is still a good review
Avada Kedavra @ The Bookish Muggle shares a random post about life, career change, politiness on the internet and many other random ponderings. Does a post always have to have a topic? Nope.
Mikaela @ The Well-thumbed Reader shares a discussion about what she has changed in her blog and blogging habits for her readers
Shruti @ This Is Lit shares
why she likes Jodi Picoult's books buy is getting tired of them
As usual, I'm linking up with the usual crew for the Sunday meme at Kimba's book blog and Stacking The Shelves over at Tynga's Reviews. This time I won't be linking up with Mailbox Monday or Book Date, because it's just too hard to visit 100+ blogs! Staying true to the Sunday post crew though 🙂
I'm Evelina and I blog about books that made an impression on me. I love middle grade, women's, scifi and some literary too.