Second week that I'm back blogging and I am still unable to quite be back 100%! Work is still going a bit crazy, and my health is starting to suffer for it. So I won't be concentrating on the blog too much – however, I've decided to just keep it at a point where I'm having fun. Isn't that the point? So I think for now, my blog will be relatively quiet and I'll only be posting on Fridays and Sundays. And since I'm posting so few reviews now, you know that the ones I do post will only be books I really really loved. As for those I don't want to review in long form, I'll just review them here on the Sunday post.
By the way, I have recently installed an accessibility widget! It was really simple, and you can install one too, if you're on self-hosted WordPress. I think it has options for non-wordpress sites too. Here's the one I'm using, and the function I love the best is that it can read blog posts to you! I wish everyone had this widget. Then I'd just listen to everyone's blogs! If you want to try it out, click the accessibility symbol at the lower left corner of my blog, and you can get your own widget by clicking the links on it too. Or just visit them directly: userway.org
By the way, I was introduced to this widget thanks to Miss Lawrence is Hearing Things, a disability friendly audiobook blog. She has whipped up a nice incentive for blogs to become more accessible and disability friendly, so there's a badge you can get to put on your blog, and she's also planning a directory! And that's the badge – join us and become more accessible ❤️
 ~ What I've Been Reading ~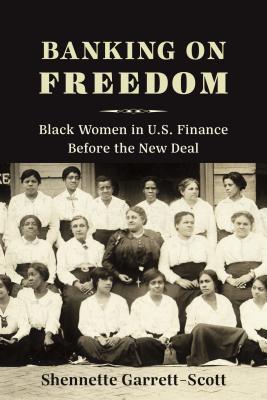 Whenever I get a book about inspiring women in history, I guess I always expect something incredibly written, such as The Radium Girls. Oh Kate Moore, how you have spoiled me! The Radium Girls is a nonfiction historical tale, but somehow it's written in such a voice as if it's actually fiction. Except, you know, it's also real. I think that's how all nonfiction should be written. It brings the story to life. It tells it with emotion.
But back to where I was. Like I said, when I encounter an inspiring nonfiction story I always expect it to be written in an inspiring manner as well. This was the case with this book too. Come on, black women in the 19th century starting a bank – that's incredibly inspiring! I was so curious to find out. How and why, and how they managed to achieve this.
I still believe the The Independent Order of St. Luke was an incredible feat – both for the black community and women in general. A huge achievement. And it was also an interesting historical point. But heck, this story could have been told so much more interestingly. I will never understand telling nonfiction stories in the form of a history textbook. How many of us enjoyed our textbooks at school? Why would you want to stick to the straight facts when you can present it so much more interestingly? I mean, you can say that being grown up means being academic and taking off your rosy glasses. But I don't think growing up means accepting that life must be boring. I don't want to say this book was boring cause I was so excited to read it, and the story of the bank run by black women was truly inspiring. But I guess I was expecting to read about the hurtles they experienced, and not the types of insurance policies they offered.
I thank the publisher for giving me a free copy for review through NetGalley in exchange to my honest review. This has not affected my opinion.
[ Goodreads ]
~ What I've Been Talking About ~
So there's only been one review, but I am really proud of it, since it has my first illustrations! It was also a wonderful book that I can truly recommend. Take a look at my review of Moon Mission, a book I would recommend to everyone who is at least a little into space stuff, and especially if you have kids:
~ What I've Been Hauling ~
Not a big haul! Thankfully 🙂 and I think My Uncle, The Spy might still be free on Amazon US this week, so have a check if you like fun middle grade books.
So how has your week been? And what are you reading? What did you haul?
As usual, I'm linking up with the Sunday post meme at Kimba's book blog and Stacking The Shelves over at Tynga's Reviews.
I'm Evelina and I try to blog about books that matter, with a bit of fun there too! Disability and equality will be topics you see a lot, but there's also a lot of scifi, fantasy and… GIFs. I'm also the proud founder of #ARCsAnonymous.