Ah, September… The beginning of my favorite season. However much I love autumn, I must say, September has been tough. Basically, think of a fire-breathing dragon that's beautiful, and wild, and… very deadly: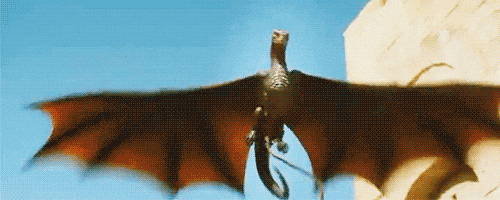 (Yup. That there is September, and that poor bastard at the bottom is basically me)
I've had so many visitors, so many parties, so many social events and so much overtime at work that I've barely had time to work on my reading or the blog. So I'm a little bit apprehensive of looking at the stats?? WHAT STATS there are no stats!!
Okay, so there ARE stats. I lied. Let's get to them.
What have I accomplished in September?
entertained three waves of guests, altogether 7 people, and failed to die from exhaustion
didn't run out of blog posts during that whole affair!
went to the weirdest party ever and I talk about it here
won a box set of Anne books! And they're already here, eventually there will be photos!
got a co-blogger! If you've missed that, go see here
released the second edition of State of the ARC, and please go link up, minions friends!
signed up for Sci-Fi Month 2017! (I urge you to sign up too cause it will be great fun!)
absolutely failed my goal of NOT hauling a number of books I can't read
read only 6 books booooo ;_____;
was offered to be a beta reader though!
wrote 4 posts in one sitting which is a personal record???
paid my yearly DNS service, and do you know what that means??? BLOGOVERSARY IS COMING.
So it's basically a month of mixed feelings. Like, I feel good about working so much and having so many friends over, but I feel awful about reading only 6 books! I mean, what is that even?? Pathetic, Evelina! Pathetic!
Anyway. Let's all stop being sorry for me now and look at the books I did manage to read!
~ Books Read ~
Despite not reading too many books this month, the ones I did read were great. I really liked all of them! I feel the worst about not reviewing Happiness in time for its release, but I just had too many things going on. It's a true story about raising a child with an extremely life-threatening disease, and surprisingy, it was extremely uplifting because it's just so sobering to read about things like that. It's Just Nerves is an essay collection on disability and it will be reviewed on my blog on Octorber 22 during the blog tour, and it's definitely worth your time because it talks about the certain aspects of disability that we just know nothing about, and yet need to hear about. Then, I'm sure you all know Anne of the Island, and that's why there's been no review on the blog. It was a great read though! Attachments was also a great one, a buddy-read with Jackie that we reviewed as an interview, and the post is coming out tomorrow. In Case I Go will be coming up at the end of next week, and it was also a very poignant, wistful story of a haunting that isn't concentrated on ghosts, rather family histories. I really liked it. And, of course, time for The Rules Of Magic! A magical read indeed, the review coming up the second week on October, and it's definitely worth your attention.
~ Reviews Coming Up ~
A little bit of a heads up about what you can expect on my blog next month in terms of reviews, besides the ones I've already mentioned!
Aside from these, I should have a guest post at the end of the month, my Blogoversary on the 13th, State of the ARC #3 on the 30th, and at least one discussion post that I've already written, that's coming up next Wednesday, which should be great fun, so make sure you visit! ❤️
~ Joining Discussion Challenge ~
I would also like to mention that as of October, I will be joining the 2017 Book Blog Discussion Challenge @ Feed Your Fiction Addiction and It Starts At Midnight! Let's see if we can produce more discussions before the year ends. You should join too!
~ The Stats! ~
So now that we've talked about all the fun stuff that's coming up, let's see how I did this month. I mean, we all already know I didn't do that well, but I still stick by keeping the stats! It seems I'm actually not doing that badly on my Goodreads yearly goal, altough the other goals could use a little push.
~ On The Blog In September ~
Even though I kind of failed at reading this month, I'm happy to say I didn't fail at blogging OR blog hopping! I have posted my steady amount of 13 posts and I'm happy to say that I should be able to post more next month. Here is the content you might have missed:
I hope you were entertained!
~ Book Haul August ~
So this month I got even less books! Yay me! (Isn't it funny how we'll cheer for that, of all things..?) And I won a giveaway hosted by the lovely Lucy, thank you! I never win anything lately, so it was such a wonderful surprise. Out of my review copies, I'm most excited about The Girl In The Tower, and I wouldn't have it if it wasn't for Teacher of YA who kindly informed me that I was missing out on it on NetGalley!
Win!!

Thank you Jackie @ Death By Tsundoku and Jane @ The Greenish Bookshelf!
Books I Bought
Freebies And Gifts
Books I Got For Review
This time I'm linking up with the usual crew at the Caffeinated Reviewer and the Sunday post, also with Stacking the Shelves at Tynga's Reviews and Mailbox Monday, Feed Your Fiction Addiction.
And that's it for my September! What about you? Share your links with me in the comments please!
I'm Evelina and I blog about books that made an impression on me. I love middle grade, women's, scifi and some literary too.