So, okay. The headline might be a little strong? But I got your attention, didn't I! So before we get carried away, let me tell you why I'm posting about this today – Margaret @ Weird Zeal is having a Harry Potter Anniversary Week! To celebrate, she's doing posts all week (you've probably seen some already!), and I've decided to join the Wildcard pick. It's because I've had the outlines of this post for ages, and now I get to share with you all!
Disclaimer: this post might have spoilers from Goblet of Fire!
Now then. Confession time.
I have not read the whole HP series yet. 

(Update: I now have, and yet, I am not the biggest fan of Ron, although I'll let you have this much – he does come across worse in the movies!)

Before you start rolling your eyes and staring me down, it's because I was such a hipster as a kid! It was way too hyped. I wasn't gonna read a hyped book. That's who I am 😂
Around the time I was in uni, Harry Potter started airing on TV and there was no avoiding watching it. I saw the first few movies, and…
Then a boyfriend at the time took me to the Deathly Hallows. Part One. Straight after the lovely phase where the kiddies are small and the problems are… also small… SO I WAS CONFUSED, TO SAY THE LEAST. You could say me and HP didn't have a linear relationship!
Eventually I watched all the movies and decided to read the books, because the hype might be onto something.
But I'm taking it slowly, beacuse I don't want to just, you know, RUN OUT of HP books. I know the story already. But I can't unread the books.
Which is why the last book I've read currently is The Goblet of Fire.
And we come to the point of this post…
Ron seems… kind of like a dick so far.
I know he's actually pretty cool in the movies, and even if he's *a little bit* of a dick in the Goblet of Fire movie… I have not found this to be the case in the books! I am SO disappointed with Ron in the books, oh my god!! And now I just want to tell you why.
And also… Currently, I think there are two possibilities of where this could go:
Ron stays a dick throughout all the books and I'll just hate him
Ron redeems himself in the further books that I have not read yet
You are welcome to tell me which you think is the case, since this is an opinion thing, so you're not exactly spoiling me! Plus, I know what happens in the movies, so I know the plot pretty well too. What I will be finding out is the actual tinges and shades of the way the characters act.
But anyway. Why do I think he's such a dick in The Goblet of Fire?
Well, many reasons. Let me just enlighten you then.
He's a real dick to Hermione.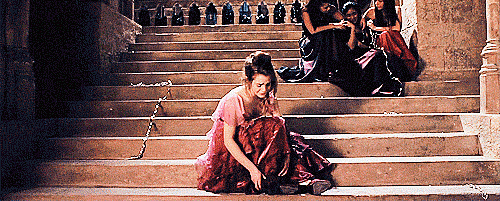 A GIF of Hermione taking off her shoes after the ball and crying on the stairs
I mean, I know he's supposed to be a teen and not even realize she likes him, but seriously. How much more degrading can you be towards a friend? Ron shows his worst side by not believing that Hermione can score ANY sort of date at all, not even considering a good date (which she does, actually). I could have elaborated more right after finishing the book, but sadly, I didn't draft the post then. I just know that at the time I was reading it, I couldn't believe that after all this, she would STILL go for Ron. It's kind of sad that she does. So far, Ron is gearing up to be an emotionally abusive partner, and I could say I am not on the side of this pairing right now.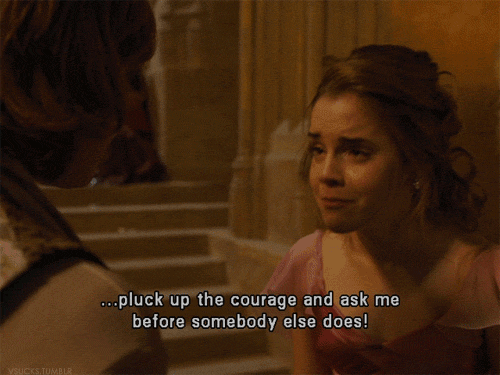 A GIF of Hermione shouting at Ron to pick up the courage and ask her before someone else does
He's incredibly insensitive to the owls!
Not even talking about Errol, which is an old owl and should be respected for all the work he did for his family. Ron just fails to treat ANY of the owls he employs in this book any good. I can NOT respect a person who has no love and respect for animals. Disgusting.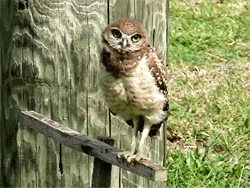 A GIF of an owl turning its head in a questioning manner
Hagrid's crisis: Ron just wants the cake
Did you notice a little something about the scene where Hagrid's crying in his cabin, after Rita Skeeter publishes that vile article about his folks? Everyone wants to make Hagrid feel better, cause naturally, they love their friend. Ron though? Ron's just in it for the cake. He literally just asks for the cake as Hagrid's crying. What a poor excuse for a human being. Tsk.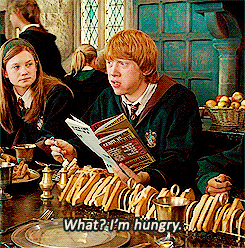 A GIF of Ron Weasley, giving an excuse of "What? I'm hungry." and Ginny staring at him
He's vain and he lies
Ron has such an odd understanding of his own self in relation to others. Throughout the whole book he tries to make himself look better by telling stories about things he never did (like during the lake episode and others). I know this must stem from insecurity, but it's utterly disgusting. How do Harry and Hermione even tolerate his crap? I would just be rolling my eyes all the time. Or if I'm his friend, at least trying to tell him to finally grow up and start acting like a person.
He leaves his friend in his time of need
Well, I don't really need to talk about this one though. It's largely what the book is about – how Harry feels abandoned, and in part it's because his best friend is… well, being a dick. He won't take Harry's word for things – he's just jealous he's not 'popular' – which Harry isn't, with all the hate talk going around. Ron is jealous of the life he THINKS Harry is living when he really doesn't. And he won't even believe it when his friend says he never wanted any of it. Ron is acting inexcusably as a friend – he's being incredibly selfish and shallow.
A GIF of young Ron Weasley, doing a 'huh?' motion
So these are my reasons. You know, when people say that Ron is just a scoop of the 'ordinary'? I don't think so. Or I certainly hope that the 'ordinary' people are better than this (which I think they totally are). Ron is not ordinary. Ron is pathetic. At least in book four! So I can only keep hoping that he actually gets better in the other books! Don't hold this against me, if he does 😀 honestly – I was a fan of Ron Weasley myself, in the movies – but so far he is not making an impression on me in the books!
What do you think about Ron? Are you a fan of his, or do you also not like how he acts in the books? Give me your opinions and counter-arguments!
This post contains affiliate links. Here are all the books if you're still missing a copy! When buying through an affiliate link, you are supporting my blog.
I'm Evelina and I blog about books that made an impression on me. I love middle grade, women's, scifi and some literary too.