Rogue Protocol was another enjoyable read in the Murderbot series – I definitely liked it, but I have to admit, it lacked the spark that the two previous episodes had. You can read my reviews of All Systems Red, aka Murderbot #1 here and Artificial Condition, aka Murderbot #2 here. For those who have not read my previous reviews, I use the pronoun 'them' for Murderbot, because they don't really have an assigned gender, and even though Murderbot is a construct, they are too human to just be referred to as 'it', in my opinion.

Check out on Goodreads
Get at Book Depository
★★★★☆ 4 stars
Murderbot is still roaming free, and slightly missing the presence of ART (Asshole Research Transport…) But while at first their travels seem to be aimless, even to Murderbot themselves, it appears they are not. Because even though Murderbot ditched the friendly company of Mensah and the other people who freed them, they still feel a moral duty to them and want to help. More than that… Murderbot is becoming increasingly more… human. They're developing all these weird emotions, notions and urges, and they're not sure what to do with themselves. Rogue Protocol will introduce a whole new set of problems for Murderbot, but it might also give them a new direction.
As Usual For Murderbot, The Crew Is Nice
The crew in this book is nice, but in a different way than normal – because Murderbot doesn't actually have any contracted clients this time. I would not want to spoil too much, but the deal is like this – Murderbot is free, but they're having a hard time really figuring out what to do with themselves. Everyone is made for something, or at least, that's what they say – and in Murderbot's case, that holds true literally, because they were made for one purpose, and one purpose only – to take care of security concerns (the fact that Murderbot is into all that media is just a nice bonus.) So as much as they don't want to admit it, Murderbot is drawn towards making sure their crew is safe. And when they don't have a crew? They find one, against all odds.
However, this time, like I mentioned, Murderbot isn't contracted – it's more like they hitch a ride. In secret. That entails all sort of potential problems that Murderbot kind of naively ignores, and that's adorable to watch – the way Murderbot isn't entirely a reliable narrator, as in all the previous books of the series. The humans they're trying to protect this time are the usual kind of crew for Murderbot stories – they're nice, they believe in the right things and… they are in danger. However, this time, there's not just humans. Murderbot will make a friend, and the friend will be somewhat like them. I think you will like Murderbot's friend. Will Murderbot though, being the grumpy cat that they are?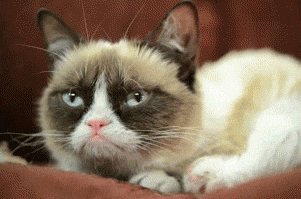 A GIF of Grumpy Cat, slowly turning its head to look at you. Grumpy cat is cute.
The #Feels Though
I mean, Murderbot books were always full of ups and downs. But this one? My boyfriend had to comfort me for 15 minutes after I finished the book – legit. It's a quick read, so don't start reading it when you know you'll have to put it down, or even worse – in public. You'll be setting yourself up to bawl your eyes out in plain sight. It's a touching ending, and I can see why it worked like that, but honestly? DID IT HAVE TO? The ending of this book felt like one of the 9th Doctor episodes from Doctor Who – you won't walk away without damage, and the author knows which ropes to pull to trigger those #feels.
Rogue Protocol feels like one of the 9th Doctor episodes from #DoctorWho – you won't walk away without damage, and the author knows which ropes to pull to trigger those #feels.
Click To Tweet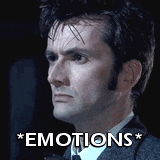 A GIF of David Tennant as the Tenth Doctor, looking into the distance, and the caption says *Emotions*
Murderbot Learns To Know Themselves Better
In Rogue Protocol, Murderbot starts getting to know themselves better as a personality, because suddenly, they can make so many different choices they weren't able to make when they were still a SecUnit. Do you know all those times you say, for example, "oh, if I was rich, I'd do this…", or, "if I didn't have a day job, I'd start doing this…" Well, would you though? Without all those impeding factors? You don't really know, because this hasn't yet happened to you. This is entirely what's going on with Murderbot – they thought that if only they'd be set free, they'd watch shows non-stop and would never want anything more to do with humans. But that doesn't seem to actually be the case. Because while Murderbot still loves the shows, for some inexplicable reason, they start being drawn towards humans more and more. They start having all of these emotions that they 'need to go experience in private', and some of them are jealousy, hurt or pride. Murderbot wants to be treated more and more like another personality, another human being – although they have always thought themselves different and sneered at humans from the side. Murderbot is slowly finding their own identity and figuring some important things out.

Rogue Protocol was a good adventure, but in my opinion, it didn't have the spark that the two previous Murderbot books had. It felt as a sort of connecting story between Murderbot #2 and the one to come. Rogue Protocol still does end in a very good cliffhanger of sorts, giving us a taste of where the series will go after this and giving Murderbot more of a direction, so you will still definitely want to keep reading! But make sure to bring those tissues, if you're like me. You will not walk away unscathed.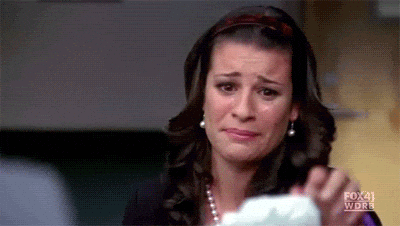 A GIF of a woman, pulling tissues out of a tissue box and dabbing at her face
The Triggers
As usual, the triggers in this book are violence and combat, blood wounds. Murderous and traitorous humans, as well as humans who think they're better than constructs, might also have side effects.
Other Murderbot Books
Here are the previous two Murderbot books, you can add them to your Goodreads (click the cover), and you can read my reviews of Murderbot #1 and Murderbot #2. I'm also including the next Murderbot book so you can put it on your wishlist!
I thank Tor.com for giving me a free copy of the book in exchange to my honest opinion. Receiving the book for free does not affect my opinion. You can buy the book here at Book Depository and buying using this link supports the blog.
Are you following the Murderbot series? And if you are, which one was your favorite and why? Will you be reading the next book?
I'm Evelina and I blog about books that made an impression on me. I love middle grade, women's, scifi and some literary too.