So I'm trying out something new this month. You might have already seen it on my Instagram stories or Twitter. But reMarkable, my e-paper tablet, has released an AWESOME update where you can hand-write the text and then convert it to type. And so, I bring to you my first completely hand-written blog post. I will only be sorting out the types and inserting photos or links on the computer. How awesome is that?!?! Actually, here's the tweet, although I apologize for the quality of the video:
The @remarkablepaper tablet just made itself INCREDIBLY irresistible. Sorry for video quality, I was very excited and it was midnight. BUT YOU'VE GOT TO SEE THIS pic.twitter.com/nH1Mn6N6Aw

— Evelina | Avalinahsbooks (@AvalinahsBooks) November 4, 2018
Anyway, my blog has grown increasingly silent this month, and I think this trend will only continue. This is in part due to my eyes which have been troubling me lately, but also to do with the fact that I'm unhappy with working overtime, and then working some more after that – who cares if it's working on the blog? It's still working, and my body is miserable when it has to work 12 hours every day. I think the 2 year mark is when most bloggers break entirely because of this. They realize that in the end, it's just more unpaid work, and if you have a full time job too, and family commitments, you can't just keep running yourself into the ground. Something's got to give.
So l'm not abandoning my blog altogether. But since I want to still be able to SEE in a few years (and hopefully decades) and since I want to stop having to sit at a desk for 12 hours every day and actually go out there to do LIFE things too, my blog will have to slow down. This means less content, and unfortunately – less blog-hopping. l'm truly sorry about this! I am never able to respond to my comments in a timely manner, so I've decided I will just respond, even if I can't visit back. That doesn't mean I don't appreciate you! That just means I have a full time job and poor eyesight. But!!! I have recently found that I can support you in another way, which you might have noticed me doing already – that is FURIOUSLY retweeting! I will continue doing that, because right now it's the only way I can be present in this community. I hope you understand.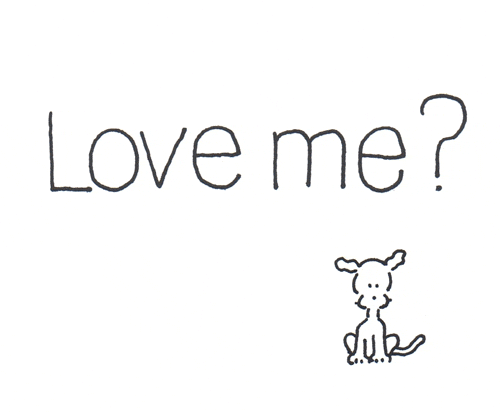 A GIF of an illustrated doggie, wagging his tail and saying "Love me?"
~ The Reading ~
And now to the books! I actually managed to read a lot of books last month, and you say, what about your eyes? Well, most of it is due to listening! I got worried about my eyes and started listening more instead of reading, so I covered more. And there are a few graphic novels involved too. Right now I'm just wondering how many books I'll have read by the end of the year, when I pledged 52, but have already read 126 xD another thing about reading that makes me happy this month is that I'm at 76% feedback ratio on NetGalley! Not that I care about requesting anymore, I just want to get done with my old review copies.
~ Goodreads Awards ~
And how can I fail to talk about something this exciting? I know you're probably thinking it's just a popularity award, which is it – but who would I be to say it isn't exciting? This year I was particularly happy to see a couple of books on the list, and here they are. Which ones were you excited about?
~ 5-Star Miracle Books Read ~
There were only a few 5 star books last month. First of all, of course it's The Worrier's Guide to the End of the World, the one I wrote my anxiety post about (and I'm really proud of it!) Relevant topic, good book – really recommended. After that, you must have all noticed me ramble about Battlestar Suburbia – the review is here, and the book is a bundle of laughs, and very smart. Then, I also really enjoyed The Sugar Queen – although that's more of a 4.5 star read, but I can never resist me some Sarah Addison Allen. And last, but not least – the starting novel of the 10th Doctor graphic novel series. I loved the new companion, Gabby, so much!
~ 4-Star Steady Good Books Read ~
In this section, Wente got a few more Doctor who graphic novels, a children's picture book My Friend Sleep 1ith truly amazing illustrations, and a lot of others. The highlights fall on The Creatures of want and Ruin, sequel to Creatures of Will and Temper that I read and loved last year, and also Polyamorous – a non-fiction I've already talked about several times that is truly worth your attention.
~ Okay Books Read ~
Out of these, I would say consider War Cry, which was good, but maybe just outside my genres. The rest were okay, but I won't be highlighting them. I am actually pretty bummed out that I didn't enjoy Book Love, when it seems everyone else in the world did! (Especially the reading world.) It was just all about paper books, and a lot of those problems don't even come up when you read e-books, so I just felt excluded and couldn't relate to most of the stuff.
~ Totally Meh Books Read ~
Meh books? Yes, there were some. But they were so incredibly meh that I don't even want them here!
~ The Stats! ~
I know the post is called stats fever, but I have already gone over my reading challenge numbers, so I'm not too motivated to track them anymore this year. Maybe next month xD books were read. That's all you need to know 😀
~ On The Blog In October ~
As usual, I'm linking up with Caffeinated Reviewer and the Sunday post, also with Stacking the Shelves at Tynga's Reviews and Feed Your Fiction Addiction.
And that's it for my October! What about you? Share your links with me in the comments!
I'm Evelina and I blog about books that made an impression on me. I love middle grade, women's, scifi and some literary too.