I cannot believe we are already in the holiday season!!! What is this magic?? Does time really fly? Just now I seem to have drafted my October stats fever post… Hmm.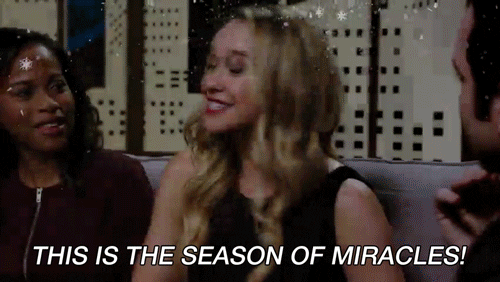 Well, anyway. Since it's holiday season, we might as well start feeling it!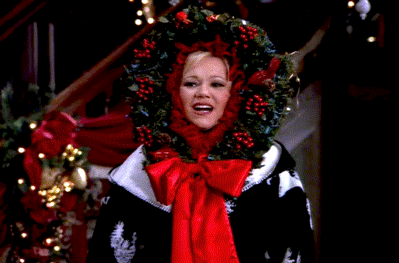 Alright, alright! Done with the GIFs. Or you might all just leave. But come on, let me have some fun! I've had yet another hard week with loads of health troubles (I even went back to my mom's… where else would you want to be when you're sick?) So this has made a pretty tough month for me as a human being, but I should say, it has been a good month as a bookworm! Let's sum it up:
SciFi Month!! I made it! In full, this year!
17 posts: 5 lists or discussions among them!
11 books read
*hides* 20 books acquired (at this rate… my TBR can only grow.)
3 old ARCs knocked off the list!
5 Mount TBR books off the list as well!
So, with a seriously rejuvenated TBR, I am ready for a fun December. (I swear, EVERYTHING I had marked to-read went on sale… You'll see in the book haul! There's no way I could have passed getting them for basically scratch!! You totally get it, right?? Right..?)
~ 5-Star Miracle Books Read ~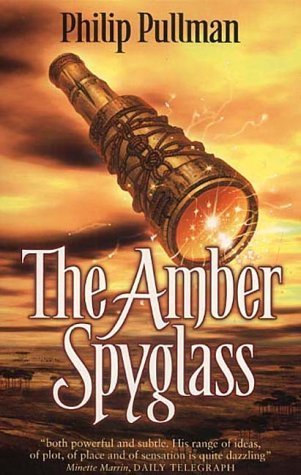 You could say, hey, it's only one amazing book this month. Bummer, eh? But no! The Amber Spyglass is so amazing, that it can stand up on its own and proudly take the place of the only mind-blowingly awesome book I read this month. I have reviewed the entire series here if you'd like to read it. It was awesome and I recommend it for sure.
~ 4-Star Steady Good Books Read ~
The Plague Charmer was one of my long-forgotten ARCs from 2016, and I'm kind of sorry I didn't read it sooner! It was a really great book, steeped in the rawness of the middle ages and in their unique magic. I am planning to review it soon. The Girl in the Tower, needless to say, was also great, and in my opinion, much better than the first book, The Bear and the Nightingale. I loved it, and there should be a review of it up next week. I also really liked Eligible, which is a modern retelling of Pride and Prejudice. If you're a fan of that story, you might like this one. I really loved it, but I've heard people say they didn't like it too much, having read it too soon after reading Pride and Prejudice, because some things clashed. But I think it's a solid and very fun current retelling of the same story!
~ Okay Books Read ~
The Ugly is one of my old ARCs. While nicely written and definitely got a few good things to say, it was a little bit long-winded and complex. I liked the absurdity of the story, but at times it was too much. Not sorry I read or requested it though! Flower Moon is a new ARC, it comes out on January 2nd 2018, and it's a cute story about the love between twin sisters and how they learn to be together and allow each other to be who they are – with a dash of the paranormal intertwined into the story. And you ask why Assassin's Apprentice is on the "okay" list? Well, we read it together with Ebilshrimp, and he really really liked it! But for me it was merely okay (fantasy + politics… It's a me thing. Plus, it's VERY dark.) But don't get me wrong! We already have two of the next books and we'll definitely be reading them too.
~ Totally Meh Books Read ~
About Here We Are Now? I know some of you liked it. I just didn't. Perhaps I won't request contemporary YA anymore. Maybe all that instalove that solves all of life's problems is just not for me. As for The Doctor of Broad Street – it's also one of those old ARCs, and I DNFed it – I don't even know why I would have requested it! *glares at Evelina from 2016* I received Sometimes I'm So Smart I Almost Feel Like a Real Person from the author, and he claimed it's something like The Rosie Project – you can probably already tell it's not, not really. (And why do authors sometimes make book names that long?) And I also tried myself out on some translated manga, to only learn that it probably also doesn't work on me (I've read manga in Japanese, and it works much better, perhaps because you're working on the language, so you're less bored xD) The Promised Neverland felt repetitive and boring. Plus, I think I hate reading on the phone. So that might be the last manga ARC I ever request.
~ The Stats! ~
It seems.. That finishing the Goodreads goal has silently crept up on me!! All I now have to do is just review those overdue ones and… I'll be done, and probably over the number! Didn't expect that. It seems as though I have also pretty much nailed my Mount TBR goal. (And we do not speak of the Blogger Shame goal, because that's what State of the ARC is all about…)
~ On The Blog In November ~
You will mostly see scifi posts here because SciFi Month! I was really glad to participate, but I'm also sort of glad it's over – cause I'm simply tired of posting about the same thing over and over again. As for the next month, I'm planning some changes for my blog – as of now, there should be more discussions and lists, and less reviews! As for november, the most popular post must have been My Favorite Gift Ever, and some of those discussion posts. I also urge you to check out the review for An Unkindness of Ghosts, because it's probably my favorite book of the whole month! Maybe even year…
~ Books Hauled ~
Well… Need I talk about it? There were some really good books on sale. And not even for Black Friday. They just randomly went for sale. But hey, #noregrets. I really wanted to read Murderbot (All Systems Red)! And so many other things. Have you read any of these?
As usual, I'm linking up with Caffeinated Reviewer and the Sunday post, also with Stacking the Shelves at Tynga's Reviews and Mailbox Monday, Feed Your Fiction Addiction.
And that's it for my November! What about you? Share your links with me in the comments!
I'm Evelina and I blog about books that made an impression on me. I love middle grade, women's, scifi and some literary too.