So you might have gathered that this has not been an easy month, or an easy couple of months. Which is why it's way past the 15th, when I usually release #NewBloggersWelcome, and I'm only posting it now. This month actually marks my 2nd blogiversary! And I forgot it. That's how busy and tough stuff has been lately. And while I am feeling sad about having everyone wait so long to be featured, there's also a thing that makes me feel kind of wary. It's that some people have been acting somewhat entitled about the feature?? Like, I'm weirded out to be having to say this, but featuring newbies… ISN'T MY JOB. I do this out of PURE LOVE FOR THE COMMUNITY. Not because I have to. In the past month, I've had several weird people ask to be featured and expecting me to say yes despite them not qualifying at all (don't worry, they're not on the post!), I've had someone try to pretend a book blogger to be featured and unfollow me when I asked to see their blog which wasn't even listed on their profile, and I've been asked for advice for writers on how to be more popular among bloggers ("I will be waiting for some pointers from you on how to get more in touch with the book blogger community") – all in a tone as if I'm supposed to be doing this??
I am… a little bit confused. How is it that some people are so entitled to everything..? Where does this come from?
Which is why I am slowly pondering putting this feature on hiatus for a little bit. Cause while I love introducing people, I don't like dealing with "when will this be posted" and "feature me for free NOW although I've been blogging for a year and it's clearly not my fault nobody likes me", or people suddenly getting the idea that I will be featuring ONLY THEM, without bothering to look at how these posts have looked in the past. I'm not a free advertising tool, but I'm starting to feel like one. And that's making me feel stupid.
Argh! Maybe I'm being too negative! Whenever I say things like these, I feel very weird and guilty because maybe I'm making it up. After all, the vast majority of you are amazing and lovely people, and some of you have gone farther than I have in two years – all in a matter or months, and I'm so proud of you ❤️ I'm proud to have been able to feature some of you. But currently I don't know if there will be a feature next month. Maybe there will be. Or maybe this is on hiatus. We will see! Either way, please don't let this big ol' rant of mine make you think less of the new bloggers I am introducing this time!!
And now, I've really wanted to use this GIF for the feature for a while!! (Because it's October. God, I hope you get it. I hope I'm not being too nerdy xD) Let's see this month's amazing newest book bloggers! Again, I hope my big rant will not reflect on your warm welcome of these newbies.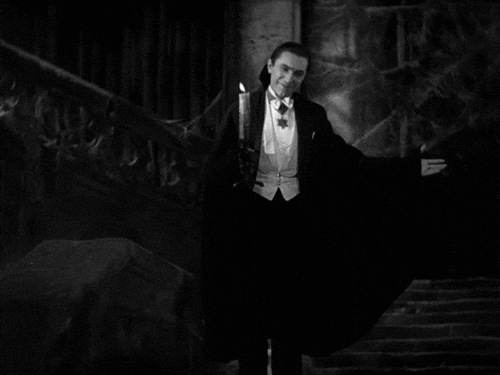 A GIF of Dracula saying "I bid you welcome" and leading the way up the stairs
~ How Does This Work? ~
Every month I will introduce people who are new book bloggers and want to get featured. More info in this tweet, although, like I've just mentioned, the feature might be put on a short hiatus for a bit:
If you're a new #bookblogger (you started #bookblogging 1-2 months ago), DM me to get featured in my #NewBloggersWelcome feature! I will be doing one monthly to introduce all the newbies to the #bookish community ❤
(also – RT!)
And if you're new, check out the tweet below 👇 https://t.co/qltcBIx7H7

— Evelina | Avalinah (@AvalinahsBooks) April 22, 2018
~ Introducing The Most Recent #NewBloggers! ~
~ Book lover @ Simplest of Pleasures ~
Book lover loves simple things in life, and that's why she chose 'Simplest of Pleasures' as her blog name. Her favorite genres are dark psychological fiction, well written horrors and classics. But she also loves non-fiction, such as books on science – mainly astrophysics. She has a passion for understanding human behaviours within fiction – that blurred line when reality breaks down for the main character is intriguing. And she loves non-fiction because she loves astrophysics and she gets to read about it without all of the equations. Her motivation for the blog came from challenging herself – she thought the blog would help to motivate her to read more widely and improve her computer skills. As most of us, she only found out the community existed after she started blogging. She lives in the UK, and she has a passion for psychology, ideally with neuroscience. She loves hearing a wide variety of ideas from a diverse range of people and their different perspectives. For now, she doesn't have any impressions on the book community yet, or any bookish social media, for that matter! So don't forget to check out her blog here and follow her on Twitter.
~ Alexandra @ Reader Witch ~
Alexandra blogs at Reader Witch, and she's very emotional about books. Like, for example, if she dislikes a book, you WILL know about it. So she warns that if you're about to check out her blog, expect some posts to be snappy! That's why it's "Reader Witch", you know? *murmurs something to do with how witches can only be women and what's up with that anyway, society!* Alexandra refuses to allow such name-calling and labelling to affect how she feels about life, so she wanted to use it for good – namely, like spreading the word about books! She's kind of like me with her reading – it's easier to say what she does not read, rather than what she reads. She doesn't read romance, kids' books or fantasy (like me again, with the exception of kids' books!) She reads all other genres and she adores modern classics and the occasional good memoir. She has always loved Margaret Atwood *murmurs something about "before she was big*. She could go as far as saying that The Blind Assassin changed the way she understands books! Alexandra also loves Hemingway, especially his semi-autobiography, A Moveable Feast. Out of her recent reads, she's really enjoyed The Air You Breathe and A Man Called Ove.
Alexandra lives in a small but extremely beautiful country called Montenegro (although she originally comes from Russia.) Most of the territory of Montenegro is wilderness with forests, waterfalls, hills, mountain peaks. So she goes trail running a lot! She's also involved in a local animal rescue. When asked about blogging, she says she started blogging because she wanted to let all of those bookish thoughts out! She also wanted to take the load off her family who were the sole receptors of these thoughts up to that point. So for a while, she would just have monologues with the Goodreads newsfeed. But after a while, she discovered book blogs, and she couldn't believe there were others doing this! And from then on, there was no going back.
She can't say she knows much about the publishing industry yet, but she never thought the bookish community would be this big in the world of TV and streaming shows. She's met some really friendly people and it means a lot to her. It's always pleasant to get a human reply! So let's provide just that – go and check out Alexandra's blog, her Twitter and her Bookstagram, and here's a post that she'd love you to read.
~ Anisa @ Bookish Bibliophile ~
Anisa blogs at The Bookish Bibliophile, and I guess the name explains her love for books! She reads mostly YA, sci-fi, dystopian, romance (not too steamy though) and mystery. Anisa loves Harry Potter, because how can you not?? She also adores everything Rick Riordan and Sophie Kinsella (she loves the dark humor). She can also greatly recommend Sally Thorne, a new author with a debut that's just stunning – Anisa thinks it's one of the best romances out there and refuses to say anything more because she fears she wouldn't be able to stop!
Anisa never really had bookish friends, so the idea of sharing thoughts on books and having discussion appeals to her incredibly. The community seems wonderful and supportive, and she is hoping to make many new friends. She actually started reading book blogs before she started her own. Anisa is a high school student in Hong Kong, but she wants to study abroad, so she's working on achieving good exam scores for the moment. She's really passionate about reading, tennis and she would like to become an entrepreneur one day. If that doesn't pan out, she can always just become a librarian and keep expressing her love for books. So don't forget to visit Anisa's blog, add her on Bloglovin' or Goodreads.
~ Dany @ Ambivert Words ~
Dany blogs at Ambivert Words – the blog name comes from one time she was reading Fangirl by Rainbow Rowell and she realized she's a kind of a mix of both an extrovert and introvert – actually, you can even read her post about this here. Dany loves the fantasy genre the most, but she's a new reader in English, so she has so many books to discover still! She's wanted to talk about books since she was a kid, and she discovered the blogging community through the Rain's blog. She has started her own to overcome failure, talk about books and to do her love for writing justice.
Dany is from India, Tamilnadu. There are officially 22 languages in her country, and she knows 3 of them! Her mother tongue is Tamil, and that the primary language she has been reading up to the point when she started reading in English. Dany loves the community, because it's so supportive! She's had a glimpse at our #NewBloggers discord group – that was her first time socializing, and she thought it was totally awesome. So go check out Dany's blog if you still haven't, and follow her on Twitter, Bookstagram and Goodreads.
~ Ivy @ Raine Reads ~
Ivy blogs at Raine Reads, and if you're wondering why the names are different, Ivy decided to use her middle name for the blog cause she loved the way the alliteration worked. She's a YA girl through and through, but she does read an occasional adult novel. Some of her favorites are contemporaries and psychological thrillers, but the novel that owns her entire heart is Carry On by Rainbox Rowell.
Ivy is a senior in high school, and actually, her blog started because of school too! She's taking a class that encourages students to start blogging, and so Ivy used this as a perfect opportunity to start her own book blog. Aside from reading, Ivy loves listening to music and participating in her school's show choir. So far, she's loved her experience in the blogging community! Everyone is supportive and genuine, she's very excited to meet more people. So go ahead and visit her blog, follow her on Twitter or Instagram, and maybe even Facebook.
~ Shalini @ Book Rambler ~
This is Shalini, and she blogs at Book Rambler. She says, the name just popped into her mind, and then she realized rambling is just the kind of talking she does about books, and that became the blog's name! Shalini primarily reads and reviews romance, YA, fantasy, mystery and thrillers. She can't name a favorite, cause there are too many! (I can relate to that on a deep level.) Her favorite authors are Amy Harmon, Jennifer L.Armentrout and Laini Taylor. Shalini knew of bloggers and bookstagrammers before she started her own blog, but it was only when a friend suggested she should start one that she did. Actually, before having a book blog, she had a fashion/beauty blog, but struggled to keep posting, so that one no longer exists.
Aside from book blogging, Shalini is a college student and she studies biology. She's from India and there's a huge bookish community there! She feels it's very nice and supportive, but since Shalini is introverted, she still finds it challenging to interact too much. She has had unfortunate cases when people weren't very nice to her. So let's see if we can make Shalini feel more welcome by checking out her blog, following her on Twitter and Instagram, and checking out her Facebook page, Goodreads and Pinterest. You can also follow her on Bloglovin' as well. And if you want a recent post of hers, this is the one she recommends.
~ Louise @ Bookmarks and Stages ~
This is Louise, and she blogs at Bookmarks and Stages, which is for reviews about books, festivals and theatre. Primarily, Louise reads and reviews crime fiction and general fiction, but will review some children's books, historical fiction and most non-fiction as her blog grows. However, she stays clear of adult horror and erotica. When reviewing festivals, she'll review them as a whole, but will give more detail about literary panels and others that caught her attention. For theatre, she mostly reviews plays and musicals, but does not limit herself to only those. Bookmarks and Stages was actually born after talking with several people already in the industry – bloggers and authors. Louise's main motivation is to showcase people's craft of books and stage work, to share reviews and to encourage more people to get reading.
Louise lives in Scotland and works with primary age children who have additional needs. She sometimes also gets involved with community matters and is a former Rainbows Leader (part of Girlguiding). She's even had three short stories published once and used to play keyboard. So far, Louise is finding the bookish community nice and friendly, and she thinks the same of some authors and publishers she's been in contact with so far. Asked which posts she'd share with us all, she says she's most proud of this one and this one. You can also read more on her blog or follow her on Twitter.
Have you met any of October's newbies yet? Go give them some love!
I'm Evelina and I try to blog about books that matter, with a bit of fun there too! Disability and equality will be topics you see a lot, but there's also a lot of scifi, fantasy and… GIFs. I'm also the proud founder of #ARCsAnonymous.