Hey everyone! Time flies by so quickly, and can you believe it's been another month, and we're already on our 4th batch of newbies? I can't either. Wow, time sure flies. So let's get it moving with the 4th #NewBloggersWelcome!!! A GIF of Fran from the TV show The Nanny holding out her arms in welcome
~ How Does This Work? ~
Every month I will introduce people who are new book bloggers and want to get featured. If you know a new blogger who would like to, please have them get in touch with me – through Twitter or my contact form – and I will get them set up! Ideally, it would be people who have only been blogging 1-2 months, sometimes just under 3 months. They can also reply this tweet:
If you're a new #bookblogger (you started #bookblogging 1-2 months ago), DM me to get featured in my #NewBloggersWelcome feature! I will be doing one monthly to introduce all the newbies to the #bookish community ❤
(also – RT!)
And if you're new, check out the tweet below 👇 https://t.co/qltcBIx7H7

— Evelina | Avalinah (@AvalinahsBooks) April 22, 2018
~ Introducing July's Most Recent #NewBloggers! ~
~ Pauliina @ The Bookaholic Dreamer ~
A photo of Pauliina, she is holding up a Kindle with the cover of Uprooted by Naomi Novik, she has reddish hair and CATS! on her shirt
This is Pauliina and she blogs at The Bookaholic Dreamer. She is originally from Finland (as you can probably tell from her name!), but she now lives in the UK, as she moved when she was 18. She's currently starting her master's on psychological research and her current projects are about reading behavior, which is so cool! Pauliina spent like a week pondering what the name of her blog should be because she wanted it to be perfect. She's still not certain she's completely happy with it! (Do I know the feeling…) Basically, she wanted everyone to know her bookaholic inclinations, and she also happened to love Strange the Dreamer by Laini Taylor, as so here we are. In the photo, you can see her lovingly holding Naomi Novik's Uprooted – she says she was hyping like crazy when she was reading it.
Pauliina's favorite genre is fantasy, but she also reads a lot of sci-fi, literary fiction and nonfiction. She likes both YA and adult books, and she loves fantasy because it lets the author be so creative. She feels like she's living alongside the characters when she reads it! She has read a lot of YA (because she is not as hype resistant as me), and her favorite authors include Laini Taylor, Ursula K. LeGuin and Roxane Gay.
Pauliina wanted to create a place to channel her bookish thoughts and meet people similar to her. She mostly followed bookstagrammers and booktubers, but started looking into book blogs too. And she was captivated! She loves the friendly spirit in our community and she feels like the start of her journey was much easier than she anticipated it. She never expected to get follows and comments, so she's incredibly happy with her decision to start a blog now. So give her a warm welcome and follow her blog and Twitter, Instagram and check out if you have any books in common with her on Goodreads.
~ Bibiane @ Bibi's Book Blog ~
A photo of Bibi at a clothes shop, trying on a hat and posting with a nicely manicured hand to her mouth
This is Bibi and she has just started out blogging at Bibi's Book Blog. She tells me a funny story about the photo we're looking at – actually, the security guards got so annoyed with her and her friend trying on a lot of clothes on top of their regular clothes and taking pictures that they kicked them out of the store! I know, some people don't understand fun, right? Anyway, Bibi mostly reads romance with sub genres like Reverse Harem, Ménage, Paranormal Romance & Rock Star romance. But she's a sucker for a good mythology story – Greek, Roman or Norse. Bibi really likes Reverse Harem and #whychoose, because she hates love triangles (a sentiment I can understand!) Bibi enjoys reading books by L.J. Swallow, E.M. Butler, Eva Chase, C.M. Stunich, C.M. Owens/Kristy Cunning, but her all time favorite book is Madeline Miller's The Song of Achilles and here's her review of it.
Just like it is for many of us, Bibi felt alone in her social circle, being the only avid reader in her family and among her friends. She needed someone to gush and swear with after reading a good book! She found herself posting long reviews on both Goodreads and Amazon, got some feedback, and decided to have a go at it (actually, she has uploaded her old Goodreads reviews onto her blog and backdated her posts – that's why it looks like she's had the blog for a while!). She has read blogs before (like this one!), so she knew there was a community, but she had no idea it was so vast. Sadly, the first few people she met were offputting ("this is my niche, go away!"), so Bibi was disheartened (honestly, I can't even… What are these people doing in the community at all?? WHO are they??)These people never reciprocated. But Bibi never gave up and it paid off! People started following her, liking and commenting and it made her so happy. Now she can whole-heartedly say that at least 80% of the bloggers she comes across are amazing, helpful, open, kind and fun to chat with, which makes it easier to ignore the last 20%, she adds.
Bibi is originally from Colombia, but she grew up in Denmark and now lives in the UK. Her family's still in Denmark, so it's just her, her boyfriend and two lovely cats along with her. She's only lived in the UK for four years, so her social circle could be bigger, but her blog has helped her with that. She likes staying at home in the evenings and read (obviously!) and do other introverted stuff like we bookworms will do. Bibi has also recently finished her Greek mythology studies and is currently looking for work. If you had to ask her which post of hers she's most proud of, it would have to be the one about WordPress codes – she's really happy that she managed to make them work and figured them out. So let's be like the 80% of bloggers and go visit her blog and follow her on Twitter and Pinterest.
~ Jamie @ Princess of Pages ~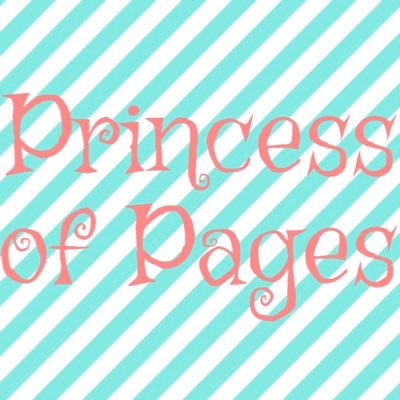 A logo of Jamie's blog – the words 'Princess of Pages' in orange font on the background of diagonal white and light blue stripes
This is Jamie and she blogs at Princess of Pages, cause who doesn't want to be a princess, she says and laughs. Jamie says she's just a girl with a love of books, and her blog is so very recent, she's only started it in the middle of July. She's very excited to start blogging though – she's already met so many nice people and thinks the support is amazing.
As many of us, Jamie says she has an amazingly huge TBR, and she loves all the recommendations that come her way, as well as the discussions that they bring. She reads a lot, and she thought, why not? Might as well start talking about it too! Especially since she kept seeing these blogs, so she figured… someone will probably care to read about it!
Jamie's favorite reads are YA and contemporary romance, but she also can't resist a good mystery. She loves swoon-worthy characters (message to Rhysand: she is looking at you. And making the googly heart eyes.) Some of her favorite authors include Sarah J Maas, Sabaa Tahir, Jenny Han, Heidi McLaughlin. Aside from reading, Jamie's interests include shopping, crafting and even repainting furniture, when time allows – which isn't so much anymore! Go check out Jamie's blog here, and also follow her Twitter or add her on Goodreads.
~ Emilie @ Fiction Thoughts ~
An image of Emilie and her hubby – she's blonde and long-haired, he is fair haired, she is wearing a white sweater and he a dark blue T-shirt, they're sitting on a stone in a meadow full of flowers
This is Emilie and she's got a blog over at Fiction Thoughts. She says the name is simple – it's really just her thoughts about the fiction she loves reading, but she also likes the idea of her own thoughts being almost fictional. Bloggers get to write whatever they want, right? Emilie reads nearly anything fiction, but her heart leans most towards fantasy. She says it brings the magic into her life! Give her some shape shifters, or better yet, dragons, and she's hooked.
The motivation behind starting the blog had to do with Instagram – she came across the phenomenon of Bookstagram and went "WHAT, THAT'S A THING?!" She had no idea – she's been into reading her whole life, and yet she never thought one could blog about it, because most people think of blogs only being meant for fashion or cooking. what followed was a frenzy of research and then creating her own little corner of the internet. (Will I surprise anyone by saying Cait @ PaperFury was the first Bookstagram inspiration for her?)
Emilie is from the US, she grew up in Missouri, but moved to Utah when she was 19. She met her boyfriend (now husband) there and it's been an adventure ever since! They now live in their new house, have a pup named Maya and are a part of the LDS church. Emilie works a desk job and does hair on the side, and spends her free time shedding all those #feels over books and spending time with her family. Her first impressions of the community is that everyone is overwhelmingly nice and she gets so much support from complete strangers. She says the community is very witty and gentle, yet aggressively passionate about what we all love. So let's go check out Emilie's blog, her Instagram, Twitter and Goodreads.
~ Dora @ Swift Coffee ~
An image of Dora with an open book, peeking over it and winking. She's got glasses on, the photo is in sepia
This is Dora and she blogs at Swift Coffee. She's been toying with the idea of starting a blog for a while because she loves reading and writing about books, and there's no point to just keep it to yourself if you've already written it. When Dora was a teen, she actually wrote some reviews for a competition by a publisher in her country, and she got very positive feedback, so she's felt good about writing reviews ever since. The problem with actually writing them was the time! Which is what got her into the habit of jotting thoughts down quickly while she was having coffee – and that's how Swift Coffee was born (don't you just love it when there's a solid story behind the blog's name?)
Dora is a literary omnivore and she's somewhat genre-blind, which allows her to enjoy anything that's written well. Her favorites are mystery and crime, psychological thriller, fantasy, historical fiction, comedy, contemporary fiction, and she likes changing up the genres as she reads. She reads both YA and adult, and she finds it hard to choose just one favorite book or author. It's like… choosing among her children. Her hundreds of children.
Dora is from Hungary and she has recently graduated med school (she still can't quite believe she's a doctor!) Aside from reading, she is also crazy about singing. She hasn't been part of a band yet, but you never know! Dora knew that blogs existed before she started blogging (mostly theoretically, she says), but she had no idea the community was so close or that there was a whole underground book club in the abyss of the internet! Ever since she discovered us, the community can't seem to stop amazing her. There's so much love and support, and Dora is super thankful. Her experiences with the industry are good so far as well. She is loving NetGalley, but is also trying to limit her requests so she doesn't end up in #ARCsAnonymous by yours truly. So let's go check out Dora's blog and follow her on Twitter, Instagram, Tumblr and Goodreads.
Have you met any of August's newbies yet? Go give them some love!
I'm Evelina and I try to blog about books that matter, with a bit of fun there too! Disability and equality will be topics you see a lot, but there's also a lot of scifi, fantasy and… GIFs. I'm also the proud founder of #ARCsAnonymous.