Hey everyone! Wow, time sure flies. And here I am with another edition of #NewBloggersWelcome. I know I've sent out a bazillion of emails, but a lot of bloggers have actually not responded. It seems they forgot! While it's a shame, there is no shortage of newcomers who have a good memory 😉 so here they are! Let's give them a warm welcome.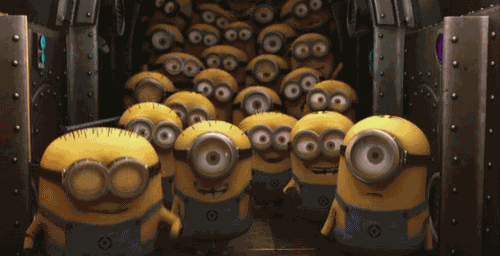 A GIF of the minions from Despicable Me, the movie, smiling and waving at you
~ How Does This Work? ~
Every month I will introduce people who are new book bloggers and want to get featured. If you know a new blogger who would like to, please have them get in touch with me – through Twitter or my contact form – and I will get them set up! Ideally, it would be people who have only been blogging 1-2 months, sometimes just under 3 months. They can also reply this tweet:
If you're a new #bookblogger (you started #bookblogging 1-2 months ago), DM me to get featured in my #NewBloggersWelcome feature! I will be doing one monthly to introduce all the newbies to the #bookish community ❤
(also – RT!)
And if you're new, check out the tweet below 👇 https://t.co/qltcBIx7H7

— Evelina | Avalinah (@AvalinahsBooks) April 22, 2018
~ Introducing July's Most Recent #NewBloggers! ~
~ Becky @ Velvet Spade Reads ~
A photo of Becky, she has dark straight hair and is smiling sideways to the camera
This is Becky and she blogs at Velvet Spade Reads. She has patiently waited since the start of June, because there were just so many people who wanted to be featured. Becky has kindly agreed to be featured later, so she's first today. Why is her blog called Velvet Spade Reads? Turns out, a college friend of hers was taking a Photoshop class and designed a romance cover with a picture of her! (How awesome is that?) The name of the book was supposed to be "Velvet Spade" – and the rest is history. (I think this has GOT to be one of the best blog name origin stories I've ever heard.)
Becky reads all genres, but she prefers YA, fantasy, scifi, historical, mystery/thriller and some contemporary. You might have realized that she's a mood reader! These days she reads more YA because it's quicker and the plots are easier to stomach when you're tired (Becky is a new mommy and works from home.) Her favorite authors are Alice Hoffman, Leigh Bardugo, Lyndsay Faye, Tana French & Julie James. She feels like none of them have ever let her down and they've written some of the best characters she's met! This year, she's also raving about the Scythe series. Becky's love for reading comes from her mother who was a librarian – in fact, she will never forget how her mom said "here, read this – this one's going to be a big deal" and handed her Harry Potter.
Becky started blogging because she needed some kind of project that was just hers, after the became a mom. A blog made sense, because books are already a kind of escape to her. And after writing her first review, she had been completely drawn into the commmunity and can't get enough. Becky is also interested in writing so she already has a good understanding of the publishing industry, but now she's getting to know it through a blogger's eyes too. So give her a warm welcome and check out her blog, follow her on Twitter, Instagram and Goodreads. Becky is also @VelvetSpade on Litsy!
~ Fareya @ Booktimistic ~
This is Fareya @ Booktimistic, and I probably don't need to explain the origins of the name of her blog, huh? She is quite diverse with her genres, but her favorites are fantasy, romance and thrillers. She also loves historical and contemporary. But of course, her all time favorite is the Harry Potter series! She was 10 when it first came out, so she knows the feeling of waiting for that Hogwarts letter that SHOULD have arrived the following year… Her favorite book from the series is Harry Potter and the Goblet of Fire. Despite all the literary masterpieces that she's apparently supposed to like, she still can't choose anything else than HP as her favorite. But she also adores Pride and Prejudice, The Ocean at the End of the Lane, Six of Crows and quite a few more. She loves almost any retelling, especially if it's of Beauty and the Beast!
Fareya created her blog to meet people like us – bookworms. It all started with Goodreads around 5 years back, then Bookstagram last year and finally now – blogging. She was motivated to have a creative space of her own! Fareya loves reading even a negative review – to contrast her own opinion with a different one and get more perspective. She also loves expressing herself through photography. Which are all amazing traits for a book blogger!
Fareya is an INFJ and an extreme introvert (can you relate?) She loves being outdoors and is fascinated by trees, forests and the night sky. Fareya was born and grew up in India, but now she lives in the US with her husband. They are both engineers, and despite many shared interests, reading is not one of them, but Fareya has a bookworm sister. Unfortunately, her sister is still in India, so although we are also only reachable through the internet, I feel like Fareya won't be lonely in our community! So give a visit to her blog, follow her on Twitter, Instagram, Goodreads, Bloglovin' or Pinterest.
~ Rain @ Bookdragonism ~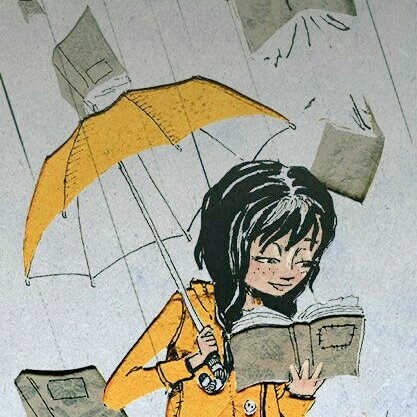 An illustration of a girl reading under a yellow umbrella in the rain
This is Rain @ Bookdragonism. She's tired of hearing herself be called a bookworm – she'd rather be a bookdragon, so that's why her blog is called that. Hail, bookdragons!– says Rain. Oh, by the way, Rain might or might not be her real name – she claims to take the names of her vanquished enermies sometimes.
Rain reads anything that peaks her interests, but it's usually YA, fantasy, contemporary, psychological thrillers or mysteries. The more blood and murder, the better! She is a huge fan of J. K. Rowling and Rick Riordan. And like for many others, it's Harry Potter that started her on the track of becoming a book dragon. She will be eternally thankful for that! Currently, she's been obsessed with everything Leigh Bardugo, V. E. Schwab and Maggie Stiefvater too.
Rain's blogging life started when she got on Twitter. It was like a whole new dimension! First she found Cait @ PaperFury, naturally, then followed her blog, and she's been wanting to start one of her own ever since. She didn't even know the community was so big! She thanks Cait for everything <3
Rain is from the Philippines and she is 17, so she's still in high school. But she's passionate about many things (blogging included, of course!) She lives and breathes reading. But she also likes watching TV series and is a fan of the MCU. Rain loves everything about our community, she is especially happy because it's not toxic at all! She is most proud of her discussion post called Why Humans Should Stop Calling us Bookworms, so after checking that one out, you might want to also follow her on Twitter, Goodreads and Pinterest.
Have you met any of July's newbies yet? Go give them some love <3 If you know anyone who needs some support on the start of their blogging journey, do put them through to me.
I'm Evelina and I try to blog about books that matter, with a bit of fun there too! Disability and equality will be topics you see a lot, but there's also a lot of scifi, fantasy and… GIFs. I'm also the proud founder of #ARCsAnonymous.