Hey everyone! And again, we come back with another edition of #NewBloggersWelcome! This time it's extra exciting, because did you know that June 16 is apparently international blogger day? (I don't mean for international bloggers – you wish! Just an international day for bloggers in general!) So our newbie welcome post is even more well timed, considering the occasion. Let's give a round of applause to these newcomers and get to know them better!
P.S. If anyone is wondering why my images now have captions on them, it's to help the visually impaired people who use screenreaders! I will shortly be talking more about this, but for now, just consider doing this yourselves!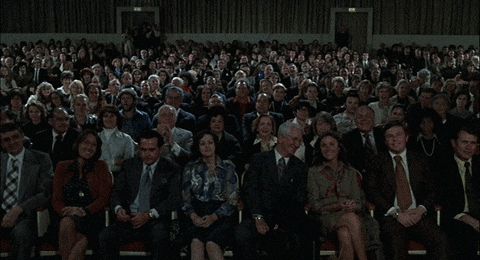 A GIF of an audience clapping and releasing colorful balloons, jumping with excitement
~ How Does This Work? ~
Well, every month I will introduce people who get in touch with me that they want to get featured. If you know a new blogger who would like to be featured, please have them get in touch with me – through Twitter or my contact form – and I will get them set up! The idea is to boost only newcomers who are not known in the community yet, so ideally, people who have only been blogging 1-2 months, sometimes just under 3 months. So if you know someone who'd like to get featured, you can tag them on this Twitter thread or otherwise share my contact:
If you're a new #bookblogger (you started #bookblogging 1-2 months ago), DM me to get featured in my #NewBloggersWelcome feature! I will be doing one monthly to introduce all the newbies to the #bookish community ❤
(also – RT!)
And if you're new, check out the tweet below 👇 https://t.co/qltcBIx7H7

— Evelina | Avalinah (@AvalinahsBooks) April 22, 2018
~ Introducing June's Most Recent #NewBloggers! ~
~ Erin @ Undercover Binge Reader ~
A photo of Erin, she is blonde, wearing a red dress with blue patterns
This is Erin and she blogs at Undercover Binge Reader. She has ALWAYS been a bookworm and, like many of us, always rants about books, but, again, like for most of us, for Erin it's hard to find an outlet for that among her real life friends. She used to try to talk about books to them, but she'd just see their eyes glaze over and develop that far-off stare… Then one day, Erin read the Lux series by Jennifer L. Armentrout, in which the main character is a bookworm and bookblogger, and she just felt a giant sense of 'DUH' and realized she could just start a blog! In fact, she had been thinking about it on and off, but just never thought she was passionate enough to start. Like many of us, she didn't know there even WAS a community of book bloggers. When she did start, however, she was blown away by how cool and friendly we are! She thinks it's absolutely amazing to finally be able to talk to people about books as much as she likes.
Erin is from the US, currently living in Charlotte NC, and she works in the mental health field. She has two cats and has recently been married. She mainly reads paranormal/fantasy/urban fantasy romance and contemporary romance, and some sci-fi. She finds that these genres are the best form of escapism and wonder, and she is a happy ending junkie! (Hence, the romance.) She also loves action and adventure, and of course, the book boyfriends. Erin is super obsessed with ACOTAR, also Jeaniene Frost's Night Huntress series and basically everything in the Night Huntress world. She also loves the Kate Daniels series by Ilona Andrew's and Jennifer L. Armentrout's Lux series.
Erin thinks the community is superrrr supportive and welcoming and she loves finally finding this tribe of people she should have always been connected to! So please, give Erin a hug and some follows and visits on her Twitter, Instagram and Goodreads.
~ Nicoline @ Bookish Stuff ~
A photo of Nicoline, she is blonde with straight hair, standing in a field and smiling
This is Nicoline and she blogs at Bookish Stuff. The primary genres she reads at the moment are YA, fantasy and contemporary. But she also enjoys adult fiction. None of Nicoline's friends actually read books – in fact, when she was a kid, she also hated reading (*gasp!*), but in her late teens that was replaced by love (which is why she's got to catch up with the YA releases, cause she feels like she missed out!) So, because of Nicoline's friends not being too much into reading, of course she needs someone else to fill the void and talk to her about all the new releases. And now she has a blog for that!
Nicoline thinks that the blog helps her track her reading better, and of course, also gives her a supporting community. When she first started out, she was surprised how many blogging related things she could find online and how BIG the book blogging community actually is! It seemed nice and cool and she couldn't wait to become a part of it. So far, she feels like the blogging community has been incredibly nice and welcoming.
Nicoline is 20 years old currently, and she's an international bookworm – she lives in Denmark, Copenhagen. Besides reading, she loves rhythmic gymnastics (HOW COOL IS THAT, GUYS??!!) She practises and trains for about 20 hours a week! She also loves going to art museums and the theatre. Currently she is doing a gap year, but also supplementing her studies so she can have better options when she decides what she wants to do. And as for her favorite reads? One of her favorite things to read is the Slated Triologi by Teri Terry.
Nicoline is currently most proud with of her post about her love/hate relationship with the Divergent series. So give her a visit and perhaps some follows on her Twitter and Goodreads.
~ Emily @ Emily The Book Nerd ~
A black and white photo of Emily, she is wearing glasses, also blonde, biting her lip and smiling, and she has a little while doggie with her
This is Emily, and you can find her blog here. Emily reads and reviews pretty much anything that sparks her interest! However, she tends to gravitate more towards YA, because like Peter Pan, she seems to refuse to grow up! (I find that really cute, because hey… I also feel like that a lot of times.) Her favorite novel that she tries to reread every year is To Kill A Mocking Bird. There is no other book that makes her feel so close to the characters. When she was little, she even wanted Atticus to be her father! (That's a really strong connection to a book, in my opinion.)
Why did start Emily a book blog? She wanted to express her love of reading to others and of course, connect to people like her. Besides her father, she doesn't have a lot of bookworm friends. Emily also dreams of being a published writer, so blogging is a natural step – she wants to combine her two hobbies of reading and writing. At first, Emily tried Booktube, but then expanded it to a blog as an outlet as well. She wasn't aware of how huge the community actually was! She really loves the networking, and now feels like she could never go back.
Emily lives in Phoenix, Arizona (US). Aside from hanging out with her beloved Shih Tzu, she is constantly reading and blogging. She dreams of creating a career out of it for herself one day! Her thoughts of the book community is that "these people get her". Which is exactly like a lot of us are feeling!
If you were to visit any of her posts, Emily would like you to see her review of Twinkle, with Love. Also, give her a follow on her Twitter, Instagram or her Booktube channel.
~ Amy @ Books, Cooks & Hooks ~
A photo of Amy, she is a brunette, standing between library shelves and smiling at the camera
This is Amy and she blogs at Books, Cooks & Hooks – as you might have guessed, her blog name stands for all she loves – reading, cooking and crocheting (so, she's not a pirate. Rein in your fancy.) Amy is from the Southern East Coast of the United States, she is in her late 30s and she has two small children, and her favorite genre to read and review is YA/Teen fiction, specifically YA horror, mystery, paranormal, basically anything creepy! She also adores going back in time with historical fiction. She does enjoy adult fiction, of course, but she tends to lean towards YA because those books are often shorter and more fast-paced.
Amy has actually been a library employee for over 20 years! She's also been reading book blogs for over a decade, and this year? She has finally decided to start her own. Since Goodreads and similar social media started up, she doesn't get as much requests to help with picking people's reads in the library anymore, so she figured she needed another outlet to express bookish opinions.
Amy's first impressions of the community are that everyone has their own unique style and she thinks that is awesome! She also loves the diversity, and she is looking forward to meeting as many book bloggers as she can and learning from everyone. So let's give her a chance and visit or give a follow to her Twitter, Instagram, Facebook and Goodreads.
~ Anna @ DoleWhip and Books ~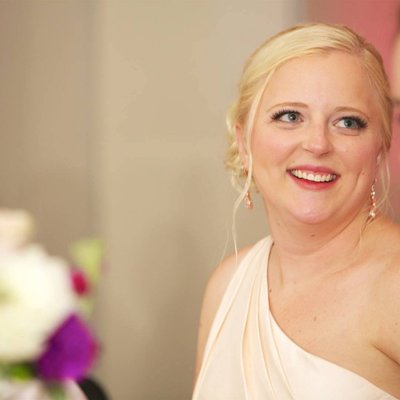 A photo of Anna, she is blonde, is wearing her wedding dress, smiling off into the distance on the right, and there is a bouquet of flowers in the background
Anna blogs at DoleWhip and Books, and the story behind her interesting blog name is that she blogs about books and Disney, and she loooooves eating Dole Whip (that's also from Disney), which is like a pineapple ice cream (don't look at me, I'm from Europe.) Anna usually reads fantasy, science fiction, dystopian, and YA books, but recently she's been throwing some thrillers into the bunch too. She admits that she is often drawn in by the cover of a book! But she will always read the blurb on the back, because she can't just start a book without knowing at least a little about it. She thinks that genres bring a reader into a whole new world, and that's what she likes best about reading – it makes her disconnect from absolutely everything else.
Similarly to Erin, Anna also started her blog after reading a book with a main character who had one! Unfortunately, she doesn't remember a name of the book, but hey, who knows? Maybe it's the same one even. So after reading it, Anna thought it would be so cool to be a part of a community like that – like many of us, she didn't know it was even a thing before she looked into it. Now she can't believe she didn't get into these circles sooner! She would love to go back to school for journalism to do this more seriously. Everyone is very supportive and all the books are just so exciting (can't we relate to that?)
Anna is currently 27 and she is from Wisconsin, but she says her home is actually Disney World because it's her favorite place to visit. She dreams of having her own wedding planning business or working on her blog full time, but currently she is a meeting planner for various associations. She loves baseball, summer and festivals. And if it's raining, she is always up for a Harry Potter marathon! Anna says she is proud of all of her posts (that's not something you hear a lot among us! Oh the book blogger anxiety, haha), but what she means is just that she's happy that she KEPT blogging and didn't give it up. So go take a look at her blog or give her a follow on Twitter, Facebook or Goodreads.
~ Meaghan @ The Words Gremlin ~
A photo of Meaghan, she is a brunette, she is smiling a wide smile and there is a little black-grey and white bunny on her pillow – that's her pet
This is Meaghan, and she blogs at The Words Gremlin – the name came to be when she and one of her friends were talking about baked goodies and how cool good words are, and it sort of merged into this idea of her sneaking around in the middle of the night, running off with goodies of both varieties! In her photo, you can see her sidekick, a little words gremlin in training (she's got three in total!)
Meaghan is a big fan of YA fantasy and paranormal. She has always loved adventure, mythology and anything fantastic, and she loves YA for the fast pace (plus a little bit of added #coverlove.) She is a huge fan of all things witchy, piratey, and dragony!
As it turns out, the friend she talked to and came up with the gremlin idea with, was actually a book blogger too! She was the one who told Meaghan that the community exists at all. So Meaghan simply went on and created The Words Gremlin so she could be very very excited about books on the internet and find people who were also very very excited about books on the internet. When she's not 'words gremlining', Meaghan is a college student from the US studying Latin who is passionate about writing, but terrified of her huge WIP stack, and she makes up for her lack of baking skills by watching baking shows. She also loves video games! If she had to share a post with us, it would be her review of Sightwitch from March, so go ahead and check that out, and also give her a follow on Twitter, Goodreads or Pinterest.
~ Joanna @ Starburnt Reads ~
An image of the logo of Joanna's blog that says Starburnt Reads
Joanna is also a Filipina! She lives in the UK and blogs at Starburnt Reads. She really loves looking at the stars, and she read that when they die, they do it big – they explode. She thought that was beautiful, so that's where the blog name comes from. She primarily reviews YA books, occasionally adult books (like fantasy and contemporaries), so obviously her favorite genre would be YA fantasy (who doesn't love magic?) Diversity is also really important in books for her and she's happy that it's growing as a movement. She thinks it's impossible to choose just ONE favorite (I couldn't agree more!), but she loves all of Leigh Bardugo and Victoria Schwab's work, and she also adores the Illuminae Files, The Raven Boys, The Secret History, and Laini Taylor's Strange the Dreamer. Basically, if a book makes her cry? On top of the list it goes.
Joanna started blogging because of Goodreads – she's been on it for a while, and she loves the community – they're kind and respectful people, and plus – you get to rant and rave about books! A few of her friends there had book blogs, and as soon as she checked them out, she knew she was in love, and so it all started. Now she's happy to have her own little corner of the internet.
She loves how everyone in the bookish community kindly to listens to each other, and how accepting they are. And also, nobody ever judges her for the "finished reading" posts at 4 AM on Goodreads! So go and give a follow to Joanna's Instagram, Pinterest, We Heart It, Tumblr, Goodreads and Bloglovin'.
So go and give these #NewBloggers some love! And if you know anyone else who needs to be featured in July, let me know.
I'm Evelina and I try to blog about books that matter, with a bit of fun there too! Disability and equality will be topics you see a lot, but there's also a lot of scifi, fantasy and… GIFs. I'm also the proud founder of #ARCsAnonymous.