So… I'm back from my hiatus! (I think?) And I thought, what better way to be back than post a newbie introduction post? Although due to my hiatus, these people might already be quite well known to you, at least some of them, but late or not, feature it is! So welcome the newest book bloggers!!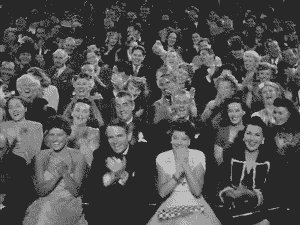 A GIF of people clapping in an audience
~ How Does This Work? ~
Every month or so I will introduce people who are new book bloggers and want to get featured. More info in this tweet:
If you're a new #bookblogger (you started #bookblogging 1-2 months ago), DM me to get featured in my #NewBloggersWelcome feature! I will be doing one monthly to introduce all the newbies to the #bookish community ❤
(also – RT!)
And if you're new, check out the tweet below 👇 https://t.co/qltcBIx7H7

— Evelina | Avalinah (@AvalinahsBooks) April 22, 2018
~ Introducing The Most Recent #NewBloggers! ~
~ Caitlin @ Caitlin Althea ~
Meet Caitlin – she blogs at Caitlin Althea, a blog of her own name. She mostly reads and reviews fantasy, because she loves to see how far the author's imagination can take the reader and how much they can create purely from scratch. One of her favorites is Six of Crows, because it features magic together with technology, and it's also like a breath of fresh air because the story is about criminals with developed characters rather than the generic prince/hero/chosen one. That's why Caitlin says Leigh Bardugo is one of her favorite authors as well.
As for many international readers, acquiring books for Caitlin is often harder than for other readers – especially newer books, so it's no surprise that review copies were a big motivator for starting up her blog. Caitlin says that we don't talk about this much in the community and it's kind of a taboo, but it's true – for us international readers, review copies are sometimes the only way to get books easily. I won't hide it was a big motivator for me too! However, she says that there were other reasons as well – such as, of course, making friends and fangirling about her favorite reads. Caitlin has been aware of booktube for a while, but she decided to start a blog instead of a booktube because she can't imagine herself speaking in front of a camera (I feel just like that too!)
As I mentioned, Caitlin is international – she lives in the Philippines, but she's actually descended from Chinese immigrants. She's a high school student in an all girls school. She says it's stressful, but she's happy she can get a good education. As for blogging, she says the community is small, compared to, for example, lifestyle or beauty blogs,but since she loves books and reading, this is the community she wants to be in. So follow Caitlin on her blog here, and also check out her Twitter and Goodreads.
~ Bella @ Bella Jones ~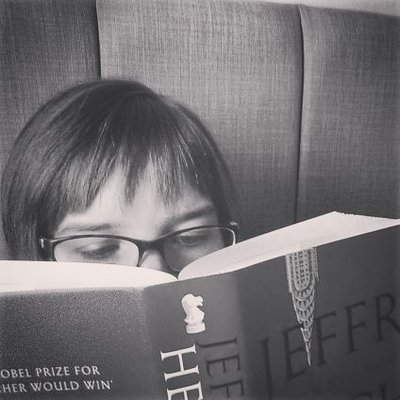 This is Bella, and she also has a blog with her own name – Bella Jones. Some of you might know Bella already – the thing is, when it came to Bella, I broke my "only 1-2 month old bloggers rule" – but that's because Bella is a spoonie and more often than not, life passes at quite a different pace for her than it does for most of us. She's forced to take unplanned breaks for weeks, which is why she could have never responded right away. And since this is my blog and my rules (haha!), I decided that I won't be setting any time limit for Bella to respond – I will be featuring her when she's ready! And funnily enough, I myself went on hiatus and took like a month and a half longer than I was supposed to with this post. So here we are!
Anyway, Bella enjoys thrillers and literary fiction the most – it's all about the twists and the puzzles – and it's not just for books, that's how she chooses shows to watch as well. It's all about the mind exercise! But she also loves reading nonfiction, especially in environmental science or business and HR because it appeals to her professionally. Bella admits that one of the reasons for her blog was to encourage her to read more widely, and so far she's tried some romantic comedies and biographies. It's working out so far!
As I've mentioned before, Bella is a spoonie, so her life isn't all sunshines and unicorns. She's bedbound currently, so a lot of things are much more difficult than for others. At one point, even reading was out of the question, but thankfully, she has been able to recover to the point where she can pursue this hobby, and since she missed expressing herself creatively, having a blog appealed to her massively. Bella still can't work, so review copies help out tremendously with savings. Once upon a time, so to say, Bella had a very active life: she worked in scientific research and traveled to a lot of conferences, as well as on holidays, and she's even spent some time as an RAF reservist. Now it's like her life's done a 180 from where she was, and she's lost a lot of friends because of that. But she says this has taught her not to take things for granted and to appreciate the small joys of life – this goes especially so for the people who don't judge her as 'less' because she no longer jumps out of search and rescue helicopters (dang, girl!) or rocks cocktail dresses in heels.
Bella admits that she was a book community 'voyeur' for a while! She read a lot of blogs before she decided to make her own. But once she joined, her experience has been amazing. She says there's just so much support and encouragement, it melts her hearth. She's made some great friends, some of them even sent her ARCs! All of this made her reevaluate how she made friends in real life, because these same people dropped her as soon as her life seemingly became 'less interesting' – while these random people she met on Twitter went out of their way to be kind to her. It is a point of view shifting experience. Bella says she's also had good experiences with publishers so far. She's signed up for some blog tours and the feedback has been all positive and lovely. However, since Bella has a relatively limited supply of spoons, she has to pick and choose very carefully where she will invest her energy. That's why she commits only to the blog tours she can and really does want to do – and only once a month at best. That's good advice for any blogger, I feel!
Anyway, so that's my introduction of Bella if you haven't met her yet – and I really do recommend reading her post on why she reads which might also really wring out your #feels because it talks a lot about the changes Bella had to go through as she became chronically ill, and how she will, despite the odds, not let it define who she is. Also, you can follow her on her blog, Twitter, Instagram and her Facebook page.
~ Rachael Davis @ Picture Book Perfect ~
Rachael blogs at Picture Book Perfect, and don't you just love her blog name? Since she blogs mostly about picture books, it makes perfect sense. She says she even awards the best picture books with Picture Book Perfect Gold, Silver or Bronze awards! You can see Rachael in the photo along with her little one – she's part of the reason Rachael started up a blog – she reads picture books with her daughter every day. But there's more – she also writes her own picture books. Rachael also enjoys nonfiction and sometimes reviews it too. Since she is mixed race, diversity is an important topic for her. So is mental health awareness. That's why she always looks for picture books with these themes. One of the most recent ones she's reviewed with these themes was Ruby's Worry by Tom Percival – which has a diverse main character and teaches children that the best thing they can do if they're worried is talk about it. Rachael says, according to a study, only about 1% of picture books even feature diverse main characters, so it's important to talk about it more, which is also one of the motivations behind her blog. Aside from that, she wants to blog about all sorts of themes – from humor to serious subjects. As for other blogs, if you know any that are specifically for picture books – point them out to Rachael! She's still out on a hunt for those, since they aren't as common as book blogs for YA or adult reads.
Rachael is from England, she lives with her husband and little girl, and she's also a published adult fiction author, but as I've mentioned, she's branching out into picture books right now. She says the writing community has been awesome, but she's only just getting to know the blogging community! So give her a visit to her blog, and a follow on her Twitter, Goodreads, Instagram and Facebook.
~ Topher @ House of 1000 Books ~
Topher blogs at the House of 1000 Books, and I love his logo. Where did the name come from? Well, as it appears, his favorite horror movie is House of 1000 Corpses, so he wanted to put his love for horror and reading together, so here we are. Needless to say, he loves horror, but he also enjoys scifi, fantasy, mystery and thrillers. He says these types of books really expand his imagination.
The motivations behind creating his blog are simple – he wanted to share book reviews. Since he reads a lot, he thought he might as well really share his reviews too. But he wasn't aware of the community before he started. He only realized once he got on Twitter! He says, people are really energetic and really out there. He says, there are plenty of people who want to engage, but there are also lots who just want to be noticed. So if you're one of the people who wants to engage with Topher, visit his blog here, and you can also follow him on Twitter, Pinterest or Instagram.
~ Kate @ Miss Lawrence is Hearing Things ~
Kate blogs at Miss Lawrence is Hearing Things, and the blog is geared towards audio books. It was named after her audiobooks discussion group named Chronic Creatives Hearing Things – which started as a bunch of chronically-ill crafters who love listening to audiobooks. Like Bella, Kate is chronically ill, but her condition prevents her from reading print books, and that is why she blogs about her love for audiobooks. She will listen to almost anything, she says! But she has a particular love of fantasy, sci-fi, historical romance and nonfiction and her favorite authors are Neil Gaiman, Terry Pratchett, Ben Aaronovitch, Jodi Taylor, Gail Carriger, and Georgette Heyer – not only are they all great writers but they all make great audiobooks and inject a lot of humour into their work.
Kate mentions that she wishes there was less stigma about audiobooks – 'real reading' and whatnot. Turns out, not a lot of book clubs were welcoming of audiobooks, so Kate just started her own (you go girl!) She wanted to give back to the creators, so she started reviewing ARCs for authors as well. It really took off, because not many people review audiobooks in general, especially in the UK. She's been inundated with review requests! One of the reasons Kate has created a blog was also so audiobooks would be more easy to find for listeners, because as you might have guessed, accessibility is very important for her (speaking of which, her blog even has an accessibility menu widget. I love that!)
Kate is from Hampshire in England. As I've mentioned, she's chronically ill, so much like Bella, she has to take a lot of breaks and only accept the books she really wants to review because everything costs precious energy. But she says it's absolutely worth it – to be able to give something back to the people who give us so many amazing books, as well as being a part of the book blogger community in general. Speaking of which, she says the community has been very supportive and lovely, although she's relatively new. She's also enjoyed a few lovely chats with authors and audiobook narrators as well, who have made her feel like our contribution is indeed very valuable. So check out Kate's blog, her Twitter, Instagram and Goodreads, as well as her Facebook page.
Have you met any of these newbies yet? Go give them some love!
I'm Evelina and I try to blog about books that matter, with a bit of fun there too! Disability and equality will be topics you see a lot, but there's also a lot of scifi, fantasy and… GIFs. I'm also the proud founder of #ARCsAnonymous.