Wow, August has not been an easy month for blogging. Meaning that almost all my posts have been scheduled beforehand, like a month in advance, and I have had almost no live contact with my blog for the entire month. I am scheduling this pretty much half a month in advance, in the hopes that I can do last minute edits to the stats from my phone, that's assuming I will have wifi in another country 😂 (I can almost sense the stats plummeting already. I'm sorry I haven't been visiting back!)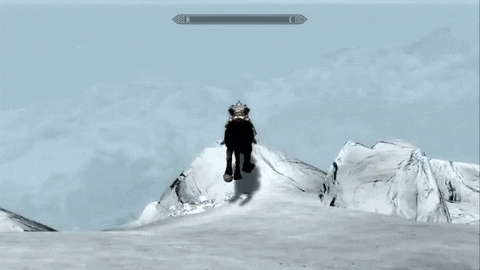 A GIF of a man on a horse falling off a mountain (in a video game)
But anyway, that's why it's kind of hard to be looking at my State of the ARC 😂 I still have to READ half the books that I'll be posting on this blog post. Now that you're reading this, I've probably already read them, stuck them on the post through my phone (with a lot of whispered swearing in multiple different languages… editing posts on the phone, anyone?) But just in case there is something wrong with the formatting of the post, do forgive me! (And maybe admire me for my unwillingness to give up and leave you meme-less LOL)
~ For Those Who Are New To The Meme ~
Anyone is free to participate in this meme! If you want to, just link up anytime during this month and refer to this page as to the rules of what to put in your post and how to link up. The next State of the ARC post is going to be on September 28th, so if you can't make this one, mark it down!
~ My Current State of the ARC ~
Yes… Wrangling Infogram on the phone is nearly impossible, so I am just posting my charts from the middle of August. If there are any changes, I'll just write them in text here! But I did not advance too much since last month. I guess vacations don't go too well for ARC reading! That's alright though, I still knocked at least two off the list. That's good enough for a vacation month. Although I have serious doubts about whether my stats make sense this month. I have not accepted new ones and I've read four, so how is it just two?? There must be some mistake, Evelina 🤦🏻‍♀️
I have actually not really made any progress with the bingo this time, so it stays the same!
~ Bricks Knocked Down ~
I did knock down at least four before my trip! So not all bad. I've also got only like one review that I have left to write.
Here are the books I read, and it's a mixed batch. Sleep, Merel, Sleep was AMAZING. I absolutely loved this middle grade story and I'll be reviewing it in early September. Tell Me You're Mine was a DNF because I was way too triggered by the book, and I'll be giving a mini DNF review at the start of Semptember as well. Playing to the Gods, again, was amazing – you will see a review shortly. And again, following the checkerboard pattern, Canopy Harvest was something I really struggled with, and I'll be giving a mini review along with the DNF.
~ Let's Get Motivated! ~
I'm pretty excited about Going Widdershins! It's about treating "female hysteria" back in the day when it was considered 'a thing' – but treating it with all the love and understanding and feminine magic that it deserves, and not shelving it as a "female craze", like it was accepted back in the day. This book is just too hard to summarize before having read it, but the blurb just appeals to me SO much, that I can't wait to read it. Folklore, non-traditional belief systems and feminine culture? Give me that any day.
That's my ARC August! What has yours been like?
I'm Evelina and I blog about books that made an impression on me. I love middle grade, women's, scifi and some literary too.