Wow, I haven't done a monthly wrap-up in a while! Don't even know how that happened. But January was just such a good reading month that I figure I should. Besides! Who doesn't love a monthly wrap up?
First of all though, I have to thank all my new followers! I can't believe I got 100 follows on WordPress alone this month (and then some on Bloglovin'). It's… something that has never happened to me before. At the start of the year, I think 100 was an adequate number for a whole 3 months or more. I am floored and all warm and fluffy inside. Thank you so much, everyone! I hope you will like reading about books I loved (because I mostly just post what I really thought was worthwhile to read!) and that you will enjoy discussing opinions on reading with me too, cause I love writing discussion posts as well. And I hope you'll forgive me for not replying comments or visiting back as much as we would all want me to! I struggle with fatigue. Please understand and forgive ❤️ I will try to catch up with you all on social media though!
Anyway, all that said… January was an unbelievable month for reading! And like I've seen people say on Twitter, it somehow… took forever? It really felt like it did. I started out the year with some AMAZING reads, and you'll quickly see that I have an enormous 5 star book pile! I am also almost on top of my NetGalley ratio, so that makes me happy! Now let's see the books. I really have a lot of recommend-worthy material this month!
~ 5-Star Miracle Books Read ~
I read 13 books in January, and 7 of them were 5 stars, or at least 4.5 stars. THAT'S MORE THAN HALF!!! This is what I was talking about when I said I was having a super great reading month!! Wow… It was amazing. Although I am thinking it's certainly somewhat to do with my mood too, because I am sort of slumping right now, and some really awesome books aren't going down as well as these did. But it was also a collection of really amazing books! I don't know if I will be reviewing Dune, which is plain too genius and I'm too small to review it. It's something alright. I've already reviewed The Enchanted April here and it's such an uplifting, amazing story. I will also be reviewing To the Edge of the Sky, Heavy Flow and The Forty Rules of Love soon, which were also books I will remember for a long time. Like Water for Chocolate was colorful and amazing, but I also gobbled it up too fast to manage a review – it's one of those books that leaves you with an experience rather than with words you can write down, but I did give it a short review on one of my Sunday posts here. And Eleanor Oliphant is Completely Fine may or may not be getting a buddy read review sometime in the future, but for me, it was an emotionally life-changing book!
~ 4-Star Steady Good Books Read ~
These were really great reads too! (And look how good they look together.) Calling Major Tom really kind of deserves 4.5 stars, but I gave it 4 because I had trouble getting into it first. This might not happen to you, and the book is truly very recommended (and might still be 'Read now' on NetGalley!) I will be reviewing it in February too. Giving Up the Ghost was an odd, different little memoir that I enjoyed despite all good sense, really. There is a little review of it here.
~ Okay Books Read ~
Agents of APE was a fun scifi adventure, geared for female readers, and I found it fun, although struggled with some bits of it, so that's how it got on this pile. Here's a little review. And Interplanetary Robots was a great book for any space nerd – the problem was, I'm only a space fan, and not a space nerd, so there was a lot of stuff that didn't really appeal to me as much. But there are definitely some very cool facts in there! (Like the one where they're making a completely clockwork robot to go on Venus because the electronics would melt. Go figure.) You can find a little review here.
~ Totally Meh Books Read ~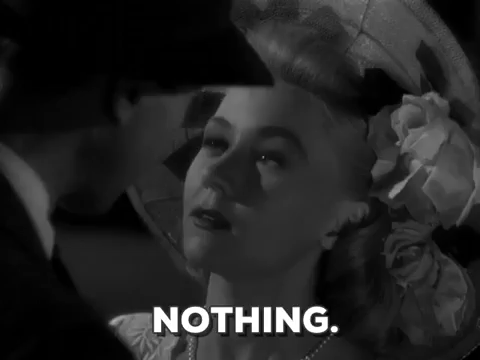 A GIF from an old movie with a lady saying 'Nothing' to a man
See. I told you it was a good month 😀
~ On The Blog In January ~
Out of all these posts, I feel like the one about Why We Read Books got the least love, for some reason. Would you go and check it out please? Thank you!
~ What I Hauled ~
Wah.. I hauled some great books, but I hauled more than I read. Which makes me feel all the guilt at not sticking to my goals!! And I'm only counting the comics that I got on Humble Bundle as ONE book! (Not even on this list. It wouldn't fit, man.) Just in case you want to check out the Humble Bundle, though, it IS really awesome this time – here's the affiliate link.
However! I have to say that I'm super excited about The Vela – which seems to be written by an awesome mixture of writers (Rivers Solomon! Becky Chambers!), and I was so touched when I was actually invited to review this through a message on Goodreads! I would have not even found out about the book otherwise. It's so cool when something like this happens!
I'm Evelina and I blog about books that made an impression on me. I love middle grade, women's, scifi and some literary too.