The Four Women is a strange, unique story you can't quite make something of, at first. The strongest thing about it is that it's littered with dark premonitions and foreboding, but it's dosed so measuredly that it will keep you guessing about why what happens will happen – even if you've known it will happen ever since you've started reading the book. I have to say, I had all sorts of theories, but I didn't even come close, so I applaud the author for the plot. It is quite the marvel! And it definitely kept me philosophising about the outcome for weeks after I had finished reading it.

Check out on Goodreads
★★★★☆ 4 stars
The Four Women starts with a young couple of artists – a painter and a writer – moving into Paris. And while the desirable, talented and very handsome Matts is doing well, the protagonist, his girlfriend Grace is experiencing a writer's block, and also feels strikingly inadequate, with her inability to learn the language at first, and later because of everything she is. This and many demons will soon start feeding the machine of destruction that will put their love to the ultimate test.
It's A Complex Novel
The Four Women is not easy to disassemble. It is, at heart, definitely a literary novel, but its not a pretentious one. Rather, it will scoff at the snobbishness of the Parisian high society. However, it can be very deep, but both allegorical as well as straightforward, and it talks about a great many things in between the lines – so many it would be hard to mention them all.
However, it is not a difficult novel to read. You will easily follow the plot, without having to stop or dissect things. It moves forward fluidly and easily. I have to say though, The Four Women is not for the faint hearted. The reason it took me several months to finish is because it's such a sad novel. There is a constant foreboding, a sense of dread and the promise of a sad ending that you know you will not be able to change – all you can do is witness it. And if you're sensitive, it could be a hard thing. That is my only warning about the book.
The Four Women is a unique novel that is very deep, but both allegorical as well as straightforward. It moves fast and reads fluidly, and it will keep you guessing at why things happened the way they did weeks after you've finished…
Click To Tweet
It's A Coming Of Age Story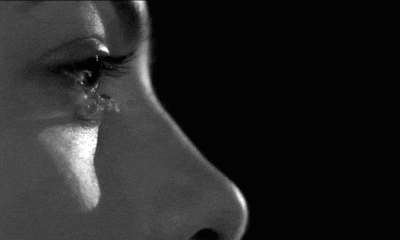 A GIF of a single tear, rolling down a woman's face
The Four Women tells the saddest kind of coming of age story: one in which the protagonists have to make a choice – either happiness and innocence in a drifting world, or taking root within a world that is so much darker, and you don't get to bring your past. It's akin to selling your soul – and you'll keep wondering why you ever even wanted it. It's also the cruelest kind of choice – imagine having to choose one, and only one: your craft, or your love? Ultimately, its a choice a lot of artists have to make, and especially women – I couldn't help but wonder that by making it so mystical and vaguely paranormal, the author was drawing such a good metaphor for creative women's lives througout all of history.
Imagine having to choose one, and only one: your craft, or your love? A lot of artists, especially women, have to ask themselves this question, and this is one of the themes of The Four Women:
Click To Tweet
We Are The Ones Who Kill Our Relationships
The Four Women is also about how not feeling like an equal, not feeling adequate enough, will eventually destroy a relationship. Low self-esteem, trying to become something you're not, while the other person loves you the way you are and you're just failing to see it, has probably made a wreck of a lot of love stories in the world. Change should always come from within oneself – if its for somebody else, then it either comes from misguided, low self-esteem, or is driven by an abusive relationship – both of these are undesirable and should never be the driving force to change – which it sadly is for a lot of women because of how society conditions us to feel about ourselves.
The Four Women highlights how low self-esteem and self loathing can ruin a loving relationship, and it does it through a dark, paranormal lens. Explore why change should always come from within, not without:
Click To Tweet
The Four Women definitely has a very unique and intricate plot. The story is very dark, well-written and engaging. If you don't mind foreboding and a truly sad ending, this is the book for you. However, you should heed the triggers, because it's not an easy book to read if you are a sensitive person or are currently going through relationship trouble.
But Beware Of The Triggers
Triggers include: loss of a loved one, guilt, betrayal, verbal bullying, feeling inadequate and inferior, being manipulated.
Other Books You Might Like
The Four Women is a very hard book to pick comparisons for. Very! Because it's so unique. So my comparisons are going to be loose, at best. I have picked Rebecca, although it's very different from The Four Women, because it has that same all-permeating darkness, running through the novel as a theme. It's much more gothic and there's more mystery than in The Four Women, but the mood is quite similar. Spinning Silk is also dark and has similar undertones, although it's a much more mythological and paranormal story. And finally, I have picked Revival by Stephen King – although obviously the style is going to be different, because hey, Stephen King – but there's the paranormal presence and the story you have to unravel, and the darkness and hopelessness is also there. These books are comparisons more because of similar themes, and not the style or the story itself – but if you enjoyed them, you will probably enjoy The Four Women as well.
I thank Michelle Keill for giving me a free copy of the book in exchange to my honest opinion. Receiving the book for free does not affect my opinion.
Have you read any dark books lately? And do you often try to read dark stories?
I'm Evelina and I blog about books that made an impression on me. I love middle grade, women's, scifi and some literary too.