My long awaited sequel of The Calculating stars (review here) turned out to be just as amazing as the first book! After closing the last page, I was just as devastated as the first time round that I have to leave the world of this story. The Lady Astronaut books remain the kind of story you don't really want to leave.

Check out on Goodreads
Get at Book Depository
★★★★★ 5 stars
Fast forward several years off into the future after the events of The Calculating Stars, and humanity has a frail little base on the moon. So far only astronauts and willing test subjects are living there, but the clock is ticking and humanity is not staying put either. Elma's achievements have not stayed in place either – she working on different projects, the Luna base involving them as well, and although she'd like to go to Mars, three years are quite a big time investment and she can't fathom being away from her family for so long. However… When an unexpected disaster happens, Elma finds herself unable to say no to the Mars trip. And that starts a whole new avalanche of trouble for her, although the trouble is more of a blessing in disguise… Elma is now bound for Mars, the first true direction for humanity, if they are to move out of the Earth one day.
Racism Discussion Replaces Feminist Themes
The first thing we have to speak about is probably the biggest theme throughout all of The Fated Sky. There is a lot of talk about racism, it's very well written, and relevant, and it's also presented in a way that will really make you scratch your head and think about things you might have not thought about before.
Why do I say that feminist themes are replaced by racism discussion though? It's not that the women's battle has been shelved and marked as 'completed' – but it sort of takes a back seat. Now that the women have been allowed to join the astronaut corps, even if they're not there in equal capacities, the problem is not as apparent as… the other problem. The fact that the entire corps is almost nearly pearly white, and the fact that a capable, trained and dilligent astronaut of color can be replaced for an unprepared white astronaut purely for the sake of publicity. That is the crossfire that poor Elma has inadvertendly stepped into, and it will be one of the main themes in the book.
The Fated Sky concentrates on racism and how problematic it is in general, especially so when you're talking about relocating the human race and having to pick who goes and who stays. Despite PoC being part of the astronaut corps, they aren't treated as equal and they are scrutinized in the most brutal and hurtful of ways (I will not elaborate for fear of spoilers though.) What stuck with me most was the term 'equal but separate ship'. Since the Mars trip is long and dangerous, there is need of redundancy and two ships leave the Earth – however, one of them contains all of the PoC and a good half of the white people, and the other one is all white. And it also happens to contain the biggest racist in the entire organization. That is a ticking time bomb, and the whole situation devolves so fast and so badly, it makes for some really great discussion and thought material in the book. I loved how that was presented and it raised so many questions that I wasn't even aware of, living in a country that is pretty homogenous (I'm from Eastern Europe, in case I haven't mentioned, we barely have any immigrants, foreigners and PoC here historically.) The most interesting part of all this is that the book talks about roughly the 60's – but so many of the discussed problems are present in today's world as well.
The Fated Sky concentrates on racism and how problematic it is in general, especially so when you're talking about relocating the human race and having to pick who goes and who stays.
Click To Tweet
But let's talk about something more upbeat! And if you read the first book… You will agree with me that Nathaniel is an absolutely amazing book boyfriend…
An Example Of A Strong Male Lead Who Is Supportive
There's always that question in book quizzes, book chats and general bookish fandom. Who's your book boyfriend? While everyone usually either chooses Mr Darcy or something of the like that's a little more contemporary, I am always baffled. I have never really fancied anyone from a book… Or not even a movie, so much. (Okay, Daniel Jackson from Stargate SG-1, I did fancy you. WHO DIDN'T.) But Nathaniel from The Lady Astronaut books? Oh my god, he is the perfect book husband. He's just… so good, supportive and wonderful! You rarely see a husband like that even in books. It's an example of how a strong, smart and capable man with a good career can still move out of the way of his wife, let her career take the first place if that's what makes her happy, and yet still love her and have a wonderful relationship with her. It's so rare that we see happy stories like that in the media. And it's about two quite realistic people – they're not 'too good to be true' like in a lot of romance books. They're someone I could actually imagine. Which is why we need MORE of this!!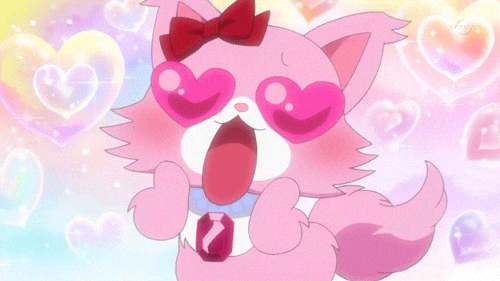 A GIF of a pink anime cat, making 'awww' movements with hearts in their eyes
In Keeping With The First Story
The Fated Sky keeps the same feel as The Calculating Stars did. So if you enjoyed it, you'll definitely love this book as well! You will see a lot of the same characters (obviously!), you will learn more about the training procedures and actual spaceflight, and you will hear more about mental health issues and people dealing with a lot of stress. However, I must also warn you – this series… Is kind of stressful. The first book was quite strong, and so is this one – I mean it, when I say they are in keeping with the same story. So don't expect a fluffy tale. This is Elma's universe we're talking about.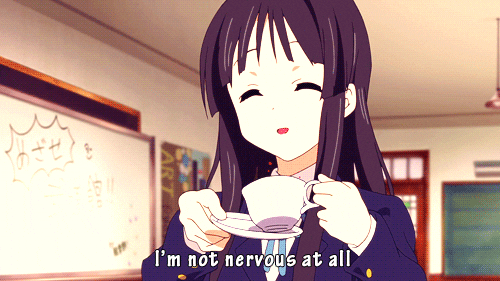 A GIF of an anime girl saying 'I'm not nervous at all', but her hands are intensely shaking the cup and saucer she is holding
Speaking of which, Elma remains as unreliable a narrator as she was in the first book! I could say, even more so. I think this worked so well in the story – because it helps show the reader certain aspects of reality that Elma is failing to see herself. This helped uncover a lot of story arcs from the first book that were unfinished – particularly, Parker's arc.
Parker's Redemption Arc Is Amazing
Ever since book one, I didn't think Parker was REALLY that much of a dick. It is true that Elma tries her best to see AND paint him as a dick, but between you and me? We could always tell there was something there that will redeem him. Yes, he's got his shortcomings. Yes, he hates Elma – but let's admit it – we have all hated someone at some point in our lives. Does that make us bad people? I believe it only makes us human.
As for Parker, the story has been hinting that he might not be that bad since book one. As I mentioned before, we start seeing how unreliable Elma can sometimes be as a narrator more and more as the story progresses. A couple encounters between her and Parker and a few elements of his backstory reveal a lot of the actual situation to us. You will know everything before Elma does, and let me tell you – I loved Parker's arc so much. Our mistake in judging people is often in the belief that people never change, that they always stay the same. That is quite rarely true, and that certainly wasn't true in the case of Parker.
The Lady Astronaut books remain the kind of story you don't really want to leave. Review of The Fated Sky, ★★★★★ 5 stars:
Click To Tweet
But Beware Of The Triggers
Like I said, stressful book. Expect anxiety to be talked about, also death by violent accident, death by disease. Anger, racism, something I could call bullying. Violent attacks. Hostage situations. Having to deal with a dead body and how soul crushing that can be. Loss and sorrow, of course.
Other Books You Might Like
Of course, you have to start the series at the top, so if you liked this review, also read my review of The Calculating Stars here – that's the first book of this duology. Then, I recommend reading an actual memoir of an astronaut, cause while it isn't fictional, it shares a lot of info about actual life in space! And what can be cooler than that? Review for Endurance can be found here. And also, I found Neal Stephenson's Seveneves be similar in a way – while it will take you on a longer fictional trip that goes much farther in fancy, it's also driven by a disaster and talks about how humanity scrambles to get everyone off the planet on a tight timer. It's one of my favorite books, so I can truly recommend it.
I thank Tor Books for giving me a free copy of the book in exchange to my honest opinion. Receiving the book for free does not affect my opinion. You can buy the book here at Book Depository and buying using this link supports the blog.
Have you read The Lady Astronauts series and do you plan to? Do you like reading about space?
I'm Evelina and I blog about books that made an impression on me. I love middle grade, women's, scifi and some literary too.