I was skeptical when I first started reading Calling Major Tom, and had a hard time getting into it. But it turns out, I shouldn't have worried! Calling Major Tom turned out to be amazing – it had me sighing with contentment after I finished it (literally – it was so wholesome!) And around the 70% mark, I was actually fast-walking through the rooms in the house as I was listening to the book on text to speech – because I was too worried about the characters to sit down! (I am absolutely not kidding.)

Check out on Goodreads
★★★★☆ 4 stars
Calling Major Tom is… literally just about that. Thomas Major ends up being the first man who will set foot on Mars, and through a total fluke as well – actually, it's just one of the funny and completely impossible stories that make this book so amusing. But anyway, Tom's real motivations are not scientific or exploratory – truly, he is just a grumpy cat who wants to get away from all of mankind – for good. Thomas seems to be succeeding not only in escaping literally everyone in the world, but he also works really hard to alienate those who both work with him and look up to him because of his job.
However, fate has something else in store for poor Major Tom. Don't ask me why a spaceship has a satellite phone that can call rural Britain, but it can – and that's how Tom ends up talking to an old lady in Wigan by accident. And although he would never believe it if anyone told him, this is his chance to redeem himself – mostly in his own eyes.
This Book Will Give You #Feels Alright
And I don't just mean dramatic feels. Calling Major Tom is so colorful that it will make you both laugh AND cry. At first, I had trouble getting into it, because it was actually slightly bringing me down. Thomas is such a downer – and with good reason too, because it seems that his life has profoundly sucked before he got on that spaceship. More than that, he's such a cynical grouch that he's hard to bear at first. And the situation of the family he calls by accident is no better – if not even more depressing. Downright hopeless, to be honest with you.
But don't get confused – this is just the setup. I'm so glad I kept reading, because Calling Major Tom is essentially kind of like a hill – it starts low, but then it keeps mounting and mounting! The stakes go up, when finally, and by the end you find yourself in love with all the characters, and pacing all the rooms while taking in the story, because it's driving you crazy!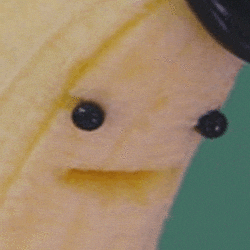 A GIF of an actual banana with what seems to be a face, shivering, seemingly in anxiety
Speaking About The Characters Of Calling Major Tom…
The characters of a book often make or break a story for me. I have to say, even though initially it was hard to warm up to them, I eventually fell in love with all the characters from Calling Major Tom. Even Major Tom, the grouch! (He does redeem himself. He truly does!) They are delightfully different – the slightly bonkers grandma, the bullied boy, the control freak sister who is much too responsible (#canrelate), and… My favorite, although not one of the main characters – Delil, the insistent friend and future crush who is a surefire candidate for a book boyfriend, if there ever was one.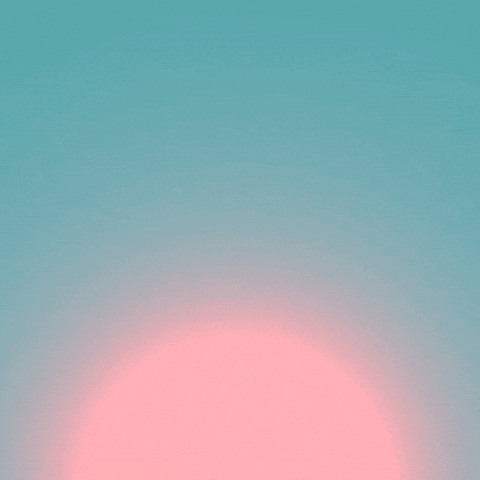 A GIF of these bowling pin shaped blobs with quite different faces appearing and blinking at you
But it's not only how lovable these characters are – despite there being already enough characters in the book to care for, we get quite a few more from Tom's backstory – he's really got a great redeeming arc, in my opinion! The segments of the past are interspersed throughout the book in such a natural way that you don't feel like they intrude upon the story at all. The story is pleasant and flowing.
Calling Major Tom Is Incredibly Wholesome
Despite being somewhat lewd and having, admittedly, at least some dark humor there in the mix, calling Major Tom is ultimately such a wholesome, heart-warming story. I did say I sighed in contentment after I finished it – and that's no figure of speech! It just made my heart so full. The story has all the right things, all the right motivations driving these people. The hope that eventually blooms over everything, the friendship, the kindness that does save the day, just like you've been hoping it would – and after so many perils. The story in Calling Major Tom is just satisfying, deeply satisfying – although I have to say, its also not without laughs either! I'm sure you'll enjoy it.
It's almost as wholesome as this GIF: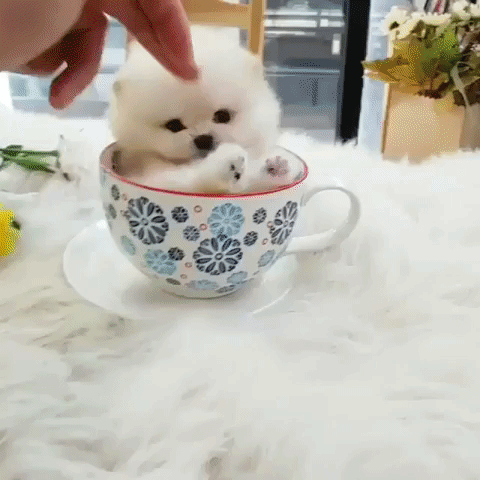 A GIF of a tiny pup in an actual teacup interacting with a person's hand
Overall, Calling Major Tom was an emotional roller coaster that I deeply enjoyed, even though we started off rough at first. It's a book that will both make you laugh and touch your heart. Definitely worth a read!
Calling Major Tom is an emotional roller coaster that will both make you laugh and touch your heart!
Click To Tweet
But Beware Of The Triggers
I really can't say I could warn you about very bad triggers here, because while there are a few close shaves for the characters, things are taken in stride and everything is looked at through some form of humor, even if that humor is sometimes pretty dark. However, the story involves bullying, loss of loved ones through sickness or accidents, dementia of a family member, loss in general, cheating in a relationship, mentions of miscarriage, divorce and broken up families.
Other Books You Might Like
Calling Major Tom especially reminded me of No Sad Songs (review here). While No Sad Songs was essentially YA, and Calling Mayor Tom isn't, they touch upon very many of the same subjects – and even the tone is very similar, not just the themes. To be honest, even though Calling Major Tom is not YA, it's very close to it in the sense that at least half the book is devoted to the struggle of a teen in a really tough situation she shouldn't be faced with. This is why it also reminded me of You May Already Be a Winner – a middle grade book (balancing on YA) about a girl who also has to grow up much too early (review here). These books had a similar vibe, although Calling Major Tom has none of the angst often associated with YA stories. Then there's The Punch Escrow and Battlestar Suburbia – while they are both scifi, and Calling Major Tom is more of a general fiction book, The Punch Escrow (review here) features a similar main character who is in deep need of hope and redemption, as is the case with Battlestar Suburbia as well! (review here) These books are much more action-packed than Calling Major Tom, but they share the same vibe of humor as well as a love for music and pop culture.
I thank Trapeze, Orion Publishing Group for giving me a free copy of the book in exchange to my honest opinion. Receiving the book for free does not affect my opinion.
Have you read a lot of books that made you both laugh and cry lately?
I'm Evelina and I blog about books that made an impression on me. I love middle grade, women's, scifi and some literary too.