There hasn't been a review on my blog for so long! Just like a straight up review. Actually, let me check – there hasn't been one for almost a month! But now you know – if I'm publishing one, it MUST be good. And with how much you've already seen me fangirl about this book.. You should know it's amazing! Battlestar Suburbia is absolutely amazing, knock your socks off kind of fun scifi that you really want to read. The good thing is that it's already published, so you can get it right away. Now let's dive into my review.

Check out on Goodreads
Get at Book Depository
★★★★★ 5 stars
It's a really interesting world! Basically, at some point in human history, machines decided that they don't want to work for humans anymore – they want to be free. So the machines liberated themselves and enslaved humans, for… For cleaning. Yes, you heard that right. Solely for cleaning. (The whole idea of such a world is so wild and ridiculous that it makes it a pure riot to read about it.) Anyway, the humans really don't even remember what the world looked like before they were the cleaning squad, and despite living like slaves, they don't seem to have any will or ability to change it. Until one rebellion starts… completely by accident. What follows is a jumble of the oddest coincidences that ends up in… freedom.
Trust me. You really want to read this one.

The World Is A Great Parody Of Our Society
A GIF of Wall-e, holding a bra and trying to figure out something about it
What an interesting idea – humans working for machines, and not machines working for humans, and inefficient humans are not allowed to exist. The existence of the machines is kind of ridiculous at this point – they don't even know why they're there anymore, and they go to all sorts of lengths to make themselves feel good about their purpose by acting out silly games with humans in what are called 'fondle parlors', which is basically a parody of our whole society. Humans cleaning robots is treated like prostitution, and the machine and human relations are sexualized without being sexual – it's all just so odd, but brilliantly done! I know I kept wondering and scratching my head about how the author came up with those ideas in this topsy turvy world – because I never would have been able to. It was such a convoluted, odd, and yet fun parody of everything! Perhaps sprinkled with some black humor, but seriously – we love it in scifi, don't we?

The Internet Is Forbidden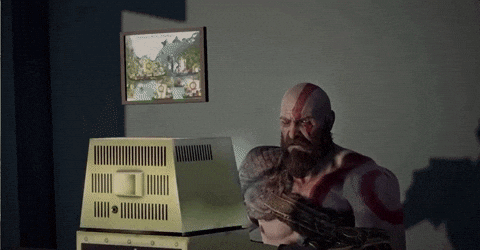 A GIF of Kratos from God of War (the video game) who Googles something and then throws out the computer
That's another interesting part of this universe. The machines don't actually use internet! Upon freeing themselves, they've abandoned the online world and closed it off for the purely software kind of consciousness. Which makes the internet full of half-living memes eating each other, big data generating itself and feeding upon old Facebook interactions (with no more humans to generate new ones!) and all sorts of stuff like that. But that's not all… Because, and here's the part I loved best, since everyone is forbidden to access internet, especially humans – since they have no means to (remember, technology is now people, so there's no machine you can use for access) – well, apparently, now it's mediums who access the ole forbidden internet. Like forbidden old magic. YES, IT'S BRILLIANT. I laughed my butt off. Honestly!

All The Strong, Butt-kicking Women
A GIF of Buffy the vampire hunter, punching the air, or rather, the camera
Battlestar Suburbia is full of really ass-whooping females! There is ONE male character, and even he has to dress as a woman for a certain mission, and admits he enjoyed the experience of being in a woman's shoes. All the rest of the characters that are of any importance, really, are women. Whether human or machine, they're capable, smart and they will give you what for. Even whether good or evil, they'll give you what for! There's a male (machine) villain, but there is also a female villain, and I dare say, she's AMAZING. I wish I could tell you more, but I'd end up rambling for about a page and getting nowhere. Just read the book! You won't regret. (And then tell me who your favorite was. For those who have read, I am SO in the fanclub of the four cyborg ladies with the Baba Yaga 4000 house. Can it get better than that?? Then again, Pam the breadmaker. She is also absolutely amazing. So badass!)

Speaking Of Which… BATTLESTAR SUBURBIA IS SO FUNNY!
This book is incredibly entertaining!!! And I mean, INCREDIBLY. It will turn around, place on its head and parody every little thing about our society and our way of life. Using the machines as caricatures of human beings, it will point out every little thing that we overthink or do out of habit irrationally. Sometimes on the brink of being believable, this machine society is sure to crack you up. Not only does it do good social commentary, like I've mentioned before, but the pace is really well done, so you'll never find yourself stuck while reading it. It's always moving, things straight one after the other – I'd categorize it as a scifi or speculating adventure with loads of humor. It's a relatively easy read, cause while it has deep material, it will not bog you down or make you glum. It will basically just make you laugh and wonder.

It Also Gets Surprisingly Deep At Times
Despite being seriously hilarious, Battlestar Suburbia can also be plain old serious and deep at times. It talks about issues of freedom, of working for someone else but yourself, of being at the very bottom rung of society and dealing with it. It also talks about a society being lost, not realizing where it came from, or worse – lying about where it came from. There's loss, there's finding your own self, there's realizing that you can stop living 'small' and running from your battles, and instead trying to live 'big' and caring for the bigger things in life, like other people's lives or what's in the future.
Battlestar Suburbia was an amazing book and I'm so glad I stumbled upon it. I can recommend it to any scifi or adventure fan! Especially if you're looking for a lighter read that won't get you down, this is it. Really recommended on all counts!
The Triggers
Some triggers are mass destruction, although mostly of machines, taking over human bodies, oppression, sort of like prostitution, but not really? Some violence. But I wouldn't categorize this book as very triggering! It's mostly very light-hearted, and if bad things happen, they're not treated too seriously.
Other Books You Might Like
Battlestar Suburbia mostly reminded me of The Punch Escrow – because of a goofy main character who doesn't know what they're even good for, and eventually finds himself. Also, the dynamics and the humor were very much like it! I also feel like fans of Murderbot would like this story. While Murderbot is very different, it does have as similar sense of humor, although the world is muuuuuuch less serious in Battlestar Suburbia! And of course, I can't fail to mention Redshirts – while it's also quite different, it has a similar vibe, both of the funny and of the serious parts of the book.
I thank Prelude and Farrago Press for giving me a free copy of the book in exchange to my honest opinion. Receiving the book for free does not affect my opinion.
What are your favorite scifis that are hilarious? Have you read any of the comparison titles I mention? And will you be checking out Battlestar Suburbia?
I'm Evelina and I blog about books that made an impression on me. I love middle grade, women's, scifi and some literary too.