Hi everyone. I am finally back! After a month or being here and there and everywhere… I am finally home! Those who have been following my Instagram stories, might have seen some of the highlights from London. Those who haven't… Will just have to take my word on it – it was big, beautiful, terrifying but interesting, and all that. (But if you want to see those highlights, I have made a story summary on my profile.) And also, wow, I can't believe I gained weight. I have struggled to gain even one kilo for two years in Lithuania. Two weeks in Britain? 3 kilos. I am floored! I guess I'm happy I've finally gained, but I'm also surprised by the local diet (we ate at our family's house and at restaurants, mostly. So we didn't cook what we're used to.) Despite being tiring (and financially quite shocking… oh boy…), the trip was also amazing and refreshing. But I've missed my blog, and I've also missed my job. I've also just missed home, my family and my bed, obviously!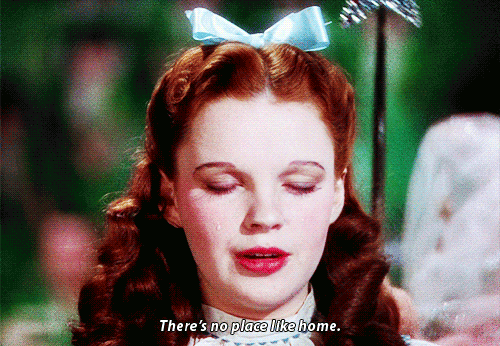 A GIF of Dorothy from the old Wizard of Oz movie, saying "There's no place like home"
Now let me sum up August!
you could say I beat my lifelong fear of traveling

(or at least stared it right into the eyes)

I had my first flight, my first tube ride, and a lot of other such things
I changed my Instagram theme to something I finally like!
I… turned 30?
I also finished reading 99 books. Which means I'm hitting 100 soon. My goal was 52 😂
I hauled 5 books in London which were ones I couldn't get here
And I brought back some old books boyfriend had, mostly Harry Potters and some other stuff. I am conveniently not putting them on my haul and TBR because they're boyfriend's *see what I did there*
I met the entirety of boyfriends family, including the extended one, minus one grandma, basically. They were cool.
Basically, it was a really crazy month, but mostly in a good way!
Now let me tell you what I've been reading. It's just that when you visit a place AND THERE ARE BOOKS, you won't just simply…. Not read them. Or not try to cram as many as possible into your head, cause obviously… You'll be away, and then you won't be able to read them. No matter that your own books are crying on your TBR. That's just something you do. And that's what happened to me. So you'll find I have read a lot during my trip, and they're pretty random – from Stephen King to children's books! #NoRegrets tho.
~ 5-Star Miracle Books Read ~
The Town in Bloom was a soothing, playful and wonderful book. Basically, I will love anything by Dodie Smith, I think! I will be publishing the review in the next post. Sleep, Merel, Sleep was just about the perfect middle grade book. I greatly enjoyed it and I think I'll be reading it again. Review coming up in a few weeks. now, Going Widdershins… It's hard to even start talking about this hidden gem. I will be posting a review sometime in September, and we'll talk then, but let me just say that this book could make you cry with how genuine it is when it talks about oppresion and the sad history of women's life and their struggle to get to where we are now. I am sure I will be reading this book again. It was just perfect. And, for a lighter note – Emotions Explained with Buff Dudes was a super quick, super funny and super relatable read. It's not out till a few months later, so you can still grab your review copy on NetGalley!
~ 4-Star Steady Good Books Read ~
Read along with Dodie Smith's Town in Bloom (which is about the theatre), Playing to the Gods was well placed in my TBR. Learning the histories of these two actresses who shaped the way we understand acting now was very interesting. Written in an easy to read way, definitely recommended! Wildwood was one of the middle grade titles I read, while in England – and it's got everything that a good middle grade has to have! Another thing is that it has two protagonists – a girl and a boy, so making the adventure accessible to more kids. It was a great read and I can't wait to get the sequel. I also read Stephen King's Revival while in England, and it's been a while that I've read anything by him. Enjoyable, dark, and quite unexpectedly Lovecraftian, by the very end! Some people might find this book dragging and you might be let down by the ending, after all that buildup – but it was still an enjoyable read for me. Will be reviewing soon.
~ Okay Books Read ~
All of these books are vastly different – both in terms of topic, as well as audience. So it wasn't easy to rate them. Tell Me You're Mine was a DNF around the middle, because it proved to be too triggering for me. Otherwise, it's a good book – if you go for psychological thrillers. Just not for me! A Beautiful Place to Die was an interesting collection of short stories that are interweaved together, but for me, it lacked the spark. Dragons at Crumbling Castle and The Gruffalo are amazing children's books, which is why they're getting four stars from me, and not three – but they're in the 'okay' books category simply because while they're amazing for kids, I'm not a young child anymore and I see them differently. Definitely recommended for kids though, both of those! And The Pit Stop was an old freebie short story, lying around on my Kindle. It was an alright story, but I didn't enjoy it all that much. Three stars!
~ Totally Meh Books Read ~
I really tried with this one, and you know I love scifi… But I very honestly don't understand why the reviews for Canopy Harvest are so good. It was one of the most boring books that I've ever read.
~ The Stats! ~
So I'm hitting 100 books soon! And #BeattheBacklist is also going well. I didn't expect to do this well this year!
~ On The Blog In August ~
So last month I was more or less away all the time, so most of my posts were scheduled in advance and I didn't reply to comments much or participate otherwise. I'm sorry about that, and I miss you all! Just in case you missed my posts because I wasn't visiting yours, here's what I posted:
~ Books Hauled ~
The first five are my London haul! Would you BELIEVE that I got City of Ghosts for £2.50?? I couldn't either! I believe I might have said something obscene when I grabbed it off the shelf (snatched would be the correct term here, I believe), because the girl right next to me looked at me all weird 😂 I also got Young Jane Young really cheap from there, and The Hanging Tree didn't cost so much at another shop. I got Eleanor Oliphant and THUG for the regular price at the airport. I also found a beautiful copy of The Mermaid and Mrs Hancock at the thrift shop (stained pages!) but I didn't grab it because it was big, I had airport weight restrictions and I have already read it. But I still feel slightly bad for not grabbing it!
~ Next Week ~
Next week I have some nice posts planned – a review of The Town in Bloom and Playing to the Gods, both books I loved, about women and the theatre. Both recommended! And I also have a discussion post lined up, one on a slightly controversial topic with a very heartfelt opinion and one that was close to my heart and with some painful revelations – Why authors should take EXTRA CARE when writing enemies to lovers. I hope you'll visit to read it!
As usual, I'm linking up with Caffeinated Reviewer and the Sunday post, also with Stacking the Shelves at Tynga's Reviews and Feed Your Fiction Addiction.
And that's it for my August! What about you? Share your links with me in the comments!
I'm Evelina and I blog about books that made an impression on me. I love middle grade, women's, scifi and some literary too.